By Laurie Bell

It's getting hard to breathe.
Even though I'm expecting it, it stills comes as a shock. My fingertips tingle and I've only just achieved escape velocity.
I'm not going to reach The Black at this rate. Chest tight, spots flirting in the corner of my eyes, I stretch out a trembling hand. I know this ship — well, ships like this one. I've flown all my life — raced all my life. Without clear sight, I find the switch. Cold, crisp, pure oxygen slaps my face, floods my lungs. My skin tingles for a different reason now.
I snap awake. The fog clears and the shadows dance away. All I can see is sparkling diamonds on black.
Space.
My chest is tight. The irregular thumping pounds at my skin like a drum. My entire body moves with each beat. I rub my sternum to release the tension, but nothing shifts.
I check my scanners. I'm coming fourth. Fourth?
I can't see the other racers ahead. My viewer shows only endless black. A hum in my ears shouts for my attention. I acknowledge it though I can't make out any words.
"Still here and kicking," I say. I'm in a race but it's not to win. It's to stay alive.
I don't want to die up here.
Alone.
Silent.
A choice sits before me — taunting me like the troll before a bridge. Answer correctly and I pass safety, fail and I meet my end over the side.
Do I turn back and risk reentry? My body needs time to recuperate. I fear I am only delaying the inevitable. Should I slow my pace and call for help?
There is a third option.
Win.
The burst of oxygen that brought me back to life is petering out. I only have one more jolt in the tank. Now that I'm up here, my regular intake is fine.
I only have to breathe normally.
My body doesn't understand the memo.
I peel my hand from the stick and scrub it over my face. Come on, think.
A fourth option tip-toes into my periphery.
Keep going.
Just keep flying until everything stops.
I give the thought one turn of the dance floor in my mind and then I send it on its way. I grip the stick again. Focus.
A light flares before my eyes as a ship cuts into my flight path.
I'm now fifth.
Oh hell no. I fill my lungs and steady my nerves. My ego slips into the pilot's chair and takes control.
I'm aware of my body, but I'm not inside it, and I watch my limbs move on their own accord.
Power, throttle, twist and shimmy, pressure and fire.
Adrenaline and determination fight a war in my mind. Then they become allies.
Goose the engines, pour on the gas. Find a new path.
Dance little ship, dance.
The light ahead of me fades as I slip past. I can't see the pilot's face, but I can feel his anger.
Fourth again.
New lights appear and disappear as I find the corridors and streams and waves of space that no one but me can understand.
Third.
Second.
Another light.
One more.
Hours pass like sleep. One minute I'm heading toward Venus, the next I'm blinking back the fog and see Earth in my sights.
Home plate.
Last drinks.
It's time for the final dance but I'm alone up here.
The numbness in my hand is halfway up my arm. My chest is one big metal plate, hard and unmoving. I'm not breathing.
Seductive shadows surround me, drawing me in, but my body is on autopilot. I see myself move; watch as I reach for the touchpanel to slide the bars and press the buttons. I twist my wrist and pulse my feet. My blood is on fire. Don't worry about air — it's too late.
Flick the switch and empty the tank.
Air forces its way inside my body — shocking me awake. Vibrations spread, jolting me in place. My heart clambers a crazy jazz of discordant notes.
Time stops.
Silence falls.
A tear slides down my nose. The static in my ear becomes a voice, a shout, a scream.
And then a thud. I suck in an unsteady breath. I'm alive.
The cockpit panel cracks open. "You won!" Charlie's face is split ear to ear. All I can see is teeth. In the distance I hear the roar of noise. Cheers and chanting of my name fill the ship that could have been my tomb.
"Always," I reply and lie back, spent.

About The Author
Laurie Bell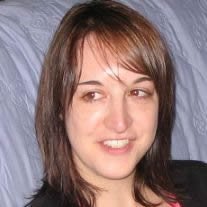 Laurie Bell lives in Melbourne, Australia. She was that girl you found with her nose always buried in a book. She has been writing ever since she was a little girl and first picked up a pen. From books to short stories, radio plays to snippets of ideas and reading them aloud to anyone who will listen. You can read more of her work on her blog <www.solothefirst.wordpress.com> Look for her on Facebook <www.facebook.com/WriterLaurieBell/?fref=ts> or Twitter: <@LaurienotLori>