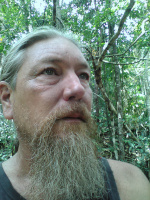 Col Hellmuth lives a quiet, uncomplicated life, off-grid in the Daintree rainforest of Far North Queensland.
He has scratched out a living in a variety of different jobs (and locations) over the years; these days he scratches out words in various sequences, and dreams of a day when he might be able to convert some of these ramblings into food.
When he is not writing or enslaved at work he is usually found bumming around his local beach dodging crocs in his kayak or jamming on the blues-harp.
He doesn't have any fancy letters after his name, or a pet cat, but does read a lot.