By Scott Steensma

The door was plain white, the same as her gown and pretty much everything else in the facility — a calming shade of ivory-with-a-hint-of-blue that Josephine imagined would come in pails labelled 'upmarket institutional'. It was reassuringly aseptic, the sense of neverending scrubbing reinforced by the clinic's ever present aroma, a cleaning agent that somehow smelled both prohibitively expensive and viciously antibacterial. The overall effect, quite intended, was that Josephine was in the presence of Very Serious Medicine.
A silver plaque with raised black lettering sat on the upper half of the door, and Josephine stood staring at the words proclaimed there: "Dr. Geoffrey Tonson, Amalgamative Psychiatrist".
The name she knew. Geoffrey had been working with her over the past seven days, and his name summoned feelings of care and support. A middle-aged face with greying hair and kind eyes, a hand on her elbow as she took shaking steps from her hospital bed, a kindly medico almost straight from central casting, aside from his tendency to make the occasional off-brand quip. He had mentioned he was a psychiatrist, she knew that, but Amalgamative Psychiatrist?
There was nothing. No flicker of recognition. No mental itch suggesting she had heard the term before, maybe seen it mentioned in passing in some news article. Just a shocking void of blankness that was becoming more normal each time she encountered it. She reached out and traced the letters, expecting cool metal, but finding, to her slight shock, the plaque to be made of artfully coloured plastic, its surface as warm as the ever-comfortable air surrounding it.
Pulling her hand away and focusing, Josephine thought the words search protocol. She stood staring at the door, waiting. Drawing a slow breath, she thought the phrase again, this time imagining it with a sensation of a mental twist as though she were turning a door handle made of words. Somewhere behind her eyes, invisible, yet floating in her thoughts, an empty blue text field appeared, the cursor pulsing to the same steady beat that animated every search engine she had ever used.
Into the bar she imagined the words Amalgamative (and) psychiatry, then thought aloud the word search.
A list began to form in her mind's eye, title after title fading into existence as the search riffled through her head. Each entry appeared ranked according to a relevance percentage rating next to it, its text colour-coded to emotional intensity, ranging from the grey of calm/neutral memories, through to the blue of those carrying moderate emotional impact. Absent from any of the choices in this list was the angry red of intense experience that she had been encouraged to access when she felt ready.
Ten options listed before Search complete flashed beneath her mental menu. The first on the list, the heading Amalgamative (and) psychiatry, College, Conversation, Julie Wharton, in grey text with a ninety-five percent match, seemed a good place to start.
She focused on it, watched as it lit up, and thought a simple yes.
The search bar disappeared, and as had mostly happened over the previous week, nothing happened at all. Josephine looked back at the plaque and thought the words Amalgamative Psychiatrist again. This time, there was a faint mental tickle. She thought for a second, pulling the thread as the memory came back, a conversation with Julie, her roommate at college, about course options. Both of them sitting in a wood-panelled campus café, rain outside pattering on windows, coffees on the table that Josephine knew were long cold, less drinks than excuses to remain here out of the rain. Julie had been reading aloud some of her possible second year electives, chuckling as she made comment, and she looked up as she spoke;
"Amalgamative psych. Oh great — getting head cases with implants to act like they're normal."
Her eyes across the table were bright, and in the memory Josephine felt fondness stir in her chest, along with a dull, aching pain.
Well. I guess I'm a head case now. Her new ABI implants were responsible for maybe half the scars that crisscrossed her shaven skull. The remainder were from what the clinic staff referred to as her 'incident' — something that was a total blank, no matter the search terms she used. On an impulse, and with a quick twist of thought followed by Julie, Josephine had another list.
Two thousand eight hundred and twelve entries. The first ten were displayed, seven of them in the brightest red that she had seen so far. She hovered over the first entry, and the dull pain from the café memory deepened into a stabbing ache, pulsing through her insides along with her now-racing heart.
No. With a mental flick, she highlighted the seven crimson memories, thinking a word the clinic hadn't included in their implant training — Delete. With a second word — Override — the entries vanished, the list jumping up to fill their fields, everything once again a calming grey. Her heart rate began to slow, and the aching pain convulsing her guts started to lessen.
She looked back up at the door, remembering where she was, and took a deep, slow breath. She extended an arm lined with the fine white streaks of old scars, twisted the handle and stepped into the office.
Tonson sat behind a stark, glass-topped desk, eyes on his monitor, hands at the keyboard before him. He looked up and his lined face crinkled into a smile.
"Josephine! How's our soon-to-be former amnesiac? "
Josephine smiled as the ache in her heart faded into nothing more than a vague memory of pain.
"The implants are working, Geoffrey. It's… everything is coming back."
She stepped forward, sinking into the black leather chair in front of Tonson's desk. When she looked up again and met his kind gaze he spoke.
"How are you coping with the memories of what brought you here?"
Her smile widened into a grin that creased her whole face with happiness.
"I've never felt better."

About the Author
Scott Steensma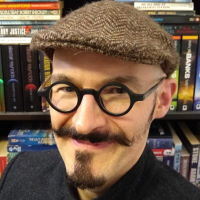 Scott is a Melbourne based librarian, writer and son of a cat fancier.
He has written non-fiction for The Age, The Australian, The Sydney Morning Herald and other magazines and dailies, but it's writing and reading Science Fiction that really fires his imagination.
He tweets at <https://twitter.com/scottsteensma?lang=en>, and if you're on Goodreads he would love to chat SF with you at <https://www.goodreads.com/user/show/36819318-scott>.