By Laurie Bell

Fire filled the sky. A unique phenomenon and still frankly terrifying. Flames as long as my finger dance above my head, sparks swarming in numbers too vast to count. If you don't walk in a crouched wobble you risk setting your hair ablaze.
"Momma, why?"
It's a familiar refrain. Suppressing a sigh, I sit on the hot concrete and pull Ruby into my lap, readjusting my breather so the comm will activate in her mask. "Because of the poison in the sky."
"Sky sick?"
"In a way, yes. Not that long ago there was a terrible fight.
A mistake, but one with a terrible cost." All I can see of her face are her giant eyes searching the heavens. They dart to me, questioning. I have no answer that will satisfy her curiosity. She can't see my smile of encouragement, so I squeeze her tighter. The fire-retardant plastic crinkles between my fingers.
"We get sick?"
"No sweetheart. As long as we stay covered and keep our masks in place."
"Stinky," she says, her nose crinkling to show her disgust.
I chuckle. "It sure is. You must remember to never take your mask off outside."
At three years old Ruby is one of the last to have been born before the fallout. I still bless the stars she survived that first night. That we all did in this small town at the back of beyond. The others left to find more survivors, more food. One by one they travelled beyond the border. Until we were the only ones left.
"Fire bad?"
"Yes, my darling. The skyfire is bad. But it cannot reach us here so close to the ground. You must stay low. The fire can be good also. That's why we are here."
Once a day we need to collect the skyfire to take back to the shelter. It burns hot, it burns clean. It heats our food and warms our beds through the bitterly cold night. But it doesn't last. When morning comes it is gone. Consuming itself with a ravenous hunger that is never abated. It is dangerous to bring my child with me to collect it. More so to leave her behind.
I press her face to the dirt. "Stay still. Close your eyes." I lay beside her. When all is still, I raise the collector. Manuel made it in the first week. A long conductor rod with a lidded cup. This morning I stuffed the last of the moss inside and sealed it tight against the icy air. Now, I raise the rod until I feel the skyfire buffet the tiny container, desperate to feed, to consume, to burn. The switch at the base allows me to crack the lid for the briefest of moments. The rod shakes violently but I hold it tight. I must hold. At last it grows still. Another moment, just to breath and I lower the rod to my side. As it approaches the ice beneath me melts into slush.
"Hello fire," my child says, her wide eyes fixated on the glowing cup. We are safe for another night.
What we do tomorrow will wait until tomorrow. I take Ruby's hand in mine, the other clutches tight to the rod. In the lowest crouch I can manage, feeling heat score my back, we scuttle toward home.

About the Author
Laurie Bell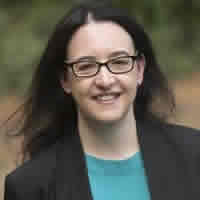 Laurie Bell lives in Melbourne, Australia. She was that girl you found with her nose always buried in a book. She has been writing ever since she was a little girl and first picked up a pen. From books to short stories, radio plays to snippets of ideas and reading them aloud to anyone who will listen.
She is the author of The Butterfly Stone (YA/ Fantasy — available now) and White Fire (Sci Fi — available now)
You can read more of her work on her blog Look for her on Facebook <www.facebook.com/WriterLaurieBell/> or Twitter: <@LaurienotLori>