By Garry Dean

I had arrived at the agreed location, with the package safely stowed inside a carry case. No sign of the Tillax though. They were strange creatures. I glanced about the large circular chamber. It was carved out of solid rock, and lined with rows of empty shelves. What was it up to? And why here, why this godforsaken planet, at the edge of the periphery?
I heard a sound like the popping of a champagne cork, and turned to see a cloud of orange mist, hovering in the centre of the chamber.
'You have done well, for a human,' it said.
I wasn't sure whether to be flattered or insulted.
'You took your time though,' it said.
Definitely insulted, I thought. The Tillax were known for their sense of superiority. They had long ago relinquished their physical bodies, preferring instead, the freedom of pure thought. Floating, ghostlike, within a matrix of gaseous particles, they were, for all intents and purposes, immortal. As such, they considered any civilisation still based upon crude matter as unevolved. The human race, in particular, was a mere step above slime mould. I was having none of it.
'Look, acquiring your particular item was no easy thing, and you know it,' I said, jabbing my finger at the centre of the cloud. 'You needed me because, well let's face it, you can't even pick up a teacup.'
The cloud swirled at the edges.
'I see that I have,' there was a pause, 'insulted you. Human emotions are such — tricky things. Perhaps if we get down to business, I can begin to make amends.'
I felt somewhat appeased by the mention of money. Opening the carry case, I removed a wooden box, and carefully placed it on the stone floor. Undoing the old brass latches, I lifted the lid, revealing a simple control box, and two antenna like rods, one vertical the other horizontal.
'An original 1956 Theremin, in working order,' I announced, with as much ceremony as I could muster.
'Please step back,' the Tillax said.
I held my ground. 'Not until…'
I heard the chime on my wearable, indicating the credits had been deposited into my account. Job done, I backed away. The Tillax swooped down and surrounded the instrument in a whirling vortex of cloud. It moved in and around the antennas, in ever diminishing circles.
'Thank you,' it said. 'Thank you.'
'Well, I'll leave you to it,' I said.
On the way back to my ship, I heard a weird noise echoing from the chamber. It sounded like a mewling cat. The Tillax had managed to play the damn thing, somehow. A moment later, my wearable chimed with an incoming call. It was the Tillax.
'There may be more commissions by the way,' there was a pause, 'if I can trust in your discretion?'
'Sure,' I replied. I couldn't argue with the money. It seemed this particular Tillax was becoming a bit of a collector. Something at odds with its very nature, and certainly frowned upon, if I understood anything about their bizarre philosophy. I didn't envy them their disembodied existence. If immortality meant divorcing yourself from the physical world, they could keep it. I'll take the simple joys and pleasures of life, especially with a pocket full of credits.
Which got me wondering if this hellhole of a planet had a bar?

About The Author
Garry Dean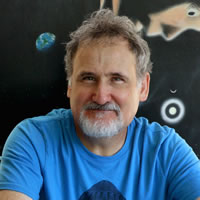 Garry Dean lives on the Mid Coast of New South Wales Australia, and has been a fan of SF for most of his natural life. Being vision impaired, he makes good use of voice recognition and text to speech in order to write. Many of his stories have appeared in AntipodeanSF over the years, and his love of all things audio led him to join the narration team in 2017.
You can read examples of Garry's fiction on his website <https://garrydean.wordpress.com>