By CA Clark

It doesn't matter what century, what galaxy or what planet, there is always an Irish pub somewhere in a little back alley. Places that don't know an Irishman from a Perengiun tree sucker, or know that an actual wee place called Ireland existed on a planet on the edge of nowhere — even they have an Irish pub, and any spacefaring woman worth her chevrons knows how to find one.
It'd been a long haul and I was glad to be pushing open those doors.
Inside, the atmosphere had an impossible wood fire haze obscuring any details from casual view, the lighting did nothing to pierce the shadows and the crowd made a sea roar of noise until that singer stepped up on the stage.
He was an ugly little bastard, but no one looked at his face once he opened his mouth.
Not me, that's for sure.
I was tempted to say 'to be sure' in this pub, because that's what the legendary Irish people are supposed to say, but decided I liked my teeth right where they are.
The crowd looked tougher than the late space pirates who tussled over our latest cargo, and I was on foreign soil so needed to keep my mouth shut.
I watched the bloke tune his complicated stringed instrument, a replica cigarette stuck filter-end in the curl of string sticking up from the tuning knob.
His fingers flew across the strings like demented spiders.
With the lilt of his voice he was turning ordinary lyrics into something magic.
The creases on his pug nosed face gave him the wicked aura of a forest sprite or small daemon, some creature out of a dark fairy tale — the kind that scare small children and switch babies for changelings.
But that voice lent a touch of pathos to the song, and I felt my throat close with unshed tears.
I couldn't understand even one in five of the words he said, but the music spoke to my inner core. He was that good.
Mind you, it could have been the green sludge swirling in the glass I was gripping.
'I'll have another.' I waved my cred chit at the bar bot. A green sparkling hat with a three-leaf plant attached to the brim teetered on the bot's flat head. More green sludge slid down the side of the drink cylinder.
There is something about the Irish; when you spend enough time with them you want to be Irish. It's probably why there are Irish everywhere, even methane-breathing Irish. They are opinionated and arrogant and they drink hard, eat hard, smoke hard and make the merriest music to twitch even the feet of a stone statue. When they sing it is like a doorway into the world of Other.
Gawd, I was going nuts in this pub. I shook my head to clear it and realised the music had stopped. I got my brain back into working order. I think it was anyway. The muso elbowed his way to the bar and stood beside me.
'Watcha drinkin', love?' He smiled and the ugly disappeared in the twinkling of his eyes.
'Saint Patrick's piss I think?' I put the last mouthful of green back on the bar and grimaced. 'What's a Saint Patrick anyway?'
'You'd not be from around here then?' he could've been threatening to immolate me and I wouldn't have cared. My ears were in love with the rolling vowels and lilts.
'Nope. Just arrived from the next galaxy. I've a whole planet turn of R and R before the next run.'
'Well, we best be showing yer how to have a good time then.'
I felt a silly grin attach to my face even as I slid from the stool and let him drag me to the dance floor. A band was setting up and I was quickly being jigged around the floor. The lead vocalist sounded like he had swallowed razor blades for breakfast but that didn't stop his voice from bypassing my brain filters and switching on the twitch in my feet and legs. I couldn't stop if I had wanted to, and sweat trickled down my back as my legs pumped into one crazy energetic dance after another.
A squeeze box, banjo and tin whistle pulled the strings of the dancers through one jaunty tune after another.
My ugly musician grinned and twirled me about until we were both gasping for breath. Finally deciding we both needed some fresh air, he grabbed my hand and pointed his thumb at the door. I nodded; the music too loud for conversation.
The cold hit me and I shivered. He took off his coat and slid it over my shoulders. It held strong aromas of illegal herbs, booze and sweat, and it was warm. I think I was really nuts by then because it smelled good. He took my hand, and I liked the leathery feel of it. He threw his cigarette butt on the ground and put it out with his heel.
'Come on, I'll show yer some places you won't be seein' on a tourist map.'
We walked. An unusual mode of transport in this era but it felt good. We talked, sharing stories of strange places and adventurous lives. He showed me sights I'll never forget.
We found a space to be closer and out of the cold.
'It's not much but it's me own.' He held the door open for me. 'I'm famished. Are y' hungry? I'll whip up a batch of Colcannon. That'll warm the cockles of y' heart.'
He sliced into a plant tuber, releasing an earthy scent along with the juices of it. The knife in his hands moved in the same fluid manner as his musical instrument. He cut up things I couldn't recognise and put them in a bowl of some type of metal over naked flame.
'What are you doing?' I reached a hand toward the flame but he gently knocked it away as my skin registered the heat.
'Cooking. It's an Irish thing from way back. You'll like it for sure.'
'But it's organic? Where is your nutrient printer?'
He laughed, and I was caught in the bubbles of it.
I quickly forgot about the raw food as he tucked me into his side with a wiry arm.
'Relax darlin' you'll never want that prepack muck once y' try this.'
He stirred the food, and the scent of it struck my nostrils, making my mouth fill with saliva and anticipation. I peeped over the rim and the thick steaming contents and felt the steam waft against my skin. He scooped up a spoonful and blew on it before sliding it in my mouth.
'Take it easy, your system might not cope.'
'Ow,' I waved my hand ineffectually at the heat in my mouth and we both laughed.
Everything about this man excited all my senses. The music of his voice slid an earworm into my head; the herbs he inhaled, the scent of his sweat, the raw primal food blasted my ship-dulled olfactory nerves with a cascade of aroma; a blast of flavour sending my saliva glands into overdrive and his leathery hands caressing my smooth controlled-environment skin into sensory overload.
Mostly, he filled my mind with a myriad of what ifs and if onlys.
Come dawn, I had a strong reluctance to leave.
'I must be on my way' I told him sadly. 'My ship won't fly itself.'
We lingered over murmured nothings, prolonging the moment but the niggling urgency of musts pulled me back to practical here and now.
We stepped out into the grey. Moisture fell from the sky in light curtains. I turned my face up and held my palm up too.
'Amazing.' I meant the free water.
'You are.' He took my hand in his. We both had those melancholy half smiles.
He walked me through the drizzling dawn to the docking port. Walking.
He kissed me one last time, ran a rough yet gentle finger down my face and walked away, pulling the collar of his long coat up around his ears.
I watched him until he was out of sight. I boarded my ship.
I forgot to ask his name, but somehow I knew I'd be seeing him again.

About The Author
CA Clark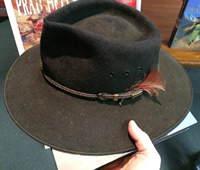 CA Clark is a writer of short fiction with aspirations to complete that great space saga gathering e-dust in a file lost somewhere on the portable hard drive.
Apart from being too busy to write as often as any writer should, C A Clark squeezes out the odd flash fiction; there are eight flash fictions with AntipodeanSF and half a century of pieces in varying length in anthologies so far.