By Tim Borella

You couldn't have predicted it, like so many of the really big outcomes. As usual, someone was screwing with DNA — electric eels and those moles with the crazy noses who track their prey by their tiny electric fields — and splicing it into humans just to see what might happen, maybe hoping for something along the lines of the blueskin babies or the weird sex appendages that were all the rage a half-century ago.
The pre-conditions were there, though. Naturally, we liked to think of ourselves as fully developed, at the pinnacle of evolution, but of course we were just doing what we and every other living species had always done, incrementally creeping towards the next stage, and the next. The electric genes just sped things up a few hundred millennia.
Noja wanted to do it, but I was scared. We were living in what used to be a bustling townspace, habitats dotted every fifty metres or so in amongst the trees, but people had been thinning out, bucking the decentralisation trend and congregating elsewhere as if drawn together for some unfathomable purpose.
"Think of it," she said, "telepathy! Being part of the higher mind — how can you not want that?"
"I don't," I said, "I can't. You're not going to find Nirvana, you're going to fucking go mad with all the rest of them!"
Then, more quietly, "And you're going to leave me."
"Then come with me!"
But I couldn't. To me, it was suicide. All I could do was hold her hand when she got the splice done at one of the chop shops that had sprung up everywhere to cash in on the craze.
At first nothing happened, but after a couple of days I started to see her changing, stopping to look and listen intently when there was nothing there.
"It's a whisper," she said reverently, eyes focussed somewhere else.
The whisper became a murmur, a chatter. She stopped wearing clothes, ate and drank only as an afterthought. Wandered off on the third day in the same direction as the others, not looking back at all when I finally stopped, swept along in the gathering storm to somewhere I could not follow.

About the Author
Tim Borella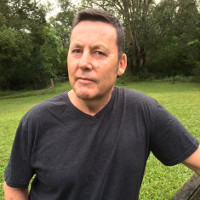 Tim Borella has never lost his childhood passion for SF and writing in general and has been lucky enough to have worked most of his life as a pilot — in other words, he's never properly grown up.
He lives in country Far North Queensland, has won awards for songwriting, and has had various other writing achievements, the most recent being an honourable mention in the 2018 international Literary Taxidermy Short Story Competition.
He also has bachelor degrees in science and teaching, and has completed a couple of as-yet unpublished SF novels. He'd dearly love to spend more time writing, but will have to continue juggling for another couple of years until the kids have fully left the nest.