By Martin Lochman

Captain's Log, Entry 44, Location: Unknown
Three cycles have passed since we crash-landed on this strange world. For some of us it feels like it just happened — our ship exiting the subspace so suddenly after the engines malfunctioned, getting caught in powerful atmospheric turbulences and being violently thrown against an immense structure on the surface of the planet.
We have sustained grievous casualties and the vessel is heavily damaged. My first officer perished as a result of his injuries shortly after the crash, increasing the total number of deceased to eleven.
I am trying to maintain good morale amongst the rest of the crew members, keep them from surrendering to hopelessness and despair, but our situation is indeed dire.
I ordered the surviving technicians to focus on repairing the communication systems. Although the engines are broken beyond repair, leaving us effectively stranded here, there is still a chance that we can contact our homeworld. Given the lack of necessary resources, however, this chance is very slim.
Captain's Log, Entry 45, Location: Unknown
With the repairs underway, I decided to lead a small expedition team to gather as much information about this world as possible. We currently find ourselves in a gigantic hollow structure, a cavern of sorts with the ceiling high above our heads that appears to be uninhabited, save for small multi-legged organisms that exhibit instinctive behavior rather than higher levels of intelligence. Fortunately, given their size and physiology they don't pose any significant danger.
I am hoping that there are intelligent beings beyond the cavern and that we can establish peaceful relations with them. If we are not able to make the communication system operational again, perhaps they will be equipped to provide assistance.
Captain's Log, Entry 46, Location: Unknown
The expedition has yielded very little success. Even though we had crossed a considerable distance between the ship and the border of the cavern, we didn't encounter any life forms apart from the aforementioned primitive creatures. The environment seems to be uniform throughout of the cavern: hard flat surface without any vegetation, hot dry air filled with various kinds of particles and no sources of water.

It is a harsh habitat but perhaps the conditions are better in other places. Unfortunately, we lack the necessary equipment for a thorough exploration.
Captain's Log, Entry 47, Location: Unknown
Our fortune has finally turned for the better. The technicians managed to partially restore the communication system, and although we couldn't establish a real-time connection to our homeworld, we were able to send a distress signal detailing our status and location.
We have enough supplies to last thirty more cycles but I am certain that the rescue will come much sooner than that. All that remains for now is to wait.
Captain's Log, Entry 48, Location: Unknown
This world has proven to be more dangerous than I could have ever imagined. Not even a full cycle after we sent the distress signal, we began hearing thunderous rumbling in the distance that was rapidly gaining intensity. Then the ground beneath our feet started shaking.
At first, I thought that it was a natural event, perhaps a storm or movement of tectonic plates, but then a dark object even bigger than our ship appeared in the distance. Its angular shape and systematic movement pattern — advancing forward and then withdrawing back only to advance further forward — suggested that it was of an artificial origin!
Our joys of coming across signs of intelligent life were soon replaced by sheer horror. As the object was nearing our position we felt incredibly strong pulling forces emanating from it, and before we could realise the danger it was already too late. Most of my crew were swept off their feet and pulled toward the object, disappearing in an opening on the front side of it. At the last moment, I jumped towards the ship, securing myself inside.
Captain's Log, Entry 49, Location: Unknown
There are only three of us left and I don't know how much longer we can stay alive. The object is coming closer still and I can feel the entire ship itself starting to move…
***
Louise sighed and switched off the vacuum cleaner. This was the third time during the last ten minutes that something caught in the nozzle, significantly decreasing the appliance's performance. Louise would love nothing more than to relax and enjoy the lazy Sunday morning but the weird storm last night had left quite a mess — especially in the living room where it had shattered one of the windows.
She pulled the hose with the nozzle from underneath the wooden closet and picked it up to inspect it. There was a whole bundle of little brown insects stuck to the opening but they didn't look like any kind of insect that Louise had ever seen before. They had six limbs, a tiny heads, no antennae and — tails?
Maybe some kind of spider? She thought. Or an ant?
No, spiders and ants don't have tails — she remembered that from school. What else then...?
Louise shook her head.

"I ain't no damn insect scientist," she muttered to herself and promptly scraped the nozzle with an old toothbrush.
Then she switched on the vacuum cleaner again and continued her chores.

About The Author
Martin Lochman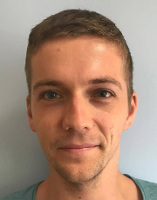 I am a Czech expat currently living in Malta and working as a University librarian. As an emerging author, I have published short stories in Ikarie, a Czech science fiction literary magazine, Theme of Absence and Aphelion and flash fiction in various Czech anthologies and on <365tomorrows.com>.