By Geraldine Borella

I stood in front of Taila2, praying I had enough CC's for Andaya's meds. Lights blinked and mechanical arms whizzed and whirred between rows and columns of pharmaceutical excipients, the monstrosity waiting to make a tailored biologic fit-for-purpose. I'd be short this time, for sure, using all my Contribution Credits to purchase the last supply, along with child support allocations too. There'd be no hope for higher education for Zella, her CC's going fully towards Andaya's meds and astronomical medical bills. She'd be consigned to a menial job like me, providing personal care to the elderly. There wasn't an algorithm written to make robots suitable for wiping dribble and redirecting the demented mind yet. If only Shawnan hadn't been injured in that mine blast. If he'd been able to make his mining quota this quarter, we might have made it. It would've been tight but doable.
Andaya's last bio-supply had been stretched out to cover three months instead of one, but her chest had become clogged and her wheezy cough had returned. Her weight had dropped, and she was at serious risk of contracting a fatal chest infection. I simply couldn't hold out any longer.
So, I punched her Cit-Number into the keypad, took a deep breath, and swiped my wrist across the scanner to pay.
Please, by some miracle, let there be enough!
But Taila2 displayed an indifferent message: Balance Insufficient.
Fuck!
My wrist buzzed — a call coming in — and I pressed to answer. Saraiya Galt's shrill voice screeched through my earbuds.
'I need your help. I know you're not due for another hour, but I need you now.'
'What's going on?'
'She's at it again, emptying all the cupboards and trying to bust out of the apartment. I don't have time to sit with her. I've got an important report to finish.' I sighed and stared at the intractable Taila2, fighting the urge to smash it into shards of glass, metal and data-chips.
'Look, I'll pay you triple CC's for the overtime,' Saraiya said, misinterpreting. 'I need you here.' I fought the urge to scoff. Saraiya knew the unfairness of it all. She knew how the system could push you down and keep you there. Christ! She helped perpetuate it. The CC's she amassed for compiling useless middle-management reports was laughable compared to the pittance I received for personal care work. But, if you removed either of us out of the equation, who would be missed the most?
'Sure,' I said. 'I'll be there in five.'
'Thank the stars,' she muttered, before cutting the call.
Saraiya met me at the door. Dressed in a black glittery sheath, her white-blonde hair pulled into a tight chignon, she looked ready for a cocktail party. So much for the night at the office writing reports.
'I've locked her in her room, but it's a mess. Could you calm her down, feed her dinner and clean up?' She didn't wait for my reply and pushed past, high heels clicking down the corridor.
'Sure,' I muttered before closing the door.
In her bedroom, Hellenzi stood before a pile of clothes. She glanced up, annoyed at the interruption. I sidled in and sat quietly on the bed.
'You're a busy bee,' I said.
'They left me to do everything,' she replied, flinging her arms in the air.
'I see. Maybe I can help?'
'Oh, Lord, look at this mess!' she said, as though seeing the mound of clothes for the first time. 'I don't have time for this!'
'No. But don't worry, I'll do it for you.'
Her shoulders lowered and she turned to stare. 'Who are you?'
'Kajulla,' I said. 'I'm Kajulla.'
'Been here before?'
'On the odd occasion.'
'And have they told you how to get out? They won't tell me.'
'Not yet. I'm waiting to be told too.'
'Well, don't hold your breath,' she said with a huff. 'Anyway, where did those meteors land?'
'Oh, miles away,' I assured, playing along. Approaching meteors were blasted into dust nowadays and no longer posed a threat. 'Don't worry, we're not in any danger.'
'Good.' She nodded then said, 'And who stole the fish paste?'
'Um…I don't think anyone stole it. I think it just ran out.'
'They should have ordered more.'
'Yes, they should have.'
It was always best to follow Hellenzi's convoluted discourse with agreement and calm reassurance. She'd get riled up if you didn't. Admittedly, it wasn't always this bad. There were moments of lucidity where she would carry on a proper conversation, but lately they were rare and getting rarer, despite Taila2's biologics. Still, Saraiya kept her topped up on a weekly basis, desperate to wash away plaques, bump up proteins and reset thought patterns. I couldn't help but wonder if she was throwing CC's away for nothing. It seemed like an awful waste. After all, Andaya was barely twelve, Hellenzi a hundred and eight. Who deserved Taila2's biologics more?
When Hellenzi calmed down, I managed to get a few spoons of dinner into her. Settling her into bed, I set the air to 'Somnolent Lavender' and flicked on a relaxation hologram. As she drifted off, I bustled around cleaning the room.
***
It was my next shift with Hellenzi that led to my current predicament.
I somehow happened upon an open window in time, a perfect moment where Hellenzi's treatments had combined to allow me to see the woman she once was. I cleaned and folded and she chatted quite lucidly, painting a lovely still-life of colourful hydrangeas. And after lunch, I settled her into bed for a nap. As I tucked her in, she reached out and grabbed me by the arm.
'I'm slipping away again,' she whispered. 'You have to help.' She stared at me, her dark eyes glassy but steadfast. 'I don't want any more of these expensive treatments.'
'But Hellenzi, Saraiya is —'
'Doing it for the money,' she said. 'She knows I've left everything — my condo, my CCs, all of it — to the Social Equality Alliance. She's only keeping me alive to milk me dry. You have to help me.'
'How can I?'
She handed me a slip of paper.
'Transfer all my CC's to SEqA. Please! I beg of you.'
I looked at the two bank account numbers, one for Hellenzi, the other for SEqA and I found myself nodding.
***
I wish I could say I did what she asked, but I can't. Well, not to the letter anyway. I waited until she slipped back into her usual confused state and transferred all the CCs to my own account. Then, I went straight to Taila2 and paid for a lifetime supply of Andaya's biologics. That's why I'm here now, incarcerated.

About the Author
Geraldine Borella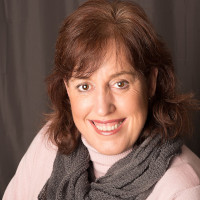 Geraldine Borella writes adult short stories and stories for children and has been published in anthologies for both. In 2018, one of her children's short stories placed second in The Buzz Words Short Story Prize and she won an ASA Emerging Writer's Mentorship. She currently works part-time as a hospital pharmacist and as an online creative writing tutor.
She's fascinated by stories that expand upon today's technology, addressing the moral and ethical issues that might arise. Equally, she enjoys the creative freedom that writing for children allows. Right now, she's writing a young adult novel, reworking a middle grade novel and writing adult short stories when inspiration strikes. She lives with her husband, Tim, in Yungaburra, Far North Queensland and dreams of one day taking a European gap year.