By Tim Borella

It started up out of nowhere, as these things seem to do. I was a bit slow to catch on as usual, so at first I didn't really notice much except that some of the people at work were acting funny, wandering around with faraway expressions on their faces, pausing to talk in low tones in the corridor or to look at you a few seconds too long like they were searching your face for something. None of those things in themselves were of any great importance, but together they added up to something that made me suspect that all the air had been pumped out of the building and replaced with some insidious mind-altering gas.
Brian, whose patterns of movement around the office were as predictable as the tides and who in the five years I'd known him had never ventured any opinion deeper than who was going to win the footy, suddenly started popping up in unusual places looking unsettled, like a ghost who's forgotten what he's supposed to be haunting.
After a few days of this odd behaviour, I ran across him just staring at the silent photocopier, and knew it must be time to initiate Step 1 from the HR poster in the lunchroom, something I'd never done before.
'Are you OK, mate?' I said.
He turned to me with uncharacteristic directness.
'What's OK?' he demanded, putting me instantly on the back foot. 'Is it OK to spend your life caged up looking at a screen clicking boxes that then just pop up on someone else's screen for them to click, for no discernible reason?'
'Well,' I said, trying for a soothing tone, 'just because we may not see the full picture doesn't mean we're not contributing, does it? Someone must see it, surely.'
I didn't really give a shit whether my actions achieved anything for the company or not — or humankind for that matter — but that wasn't why I turned up (most days, at least), which led me to my next point.
'Anyway,' I said, 'don't forget that magic thing that happens in your bank account every fortnight.'
Brian straightened and gave me an odd look that took me a few seconds to recognise — pity. Who was this bloke, and what had he done with my lacklustre crony? I pressed on.
'Come on, mate, you've got to pay the bills, don't you?
He gave a little chuckle, pulled his phone from his pocket and held it up to me like a missionary proffering the King James. On the screen was a big question mark on a black background, slowly changing colours in an unmistakable invitation — click me.
'You don't have to do anything,' said Brian. 'You need to ask yourself some big questions, my friend.'
That was my introduction to The Big Question, the app that was apparently taking the world by viral storm, subverting the capitalist dream and diverting people from well-worn paths as surely as a big rock on the Redfern line. It was one of those things that hit at the exact right time, and though it didn't strike me as anything special, it seemed like everyone else was entering some modern-day Age of Aquarius.
'But mate,' I said, 'what about the mortgage?'
He smiled beatifically.
'You know, I asked myself why I was paying that. Turns out I don't really need it — I've got a tent and a camping chair. I can pull in a fish. What's the rest of it doing for me anyway?'
'But what about Megan?' I said.
'She's free to make up her own mind. I can't tell her what to do, and to be honest, when I asked myself what we were doing together, well … I couldn't come up with a good answer.'
Brian, along with quite a few others, just stopped turning up to work. The most significant impact on me was that now there was always enough milk in the fridge for coffee and my days were a lot quieter given the thinning numbers of recipients at the receiving end of my own mouse clicks.
Julie, our boss, was one of those who heard the call, and after a while I just moved my coffee mug and stationery holder into her office, where there's a big window overlooking the park and I can watch the hippies wandering around hugging each other and doing whatever it is they do. They like wearing bikinis or even less, so while the summer lasts it's really quite pleasant.
My pay still arrives on time so the computers are still apparently going happily about their work, in that department at least, and Julie's passwords were all written down on a nice pink post-it note so I've given myself a suitable raise, seeing as I'm now the king of this castle.
I guess the real Big Question is how long it'll be until too many gaps appear in the machine and the whole ridiculous thing grinds to a stop. But hey, I think, my feet up on my beautiful desk, it doesn't do anyone any good to think too much about that kind of thing, does it?

About the Author
Tim Borella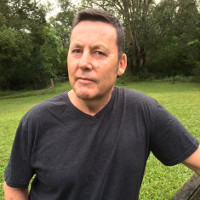 Tim Borella has never lost his childhood passion for SF and writing in general and has been lucky enough to have worked most of his life as a pilot — in other words, he's never properly grown up.
He lives in country Far North Queensland, has won awards for songwriting, and has had various other writing achievements, the most recent being an honourable mention in the 2018 international Literary Taxidermy Short Story Competition.
He also has bachelor degrees in science and teaching, and has completed a couple of as-yet unpublished SF novels. He'd dearly love to spend more time writing, but will have to continue juggling for another couple of years until the kids have fully left the nest.