By Col Hellmuth

"How's about that young-un, Gertrude?"
I munched thoughtfully awhile, before answering: "What young-un 's that then, Daisy?"
"Young Billy, the Farmer's boy."
"Oh, that one. How's about what with 'im?"
"Bruiser reckons 'e's learnt 'is self to talk, sort of."
I continued to chew whole-heartedly. I was famished.
"Reckons the boy said 'Woof,' to 'im!"
"Go on! Pull the other tit!"
"Serious, like," contended Daisy.
"Well I nev'r. Well. I. Nev'r," I expostulated.
"I know!"
I leaned my head in, conspiratorially close to Daisy's, "I reckon Bruiser might be a Nazi," I slobbered. "Or one of them Klan members, maybe."
"Don't be daft!" she scolded. "Honestly, y' think you're so bleedin' clever nowadays—like Miss-bloody-Marple—since you found those books o' young Billy's, 'e left lying around."
"I can't help that I've a healthy appetite for books, Daisy. We can't all go through life being ignore-ants."
"You certainly did devour them," conceded Daisy. "Master Billy weren't too impressed about it though. Heard 'im complaining to 'is father that the library wouldn't take them back all chewed.
—What's an Ignore ant, then?"
Daisy has an obsession with ants. I don't think it's healthy. "It's another name for a sheep," I explained.
"I didn't know sheep was related to ants, Gertie—what with them bein' woolly an' havin' a different number of legs an' all," Daisy stared off into the distance, dreamily.
"— Anyhow, I heard Bruiser boastin' about how his parents were pure-bloods, or some such like! And he is blond too like those Aryan lot!"
"That's pure-breads you unliterary heifer. Means they're special like the Queen, or Elvis Presley or that Bee Bee feller. Like butter is more pure than marg'e. Hence the bread reference."
"Don't be calling me 'un-thingummy-airy' — you skinny cow," I snorted back. "Everyone who isn't dumb knows margarine isn't less pure than butter, it just comes out of veg'ables instead. Pureed veg'ables — Sister!"
"And where d' you figure butter comes from, dumb-bum?"
I had to admit I didn't know.
"Pfffpht!" said Nellie.
Nellie has been a bit highly strung — an', dare I say it, hoity-toity — ever since she started frequenting 'The Races.' Time was she got over herself. I'll wager the la-de-dah Ladies at Flemington still fart just like everyone else.
Bruiser could hear every word we murmured, from where he was reclining lazily in the dirt on the far side of the barn, of course. As always, he chose not to respond out of a genuine disinterest.
***
A click pricked Bruiser's ears and triggered a genteel wag of his tail. Then a squeak, then a slam — that none of us could miss — signalled a boy-shaped projectile; catapulted from homestead entrance, flung across verandah and thrown down stairs.
"'Ere comes the young-un, Billy, now!"
Billy came running down the dusty path to the barn, milk-pail in hand, kicking at the chickens as he went. He strode up to Nellie first. Like he owned the place. Put his face right up to hers.
"Neigh!" he shouted.
Young Nellie took a step back in fright and ungraciously shat herself. Poor dear, she wasn't used to being spoken to like that—and by the likes of 'im, no less!
Daisy was outraged. I could tell by 'er countenance. She does that to let off steam. I don't believe she really can do 'The Mathematics.' Whenever you ask 'er how many ants she counted, she always answers: "Lots."
Young Billy sauntered over to her then, with a ludicrously exaggerated gait and proceeded to stare, unblinkingly, into her big brown cow-eyes. Daisy blew a perfect snot-bubble out of her left nostril. It got to be almost the size of one of Clucky's eggs, before it silently popped. Not that Clucky would likely be in the mood to lay 'er egg today—not after bein' kicked at. Stubborn old chook. Probably keep the rest of us up all night now, cluckin' about an ache in 'er cloaca.
"Moo!" Billy yelled, at the top of his lungs.
"SOD OFF —YOU SNOOTY LITTLE GIT!" bellowed Daisy back, at the top o' hers.
Billy fell over backwards, dropping his empty bucket; scrabbled frantically back to his feet like a dung-beetle, then ran off—squealing like a stuck pig—in search of his mother.
We all 'ad a good laugh about that. Even old Bruiser took time off from licking his bollocks, to 'ave a bit of a snigger.

About the Author
Col Hellmuth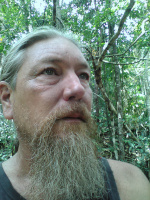 Col Hellmuth lives a quiet, uncomplicated life, off-grid in the Daintree rainforest of Far North Queensland.
He has scratched out a living in a variety of different jobs (and locations) over the years; these days he scratches out words in various sequences, and dreams of a day when he might be able to convert some of these ramblings into food.
When he is not writing or enslaved at work he is usually found bumming around his local beach dodging crocs in his kayak or jamming on the blues-harp.
He doesn't have any fancy letters after his name, or a pet cat, but does read a lot.