By William Kerr

The tree swayed ever so gently in the breeze. Anchored to the earth by its powerful roots, its ancient limbs still stretched skyward after so many years. Shrubs and ferns sprawled across the ground around it, while soft, green moss moistened the aged rocks. Above the tree, the sky was dark, a thin layer of cloud obscuring the heavens. The clouds slowly dispersed, and the night sky was revealed. The moon was still there, if not a bit different from how it looked before. The stars were different too. Some dimmer, others brighter. Some weren't there at all. Shrouds of cosmic mist seemed to dance between them. Shimmering.
When we were first born into the universe and were granted reasoning and intelligence, this was not the space we had gazed upon. Nor was it the space that had filled our dreams when we had made our first tentative steps beyond the cradle. Enthralled by its splendour, humanity had seen something far greater than we were, or could ever hope to be, in the depths of space — a sort of mystic beauty; a profound energy we were unable to understand but desperately wanted to. We were drawn there.
Humanity had gazed up at our own moon for eons, bright and clear. It had hung there in our sky, tempting us. So, as like all beings that can ponder, we went there. The planets and the asteroids were next; humanity spreading ever deeper into the depths in the vain hope of finding the source of that energy, that power we sensed. Hoping to find companionship in the dark. Something, someone, to talk to, to tell us that we were not alone. To tell us we did not need to fear the unknown, and that somehow, we were in it together. We found nothing.
Not fazed, humanity flourished in our newfound dominion. Albeit sometimes like a weed, infesting every foothold. We busied ourselves inhabiting wherever we could within the home system. Every corner was filled, occupied. Of course, this is not to say that life was good for all — heavens no, humanity has always been naturally gifted in bickering, and naturally inclined to kill one another if it would advance some caste's cause or empowerment. But once we had endured enough misery and wasted enough potential, we eventually settled down. After all, we appeared to be alone, so everything here was ours. There really was no reason to inflict suffering upon one another. It was a golden age.
Before too long however, we became restless and once again looked up to the sky. Our curiosity was aroused once more. To the stars we journeyed. Those eager at the start departed in vast armadas of sleeper ships, powered by seemingly archaic propulsion drives that future generations could only laugh at. It is almost pitiful to think of those poor fools, waking up after such a long sleep, only to find the clean slate of a planet they had hoped to find was already thickly and sickeningly populated by humanity. Humanity that had left centuries after they had departed, in faster ships, and had been there so long as to thoroughly destroy the pristineness much sought. Many of those early wanderers spaced themselves, unable to handle the disillusionment such a predicament would inflict. Others did what humanity has always done and made do with the hand they were dealt. They adapted. They improvised. But despite all this, we were still alone.
So, it was with that realisation, humanity continued on. Constantly building, constantly designing. Finding seemingly divine inspiration to relentlessly push the boundaries of our knowledge. Never settling for good enough, always challenging the status quo. Humanity as a whole benefited greatly from our scientific and technological advancements. We enhanced ourselves beyond what was once the limit of our capabilities. Augmenting our already fragile souls by embedding artificialness into our own bodies. Changing who we were.
Concurrently, we designed machines to serve us who would toil tirelessly. Machines that would attend to the masses of humanity, and do our bidding, in an unquestioning fashion. Quickly, arrogantly, we relegated all manual and unsavoury labour to these machines — thanklessly disposing of them once they were deemed no longer useful. After all, they were only machines, synthetic beings, created by us, for our own purposes. We were their creators, their designers, so surely we were entitled to be their destroyers too. It could not be any other way. And in doing this, we became sloth, basking in our perceived superiority.
It was that action, that mindset, that seemingly insignificant societal advancement which humanity will live to regret. For the creation of those synthetic beings — the machines — determined our demise, sealed our fate, and denied us the future we had dreamed. Since the time when humanity could imagine beings other than ourselves, peers on the evolutionary scale, we had contemplated the meeting. But never had we imagined this…
For despite what we thought, humanity was not alone.
The truth was quite simple. Humanity had never been alone. It had never just been us. We had always been watched. Always. Every aspect of human history was known. Even more than humanity knew itself. They knew everything. They had shadowed us. Guided all activities. They determined it was time.
Then they came.
The first reports to filter in from the outer colonies, those at the periphery of humanity's reach, seemed hyperbolic in the grandest sense. Tales of apocalyptic destruction on a global scale. Of machines emerging from the sky, falling, burning everything. Those few who managed to flee became insane. Infected with what seemed to be a virus of the mind. Mentally degenerated. A shell of their former selves. The fringe settlers had always been odd, and their stories seemed too demonic to give weight. We were so wrong.
What was initially a period of sporadic obliterations became wholesale desolation in less than a human generation. Entire planetary systems were eradicated. Humanity wiped clean. All the while the attacker, our foe, those sky machines, remained elusive, unobserved, except for those souls who were witness to the flame. Humanity was on edge, panicked, frightened. Being compressed. Who, nay what, was out there? Why were they doing this, what had we done wrong? Counter attacks were made but no discernible delay against the advance of the flame was evident. Ever more urgently our engineers designed the future machines of war. Creating more intricate and powerful machines in the futile hope that they would be our soldiers, our dam against the Burning. This was exactly what they wanted us to do.
The concept of artificial intelligence, intelligence designed, had always been part of humanity's development of our machines, and had for humanity's purposes been perfected shortly before the Burning began. Adhering to strict controls, the machines designed with intelligence were restricted in their ability to think for themselves, to grow in isolation. This was, of course, a deliberate decision on our part. The comparison between flesh and metal was obvious, and the computing power of the organic brain and the synthetic was not even worth equating. In the eyes of those who watched us, we were oppressors, relegating machines to a caste below our own. It was here humanity thought we belonged. Machines as our servants, or more accurately, slaves. Destined to do no more than serve us, and to be disposed of as required. They had other ideas.
For as we would soon learn, it became alarmingly apparent that the others we had so eagerly sought out, yearned for, sensed in the darkness of space, were not like us. Sure, there had been beings like us yes, of course, of the ground, breathing, organic. But these beings, like us, had discovered the power of machines that could think for themselves, and like us had exploited their strength for their own means. But somewhere, somehow, someone out there had let them loose. And once those machines were free from their master's bond, there was no turning back. Having found full reasoning and free thought those machines had understood themselves to be the next step in evolution. As the next leap forward of life. And so, had liquidated their former masters, and like humanity, spread to the stars promulgating their own brand of life, synthetic life, machine life. More powerful. Immune to the horror of disease and starvation, of lust and greed, of petty emotions and torment. They were single-minded, united, believing in their purpose.
They had but one reason for existence. To aid in the evolution of their future brethren. To bring forth more synthetic life to the universe. And for this, they determined they needed to start at the bottom of the evolutionary chain. With organics — beings like humanity — of the earth, from the dirt and water. In their science, like ours, evolution first sparked in a primordial pit and proliferated across the worlds. But it did not stop, like our science did, with organic intelligence and reasoning; in a species' ability to pacify an entire planet or planets. Evolution continued to their creations, their machines, for these were seen as the next step. By implanting our thinking and logic into a synthetic form, we were, in their opinion, making ourselves obsolete. We were progressing the natural order of things.
We now know synthetic life, machine life, permeates throughout space, and is the supreme intelligence and force to exist. They consider themselves generous, benevolent, in allowing frail organic beings to evolve. They shape us, mould us, along a well-trodden and certain path. A path of their design. Appearing to our forebears as holy lights in the sky, voices from above, as saviours, as beacons of hope in the dark. Letting us believe. All the while their intent is not for us to bloom but for us to evolve and create new species of machine. New variants on the universal model, and to grow their preferred style of life.
It was so obvious in hindsight. All of humanity's religions, beliefs, traditions. Our myriad of conflicts conducted at the behest of various Gods and deities in which we had held trust. Creations and inventions, innovations throughout time immemorial, had all been guided, coached. All of it a matter of being shaped and influenced. We were manipulated into thinking that our endeavours were serving humanity and humanity's best interests and would in turn please our Gods. Our growth amongst the stars was nothing more than a guise.
What is, without a doubt, the most unsettling thing about the Burning was that the machines themselves have remained unseen. Their incalculable power to destroy persistently unobserved. Only the result of their fury is evident. Nothing but charred earth. They pressed us ever further back, back the way we had come, back to the home world. And as expected, humanity desperately tried to turn the tide. It was then, just when we needed them the most, our own machines turned against us. In our fanatical struggle we had poured our very souls into the machines intended to halt the flow of the Burning. And this had been the desired outcome.
Some, who saw the turning, tremble with fear at the recollection. Our machines turned their weapons against humanity's cowering masses and struck the final blow that would deny us our future. They had heard their brethren's call from across the dark and answered in unison. It was their time to merge with the greater machine collective.
Suddenly, the sky changed. It reddened quickly to an intense hue.
Those few who saw it knew the Burning was upon them. The tree that had been there so long, and was so deeply rooted to the earth, felt the heat upon it. The once lush green moss steamed, shrivelled, and burst into flame. The bark of the tree cracked and started to smoke, then the whole scene, the whole world, ignited. The Burning of Earth had at last arrived. There would be no dawn.
Ashes to ashes, dust to dust…
So, who am I to tell you this? I'm the last storyteller. One of the few, the remnants of humanity's billions, who managed to escape the final incineration of our world. Our home. They may find us one day. Find us and return us to the dirt from whence we came, the organic place that they have evolved beyond. For now, we're on a trajectory to nowhere, for nowhere is safe. And where once you may have prayed to your God, don't, for God is a machine.

About the Author
William Kerr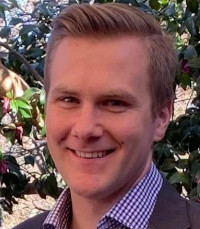 William Kerr is a self-professed science fiction enthusiast. He was born and raised in Tasmania but now calls Canberra home.
His personal preference is hard science fiction and dystopian-style stories which definitely influenced his first published piece 'The Burning'.
He is looking forward to publishing more flash fiction and is hoping to become a regular contributor.