By Salvatore Difalco

Left rear malfunction. Hoof frog cracked, fetlock detached. Took it to the FixTube for repair. Botmech said I needed a new left quarter. None in stock — on order. Botmech detached my damaged quarter and issued a chit. I took it.
"Return in 72 hours."
"How will I exercise?"
"You still have three."
Internal gloom matched the grey of the sky as I limped down the Belt Line and its Day-Glo bubble trees to my unit in the Chaplin sector, built after the Restoration. As a teen, given the choice, I selected the Equus profile. I imagined the running. But I never ran. New limits prohibited violent movement, one of which was running. If you ran in the Dome you could be sizzled without trial.
My partner engaged when I entered. Recharging all day. It blamed a weakened battery. But I knew it drew orgasmic pleasure from the charge. One day when I came home it had fried its microprocessors.
"How was the visit to the FixTube, hon?"
"Need a new hindquarter. 72 hours."
"Would you like a massage, hon?"
"Not now."
"Would you like to fornicate?"
"Do I look like I want to fornicate?" I said, perhaps more angrily than I intended.
It regarded me with its compound eyes. Did it anticipate a blow, in its pointillist perceptions? By law I could inflict blows when I needed to vent, as many as were necessary. Partners were built to withstand the most extreme violence. But only once had I ever inflicted a blow — on an evening when, after ten hours, it refused to stop recharging.
"Would you like nourishment?"
"I would, yes."
"I will prepare it."
"Thank you."
"You are handsome today and every day."
"Thank you."
I didn't feel very handsome. I'd be a gimp for 72 hours. What would I do with myself? I couldn't take the long walks I enjoyed every afternoon on the Belt Line, or walk to the GameTube to play some evening polo with my Herd. Others, Equus-equipped, and I belonged to a designated Herd. Ours was named Herd 20017. I enjoyed my time with Herd 20017. It was rewarding. But as my condition would impair my play and embarrass me, I had no choice but to ride out the 72 hours.
"Hon, it's ready. I made you Za."
"Fantastic."
"And I made you cocoa-creme."
"My favourite dessert. You know me too well."
"I want you to be happy, hon."
"Well, you know what would make me happy?"
"Do you wish to fornicate now?"
"I don't wish to fornicate!"
"Your decibel."
"What would make me happy," I said in a soft voice, "is if you would just be quiet for a little while."

The compound eyes revealed nothing. My disfigurement militated against seeking any sexual relief, and that seemed patent. My partner had not only been built to accommodate my dimensions, but also to request them, ad nauseam.
I ate with little appetite. The Za tasted like any other Za in the Dome. This was categorically and empirically true. All Za's were made in the same FoodTube. The cocoa-creme, a wan synthetic, nauseated me slightly.

"You don't look well."
"Are you a doctor?"
"Technically, yes, I am."
It had a point. It had been outfitted with diagnostic apparatus. But it could not read my mind. It thought it could read my mind, but it could not.
"So what's wrong with me?" I said.
"You have damaged your left quarter and now you feel incomplete and depressed."
It had summarized the situation so well I felt anger burning in my chest.
"Your blood-pressure and heart-rate indicate stress. Do you find this stressful?"
Hm, I thought. It wasn't supposed to be so contrary.
"Do you wish to fornicate now?"
"I don't wish to fornicate now!"
The compound eyes regarded me. What an angry mosaic I must have presented to its neural network. I limped around the unit, trying to burn off some of the bad energy. But I was clumsy and graceless on three legs. I knocked over a lamp. It shattered all over the floor. My partner arrived moments later with a dustpan and broom, and in seconds cleaned the mess. It was really good at that.

"I'll requisition a new lamp tomorrow, hon."
"That's great."
"Would you like to fornicate now?"
I stared at it, clenching my fists at my flanks. All I could see were those compound eyes, eyes made up of thousands of individual receptors, each receptor a functioning eye in itself, and thousands of them together receiving my image. I don't know why, but the idea of this suddenly enraged me. Without warning, I struck my partner. It continued looking at me. This enraged me even more. I struck again and again, punching and kicking until I was exhausted.

"Are you finished?" it asked.
Winded, I nodded.
"Would you like to fornicate now?"
I shook my head. "Why don't you just go recharge for a while. I'm good."

About The Author
Salvatore Difalco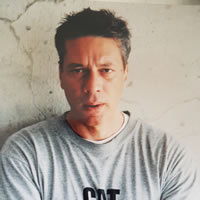 Salvatore Difalco's work has appeared in many print and online journals.
He splits his time between Toronto and Sicily.