By Ferne Merrylees

"I'm running away." Nero slumped against the wall, hands braced against his thighs as he shook his head, droplets of sweat flicking from his cheekbones.
"Run away from the circus? Isn't that what they used to do back on Dirt?" Helios, who's offstage name was Arthur — call me Art —, handed him a bottle of water. Nero took a mouthful, swirled the sour tasting swill around his teeth before spitting into a potted shrub.
"They had the right idea." Nero poured the rest of the water over his head. It streaked his makeup, but it needed to be redone anyway.
The glitter stung his eyes.
"Any place in particular?"
Nero studied Art from the corner of his eye while he ran his hands through his short, wiry hair, water bristling off in sheets.
At Bellagio's Galactic Interstellar Big Top of All Things Extraordinary, every thing was beautiful to someone in the audience, but Art was stunning to everyone. Ninety-six percent human, he claimed the rest was a mix, but he had to be pure. How couldn't he be? He was too perfect.
Nero, on the other hand, was such a mix bag of genetics he was lucky he had symmetrical features at all. Compared to Art's golden form, Nero was dark, eyes coal bright and skin a midnight blue.
"Salo is nice this time of year," Nero said, offering the bottle back to Art.
"Sure, if you like being kept inside a sealed dome below ground. Didn't think you aspired to be a Caver."
"With skin like mine, I could be invisible. No one would notice me there."
"And I'd stick out like nipples in a blizzard."
Nero snorted. Art was pale, skin so translucent it glowed. His hair was silver and slicked back with too much gel. Imagining the stage lights reflecting off his skin, his pale grey eyes bright and fierce, made Nero swallow.
"You'd come with me?"
"On your theoretical escape attempt? Where else would I be?"
"Oi, you lazy crits. Get where you need to be!" Despite his booming voice, Mr James was a stunted creature: no neck to speak of, eyes like glassy light bulbs set in a forehead that was flat and broad like a television screen.
"We're on our way to makeup now." Art gripped Nero's elbow before he could say something he'd regret. It was a poorly kept secret that Mr James wished to be the one out beneath the arena lights.
Performing was something you were born into. If your genetics tested out, you could be sold before you even left the womb, your mother earning a tidy sum and free tickets to shows. Nero didn't know of anyone who had a mother visit. His mother was from one of Saturn's satellite moons. He forgot which one, but it didn't bother him. It bothered Art though.

"Come on, I'll do you while you do me," Art said and Nero almost choked, but turned it into a squeaky cough. Art led Nero to a narrow cubicle, mirrored walls on each side and tubs full of paint and applicators, sponges and spray.
"I wonder if I'm as dark as I think I am under all this grot." Nero offered Art a wedged sponge and selected one for himself, focusing on his friend's brow and straight nose until old make-up blurred with new.
They'd only been doing each other's faces and body paint for six months, but it felt like years. Nero reached out blindly for Art to slap a brush into his hand while Art shut one eye for Nero to colour gold as he shaded Nero's cheekbones in blue and silver. Art turned his back to allow Nero to spray swirls of bronze down his spine then they swapped places, Art using a sponge to pat constellations of metallic blue across Nero's shoulders.
Once done, they were night and day, dark and light. Art transformed into Helios, the personification of the stars that heated the universe. He was order and progress. Nero was Erebus, the lord of dark spaces. The cold burn of entropy. Disorder and chaos. Their act was built on the tension of their striking physical differences and what pulsed between them, something unspoken yet even more alive beneath the arena lights.
"Ready?" Art murmured.
"Really reconsidering not running away."
When Art's fingers linked loosely with his own, the ache in Nero's chest eased.

Mr James manifested behind them, a sour faced ghoul that gestured for them to meet their cue. Art squeezed Nero's hand and let go.
They stepped out onto the smooth, black glass of the suspended arena and unleashed a kinetic force that sang in the heavy silence. At first their movements were slow and cautious. They circled like orbiting stars; a dance that escalated into the push and pull of something dark and threatening. Their reaching hands shifted from near misses to gentle caresses and finally to violent blows.

They were mostly silent. Soft grunts, growls and hisses between clenched teeth, but while Erebus slammed Helios into the glass floor, Nero held onto Art's body just a second longer to brace his fall. As Helios countered with a vicious kick to Erebus's gut, Art pulled his strike to be a gentle tap to the stomach. Their eyes never left the other's.

The audience only saw rage and lust, frustration and hatred as the act climaxed. It always ended with Nero landing the final blow to Art's beautiful body. Limbs all sharp painful angles pinned beneath Nero's weight. It was just a show, yet every time another piece of Nero died too. The audience loved it.
Off stage, discarding the roles of Helios and Erebus as if shedding unwanted skins, Art and Nero collapsed against the corridor wall, pressed shoulder to shoulder and slowly matching their heaving breaths to one another's.

"Did you mean it?" Art said into the quiet.
Nero didn't need to ask what Art meant.
"Yeah, I did."
"Tonight then. We go tonight."

About The Author
Ferne Merrylees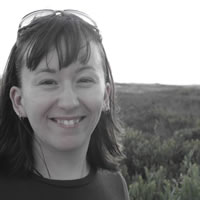 Ferne Merrylees completed her PhD in Creative Writing in 2015 at the University of Newcastle, Australia, and has had short stories published in multiple online magazines. She writes a blog that reviews young adult literature and speculative fiction books <fernemerrylees.com>, and she has a growing twitter following @fernemerrylees.