By Clayton Graham

The sound of applause. The silly creatures.
Applause. I hate it, but I can't do without it. Like most entertainers, I need it. It's like a drug. It's the only way I can exist. I tell jokes. I know nothing else. There is nothing else I can do. I cannot do mechanical things, nor can I understand how this world's system works. It is too complicated for me, too haphazard, much too severe.
I was introduced to this world by accident, a big accident. It took all my guile and energy to survive. I used to mingle in pubs and clubs, trying to be inconspicuous, picking up the odd joke, some good apparently, some not so good. I got quite a collection, and I needed them, believe me. I was on my last legs, so to speak.
So I became a comedian.
Applause feeds me and gives me enough energy to survive. Just.
I live in a shed. I call it my shed, but it isn't really. It belongs to one of the creatures I followed from the pub. Heaven sent, it stood there in the moonlight, a home from home.
Can a kangaroo jump higher than a house? Of course, a house doesn't jump at all.
Laughter. Applause.
There's not much in the shed. A few old things. Not as old as me, though. And spiders. Quite a few spiders. Webs in the corners. That kind of thing. I don't sleep much, but I don't really need to. I just rest—recover from my comedic exertions. Telling jokes takes a lot out of me, but it's good to be appreciated.
What is the difference between a snowman and a snowwoman? Snowballs.
Laughter. Applause.
I don't really understand that one. It doesn't make sense at all. But the people in the audience like it, that's the main thing. So I keep telling it.
I look down at my suit. I made it myself from stuff in the shed and what I found on one of my midnight walks. Stuff they hang on horizontal lines, fluttering in the breeze. They'd call it stealing, I guess. The jacket is yellow with black spots I put on myself. It makes them laugh. When I walk on the stage, they laugh. I think that is good.
I have to keep in shape, though. It takes so much energy, this keeping in shape. More energy than I thought I possessed. But I manage. I have to. There's no alternative. Jokes, and lots of them. Telling them once a week. Keep in shape to tell the jokes, to survive in this crazy world.
But it gets to me, not knowing what else to do. It breaks my heart, or it would do if I had one.
I dreamt I was forced to eat a giant marshmallow. When I woke up, my pillow was gone.
Groans.
Oh no! They didn't laugh at that one. This is serious. I'll try another.
A man asks a farmer near a field, "Sorry, sir, would you mind if I crossed your field instead of going around it? You see, I have to catch the 4:23 train." The farmer says, "Sure, go right ahead. And if my bull sees you, you'll even catch the 4:11 one."
Titters. Not laughs. No applause.
Try again
I tried to remarry my ex-wife. But she figured out I was only after my money.
A few laughs. Scattered applause.
This is no good. I feel unwell. I look to the stage door, wanting to make an escape, but the boss is there, the man who hired me. I'm losing strength. My shape is going. I look down at my body. The suit jacket looks like it's going to burst.
Huge applause. Lots of claps.
They think it's part of the act. My jacket and pants are lying on the floor. The clapping is starting to stop. I hear a scream. Someone actually screamed. I look at my body. It's yellow with brown spots—and it's growing, growing, and growing. Rounder and rounder.
I hear lots of screams now, and people are falling over each other to get out of the building. And all the time, I'm still growing. Two old people on the front row aren't moving. They're mesmerised, eyes agape. My body absorbs them.
I hear a siren. Now I feel better. I have more energy. I am getting into shape again. But I have no clothes. The boss is gone. I make for the stage door.
Out into the night. I'll just have to try another town. They won't come here again. It'll be in their heads, what happened tonight. Another town is needed. Another place.
Another interview. I'm in full shape now. Absorbing people is better than absorbing applause.
Next town. I'll have them rolling in the aisles. I'll slay them.

About the Author
Clayton Graham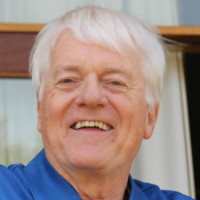 As a youngster growing up in the cobbled streets of Stockport, UK, Clayton Graham read alot of science fiction. He loved the 'old school' masters such as HG Wells, Jules Verne, Isaac Asimov and John Wyndham. As he left those formative years behind, he penned short stories when he could find a rare quiet moment amidst life's usual distractions.
He settled in Victoria, Australia, in 1982. A retired aerospace engineer who worked instructural design and research, Clayton has always had an interest in science fiction and where it places humankind within a universe we are only just starting to understand.
Clayton loves animals, including well behaved pets, and all the natural world, and is a member of Australian Geographic.
Combining future science with the paranormal is his passion. 'Milijun', his first novel, was published in 2016. Second novel, 'Saving Paludis', was published in 2018 and won a Readers' Favorite International Award. The stories are light years from each other, but share the future adventures of mankind in an expansive universe as a common theme.
The sequel to 'Milijun', entitled 'Amidst Alien Stars' was published in December 2019.
In between novels Clayton has published 'Silently in the Night', a collection of short stories where, among many other adventures, you can sympathise with a doomed husband, connect with an altruistic robot, explore an isolated Scottish isle and touch down on a far-flung asteroid.
He hopes you can share the journeys. 
Web Site: <https://claytongraham.com.au/>.
You can follow Clayton on Twitter <@CGrahamSciFi>.
His Facebook author page is at: <https://www.facebook.com/claytongrahamauthor/>.