By Jake Dean

I leave the doorway of my pod and follow Steve's lanky frame down the white corridor. We're tiptoeing for some reason, like that'll somehow stop them from seeing us.
I'd like to believe, if we get caught, that I have an excuse. He's my superior. I'm just a lowly maintenance officer. But I know it probably won't fly and I'll be pulled before some tribunal. What are they gonna do though? Fire me via video link from a dozen light years away? Tell me to pack my things and… wait for a lift home?
Steve pauses at the door like he's having second thoughts. A wave of relief washes over me until I realise he's forgotten his key.
'Do you mind?'
'We're gonna get in so much shit.'
'You don't have to do this.'
I scan my key before I can back out.
The door slides open and the vents above hiss, coating us with a mist Steve says protects the outside world from our germ-riddled bodies.
The greens of the plants here are like I'd only ever seen in old photographs, the sweet air is a balm, and the water… The water! It's so damn blue it hurts. There's very little here that resembles anything like the toxic hellscape back home. There's something infinitely sad about that, when you consider this is how parts of it would've looked before we screwed it all up.
Still, it's impossible to tell what's lurking amid the gorgeous little coves that dot the coast. Steve's the resident biologist, but so far, he's surveyed very little and remains coy on what else calls this place home. Here's hoping it doesn't have sharp teeth.
He's striding ahead now, boots crunching the rocky ground, towards the maintenance pod, the only thing on this planet I have any authority over. He turns to me, impatience like lasers from his eyes.
'I'm coming, I'm coming,' I say, fumbling for my key.
His face turns again when I show him my creation.
'Is this it?'
'What did you expect?'
'I dunno. Thought it'd be bigger.'
I'm bristling, but I say nothing because I know he's anxious. Besides — doesn't it look almost identical to the pixelated image he'd shown me? An elongated platform, pointed at the nose, with three fins on the bottom to improve directional stability?
Steve picks the board up and runs a hand and eye along its rail, before holding it under his arm. His mouth curls in a grin at one side.
'You've done well here, Kev.'
Peace restored, I close the pod and we walk again in silence, glancing back towards base and our wrist monitors for signs we're being watched.
Seeing my creation under his arm, it's all suddenly becoming so real. Months of plotting have come to this. We're going surfing.
When Steve told me about the antediluvian pastime — his great-grandfather had been a champion of some kind before our oceans were ravaged by neglect — I said it was a stupid idea.
But the days turned into one long monotonous grind. The maintenance checks, video conferences and team safety meetings. I couldn't stop thinking about the possibility of gliding along the face of a wave in the rocky cove just a hundred metres from base.
Eventually I relented to Steve's badgering and gradually fashioned the board out of a broken door. I watched in horror the first day when my sander sent a plume of plastic shavings cartwheeling out the door into the pristine ecosystem.
We reach the cove in less than a minute and at first it resembles a lake. But soon a shimmering lump appears near the foot of a moss-covered rock shelf. The lump of water darkens and then, with nowhere left to go, it trips over itself and runs towards the middle of the cove and distant moons, leaving a white-water trail in its wake. It's one of the most beautiful things I've ever seen.
Steve's half-grin turns into a full-faced smile and I realise mine has too. Still, my heart's racing, and we're silent again as we take off our suits and lay them on the rocks. Another wave reels along the cove.
'How big do you reckon that is?'
'Waist-high maybe?'
'Please tell me nothing's gonna eat us.'
'The data is inconclusive, Kev.'
The water's like a warm bath and stunningly clear. Dregs of seaweed ebb lazily along the rippled ocean floor. We walk towards where we'd seen the waves break earlier, the water up to our waists. The board floats between us. I scan the cove for fins and tails.
'I think you should do the honours.'
'No way! I have no idea what I'm doing.'
'You think I do? Look, theoretically you just lie down, create propulsion with your arms, and stand up when you feel the wave's energy move you on its own.'
'Oh, when you put it that way.'
Steve laughs with his eyes closed and his long narrow face to the sky — something I've never seen him do — but before I can react, another lump jolts us from our reverie.
Slow-motion now. Steve's howling, wild-eyed, and flailing his arms, willing me onto the board. I oblige instinctively as the wave approaches my feet.
Steve once told me waves are the product of wind blowing across the water's surface, sometimes thousands of kilometres away, created by storms days earlier. It's so fantastical, my brain can't even fathom it, let alone the fact we're re-enacting an ancient dance we've transported across the galaxy like a flickering candle.
I feel the wave's energy pull me gently towards shore and I spring to my feet, my heart beating loud and the offshore wind caressing my face.

About the Author
Jake Dean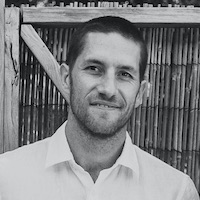 Jake Dean is a writer and waverider living on Kaurna land in South Australia.
His fiction has appeared in White Horses, The Fiction Pool, Sweaty City, Underground Writers and others.
He's utterly convinced there's a perfect wave breaking somewhere else in the solar system right now.