By Julian Roberts

"Crutch, come look! Quick! Hurry, boy!"
His father Patch was rarely ever happy, let alone excited, so Crutch dropped his toy stick and ran into the hut. Inside, Patch sat with a small candle in his hand, its wick constantly lighting and extinguishing. Crutch was confused but quickly realised what was happening.
The rumours were true, magic did exist. And his own father had figured it out.
Decades later, it was this memory that encouraged Crutch. Just because the most complex spell discovered was turning soup into stew, Crutch saw no reason why magic couldn't be used for other things. He just hadn't figured out how magic worked yet. Being kicked out of the short-lived Magic Guild of PieTown just fueled his determination.
The night that it happened, Crutch didn't know if it was the thunder or his weak bladder that woke him. He reached for the toilet bucket, only to find it was full to overflowing. He didn't fancy getting soaked just so he could pee in the garden. Crutch stood staring at the bucket, weighing his options. As quickly as his bladder's floodgates broke, the pot emptied. Huh. Too tired to solve this mystery, Crutch shuffled back to bed.
He woke to the undeniable truth — his piss bucket was empty. It wasn't a great bucket, but it had no holes and was a family heirloom. Wide-eyed, he ran up the street, shouting:
"My piss is gone! Something's taking the piss!"
As usual there was an angry neighbour waiting outside Crutch's hut.
"Oi, did you throw piss on me last night?!"
Crutch was not expecting this, normally the complaints were about things spontaneously catching fire. He'd spent years trying to copy his father's candle-lighting trick, but his conjured flames never behaved.
"Piss? That's excellent!"
The neighbour was dumbstruck, shaking his head as he left.
Crutch entered his hut and inspected his bucket. The bucket wasn't magical, so of course, he was.
***
After a whole winter of disappearing piss, a missing fire, one lost and found goat, and Crutch's hut catching fire almost monthly, he did it. Crutch was confident he had figured out "gate magic".
From a safe distance, the village gathered cautiously around Crutch and a crudely constructed arch. Everyone knew better than to get too close.
"At the eastern end of the village," Crutch announced, "there's an arch just like this one. I am going to walk through this one and walk out the other one."
The usual jeers filled the street. Until Crutch stepped through and was gone. There was no fire. No smoke. Nothing. Not even a little pop. The street became silent. The children and the few who still had a sense of wonder led the charge to the other end of the village.
"Well, you all took your time," Crutch said through the smuggest grin he could manage.
Word got around. The Department of Roads contracted Crutch to create gates connecting Kings Keep to the other major cities of Green Tree. It was quite convenient for The Department that Crutch's preferred payment was to be allocated a small lot in the Royal Cemetery. Of course, they gave him the small patch next to the cemetery tool shed where the gravediggers liked to piss. By Crutch's standards, this was luxurious.
It all took several months, but Crutch had successfully crafted a gate network connecting Kings Keep, PieTown, Wet Sand City, and even the Gotch Mines.
The deed to his plot in hand, Crutch visited the Royal Cemetery to seek out his final resting place. He soon found the shed and the small patch of weeds next to it. Crutch's gravesite was scarcely big enough to bury a fat child, but it was not his problem to figure out how he would fit. On his way out, he noticed a worn steppingstone leaning against the grave keeper's shed. Hmm…
Having no more business in Kings Keep, Crutch left for home, taking the PieTown Gate to hasten his long journey. Something was different when he finally arrived at his village. Nobody threw anything at him or even said a word to him.
I could get used to this, he thought.
The next morning Crutch woke feeling fully rested and full of life, right up until he grabbed his chest in pain and collapsed, knocking over a lit torch. For once, Crutch's neighbours were quick to respond to the smell of smoke, and the small fire was gone in moments.
The greatest magician of his age had passed.
Long after the undertaker carted his body to its final resting place, it took weeks for the town to rifle through Crutch's meagre belongings. Sadly for them, all Crutch left behind was a pile of sticks, some rags, a rotten loaf of bread, and a letter. As was customary, they brought these items to the Matriarch so she could have first claim.
That afternoon, the Matriarch gathered everyone near the market. There were many cheers at the news of Crutch's death. Finally, the village would have lasting peace.
"This letter was found in that old bastard's hut and I think you'll like this. He created one of those gate things for us so we can get into Kings Keep. Who knew, the old fool was useful for something."
The village followed the letter's instructions and found a small gate on the edge of the village. The Matriarch went through first and came out in front of a weedy little patch by a tool shed. A headstone faced the exit point of the gate, and soon all the villagers were gathered around it.
The inscription on the headstone read "Here lies Crutch, Creator of Gates. Every time you pass, you can kiss my arse."

About the Author
Julian Roberts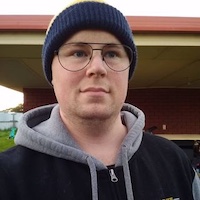 I grew up in Elizabeth, SA but have fallen in love with Adelaide's southern coastal suburbs (there's just so much more nature down here).
I live with my wife, The Boss, and my toddler who's a sentient squeal obsessed with dinosaurs and going to the zoo.
We have four cats. They're not awful, but they could be more helpful around the house.
I have a long-distance relationship with depression and have Autism Spectrum Disorder.
Cycling is my favourite way to get around and I'm pretty into basketball too (go 36ers).
Cartoons are my favourite thing to binge.
"Be excellent to each other"