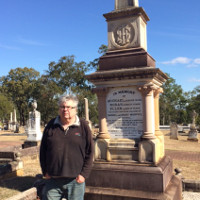 I'm a life-long resident of Melbourne, Australia, where I work in the transport industry. I like to explore graveyards, an odd hobby I call necrotourism, although I believe the correct word is taphophile.
I've been writing since 1979 and have had SF and ghost stories in many magazines, anthologies and podcasts. In 2008 my story "The Dark and What It Said" won a Ditmar, and in 2013 my podcast stories "Now Cydonia" and "The Road to Utopia Plain" won two Parsec Awards. I'm presently the podcast reporter for the M.R. James journal Ghosts & Scholars.
"The Gods in their Galleries" is a sequel to my novel "Presumed Dead", available on Amazon.