By Timothy Dwyer

Major Strom brought his craft into low orbit and rolled into entry attitude. He loved the feel of the controller in his hands. He squeezed it firmly, took a deep breath, and fired the reverse thrusters to begin his descent.
Although his primary objective was reconnaissance, he was asked "to initially assess the native inhabitants and draw preliminary conclusions about their developmental capacity." In other words, if he saw anything notable he should call it to the attention of High Command. In actual fact, there was little they had not already seen from the mother-ship orbiting high above. He was basically a decoy to draw fire from any hidden weaponry the inhabitants might have. He knew it, and High Command knew it, and this gave him an unspoken carte blanche to do pretty much whatever he wanted.
But he wasn't a sitting duck. His craft had the best defensive and offensive systems available, plus it was fast and highly manoeuvrable. And the inhabitants appeared to be primitive hunter/gatherer-types, hardly able to shoot an advanced craft out of the sky.
"Descent under way." Strom spoke with his usual disinterested style.
"Roger that," came the reply, with nearly the same casual drawl.
He stalled-off excess speed and nosed down over the polar ice. He had planned to turn toward equatorial regions but instead flew to the opposite side of the planet. Who needs Command's prying eyes? he thought.
As the ice gave way to mountains and forests, he entered a wide valley. The base was covered with patches of trees and open plains, where herbivores in large herds grazed. He opened the throttle just enough for his speed to creep up through Mach-1, and he chuckled as he imagined the mayhem caused by the intense sonic boom.
Ahead was a mound topped by a clump of trees. "Perfect," he said to himself and flipped up the safety cover on the red push-button. He fired four exploding rounds that obliterated the top of the mound and he clicked his carapace with pleasure.
Flying over the destruction he noticed a nearby settlement of mud huts with tiny fingers of smoke rising from a dozen fires. He grinned and waved at the score of inhabitants, each running on two legs frantically away from the mound. They had stringy filaments growing out of their heads and they wore animal skins.
He nosed up and flew a complete loop, coming down again heading toward the settlement. Five of the inhabitants had positioned themselves as though they were making a stand against him. This amused him greatly. He would show them real power.
He eased down low and came in with his thrusters screaming. He saw the eyes of one of them, wide with fear. It swung a sling over its head and launched a stone, which bounced off the craft with a pathetic ping.
Strom's amusement now changed to annoyance. Who do they think they are? What stupid creatures! They had to be taught a lesson.
Again, he flew in a loop and approached the settlement. He picked out his target, one of the larger of the mud huts, and prepared to blast it with a high-powered laser.
Strom had no idea what hit him when he and his craft were completely destroyed by the anti-matter beam that came from the sky. Many of the inhabitants saw it happen.
In the weeks that followed, they would describe it this way to the other clans: "A deep purple beam came from the sky and touched the flying maker of loud noises. A flash as bright as the sun followed that ate most of the flyer. Only small pieces continued to fly, some spiralling out, but these were eaten by the purple light until all were consumed."
***
On the mother-ship Captain Helgut was being informed of the loss of communications with Strom. "The homing beacon?"
"Nothing, sir."
"You mean we have no contact with the craft? How can that be?"
"Yes, sir. I don't know, sir."
"Communications arriving, Captain!"
"From Strom?"
"No, sir."
"Open the channel; on speaker. And find the source of the signal!"
A voice came over the loudspeaker in the control room.
"Am I speaking to the captain of this ship?"
"This is Captain Helgut. Who is this?"
"Call me Merkam. I am an autonomous entity tasked to protect this planet's inhabitants. I have annihilated Major Strom and his craft."
"What do you mean?" the captain demanded.
"The matter that once made up Major Strom and his craft no longer exists."
"You killed Major Strom?"
"In a manner of speaking, yes."
To the communications officer, Helgut whispered, "Did you find the source?"
"Yes, sir. It is coming from the moon."
Still whispering, "Give the coordinates to the weapons officer and tell him to target five full-strength torpedoes on that spot, understood?"
"Yes, sir."
Captain Helgut leaned against the control console. "Why would you do such a thing?"
"Major Strom destroyed some trees and killed seven inhabitants. He was preparing to kill more."
"That does not give you the right to kill him! They are a bunch of hunter/gatherers!"
"He did not have the right to kill the inhabitants. They are considered to have great potential. They are skilled at carving and call themselves hew-men."
"So you value a few wood-carvers more than one of us," Helgut growled.
"My task of protecting the hew-men includes terminating if necessary those who harm them. I recommend against you taking any further aggressive actions."
Helgut looked over at the communications officer, who nodded to him.
"How many of you are there, Merkam?"
"There are many, each protecting a world of its own."
"So you are on your own here. Correct?"
"Yes."
"Fire torpedoes," Helgut said in a calm voice.
The torpedoes streamed out toward the moon, moving at high speed. But in a flurry lasting less than two seconds, the purple anti-matter beam struck each torpedo in turn, creating a bright flash and leaving nothing.
"Your aggressive actions have been transmitted to the Central Galactic Committee. I now require you to leave this planetary system immediately. If you refuse, I have been authorised to annihilate your ship."

About the Author
Timothy Dwyer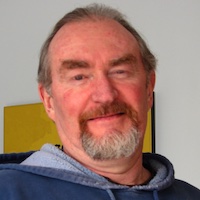 Timothy Dwyer is an American science-fiction writer living in New Zealand.
He has written a novel (The Emergence) and a number of short stories.
He holds a degree in Electrical Engineering and was a consulting engineer for 25 years, specializing in Instrumentation and Controls.
Before his engineering career he was a professional musician — and he remembers most of it.
He loves cats.