By Tim Borella

The airship rolls and pitches slightly like a boat on a long gentle swell, and the dog watches Taka from the corner of the compartment. The animal's almost perfect, but he still has a few small tweaks to make. It lives in the walls and roof and floor, roaming where it wants mostly, but with certain limitations on where it can go, and when. Depending on the light it's grey, or silver, even blue. It could be any colour they wanted, of course, but the lady insisted on absolute accuracy.
Before, it really was their dog, an extremely expensive and pampered one, but even being worth more than most people's homes wasn't enough to keep it alive. Everything dies, but if it's arranged in time, someone with the right equipment can take some very, very detailed scans of a brain's activity and store them for future use.
The hatch slides open and Taka looks up from his pad. The dog looks up too and trots around to inspect the woman coming in. It's Luisa, the second skipper, who keeps the airship ticking over and pre-positions it wherever the owners want it to be. Then she hands it over to Owen, the 'real' captain, who she says doesn't know any more than she does but looks the part, which is apparently very important. Taka understands. It's not a million miles from his own situation. They've developed something of a rapport over the past few days.
"Hi," she says, "how's it coming along?"
"Pretty well, actually," says Taka. "There's a bit to work through still, but I think I'll get there. There's the backgrounds and moods to finalise, but most of that's set up so I'm really just checking the feel and looking for bugs. How long have we got now?"
"A bit less than two days to port."
"Okay," he says, nodding. "That'll work. That's great."
Luisa looks at him with a little sideways smile.
"You're really into this, aren't you?"
Taka's sometimes been guilty of agreeing with what some people say, that his line of work caters to super-rich fools, but in this case he has a bit more sympathy for the clients — their daughter died too, eight years ago when she was just thirteen, so he understands how the mother and father might feel, and how being able to keep at least some reminder of happier days would be something you'd grab if you could.
Sadly for them the technology wasn't around when they lost their girl, but even if it had been, they'd have been in for a disappointment. It doesn't work well on people. Well, that's not quite right — it's just as good as it is with animals, but it's far from a true copy. Really, it's just a sketch, a cartoon, the idea of a being rather than the being itself, and that's not good enough to fool anyone. You scan your dying dad and use the data to animate his image, but all you'll get is a disappointing ghost that mooches around in the smart screens that are the walls and can recognise you and talk a bit about things that you did together, but you know it's not him. It might as well be a home movie. You can't have a conversation because there's just not enough there. He's just an echo; not alive, not self-aware in any meaningful way. Not your dad.
But a dog, though — that can really fool you, because what do we know about what pets think? They're fun, they love us, they're part of the family, but they're inscrutable. If the dog in the walls runs towards us wagging his tail when we come home, and looks and sounds like he used to when he was alive, that's good enough.
"Here," Taka says to Luisa with a little thrill of guilty pleasure. "Let me show you something."
She moves closer.
"Okay," says Taka, "call him."
The dog's wandered off somewhere and Luisa stands up straight like she's addressing the ship itself.
"Rufus!" she calls. "Rufus! Come here, you little bastard."
She looks apologetically at Taka.
"Sorry, but he really was. Sneakily pissing in the most inconvenient places and getting in the way all the time. I did like him, though."
The dog comes running in through what looks like the world's most lovely park, perspective changing ultra-realistically as his image slides along the wall so it's easy to believe he's really there and coming closer. He looks expectantly at both humans in turn, panting a little.
"Oh Rufus," says Luisa softly, walking towards the image. She reaches out as if to pat the dog and he turns around in place, offering her his back for a scratch. She wriggles her fingers against the wall and the image writhes in pleasure. Luisa steps back and shakes her head while the dog watches her, waiting for more.
To the layperson the dog in the walls doesn't look much different from those generated by lesser technology, but Taka knows what he's doing is literally cutting-edge, not a term he uses loosely. More than that, it's his own work that's made it possible.
"That's just amazing," says Luisa. "So real."
"Thanks," says Taka, "but that's not the best part."
"No?"
"No, far from it. Watch this."
He's under strict instructions not to leak this to anyone, not even his own family. He hasn't said a word until now, but Luisa will be working on the upcoming cruise and in a few days all the crew will have seen it anyway, getting an exclusive preview of the next big thing.
He changes a setting on the app and looks up at the wall. The scene shifts. Now it's a garden, slightly blurry compared to the previous pristine view, with a fountain and hedges and a wide set of steps leading up to an elevated path and beyond that to a fine-looking house. There's something different about the viewpoint, though, and it takes the mind a little to adjust. The vantage point is moving, stopping and starting like a first-person view in a movie, but there's an odd, low angle to everything. Luisa gasps, and Taka knows she's gotten it.
"This is …" she says.
"Yes," he finishes, "his memories."
"Oh my god," says Luisa. "How?"
Taka shakes his head, smiling. It'd take him a year to explain properly, but he gives it a try.
"This isn't really him, of course, but the scans we're doing now — the really expensive ones, the latest ones — are getting such a level of fine detail that we don't actually know what we've captured. It's a pool of data, a map of all the tiny signals and charges in the brain, and the trick is how to mine it, access it in meaningful ways. I've been playing around with this a long time now, and with a lot of hard work and a lot of luck, well …"
She looks at him intently, as if seeing him properly for the first time.
"You did this?" she says. "Wow. It's gotta be worth … well, who knows?"
"Yes."
And he has done it himself, really. Mr Marchant couldn't have, but then neither could Taka himself without the job, the facilities his boss has set up, his network of rich clients and his money. Taka knows Marchant will make a lot more out of this technology, out of him, but so too will he if he just plays his part. He's investing in his own future, that's the way it works.
Now they're both staring at the moving picture on the wall, seeing what the dog once saw. It's an odd, lurching sensation, nosing in and out of cracks and corners. It's silent, but he can imagine the little grunts and patter of paws, the panting and snuffling.
The view jerks up and now it's moving quickly, jog-trotting towards a shaded space of lawn with a big tree off to one side. There's people there, and Taka recognises the owners of the airship. He hasn't met them but he's seen pictures. They look younger — it's maybe ten years ago. The man's sitting at a table in a kind of gazebo under the tree with a plate of food, a glass of red wine and his nose in a tablet, while the woman's doing something at a flower bed, poking a trowel here and there. There's a pretty, dark-haired pre-teen girl beside her, watching what she's doing.
"That's their daughter?" says Taka.
"Adele," says Luisa wonderingly. "Incredible to see her like this. So sad."
"You knew her?"
"A little. Most times she'd be at boarding school when they came out, but now and then she'd be with them. Funny, Rufus travelled with them more than she did."
"So … what happened?"
Luisa looks down. "Don't know for sure. The news said some kind of sudden illness, but it was all pretty vague. We didn't see them for months afterwards, and then when they started coming back again we all just carried on as if nothing had happened."
She clears her throat. "Anyway, better get back to the bridge."
Taka quickly switches modes and Rufus is back, wagging his tail and following Luisa as she walks away. Once she's out the door he flicks back to the previous view. It's fascinating to see the system working so well in practice, and layered on top of that is the knowledge he's seeing events as they really happened, without any of the pretence that goes along with being filmed. People like these are so unfathomably rich that they're set apart from the rest of humanity, surrounded by minders and fixers, hyper-aware of the myriad cameras pointed at them so much of the time. What Taka sees now, though, is private and unadulterated. Their guard was down because they knew nobody was watching — but somebody was.
As they continue towards port, Taka keeps coming back to see more of these odd little glimpses into the family's private life. It's unethical, he knows, but he can't help it. Many of the dog's harvested memories are mundane, but it's also compelling to see the changing patterns of the family's interactions, how they act together and alone. There's a random element to the access so you don't really know what you'll see next, but that's part of the charm, Taka thinks. It's a little macabre, maybe, but in a way this development makes up for the previously unsatisfactory nature of a human scan – you're seeing your departed loved one in a different light, like you're able to live alongside them that little bit more.
They land in Santorini on time, and two days later final preparations are being made to depart again. The owner's due from New York in an hour, and the plan that's been conveyed to them by Captain Owen (who really does look like he was born for the job), is for a brief shakedown cruise for the client to sign off on the refit. Then they'll dock again, his wife will join him and off they'll float.
Marchant's been cagey marketing this because the memory functionality wasn't complete when the contract was being negotiated, and they couldn't rely on it being ready on time. Rather than wait, he's been deliberately vague, promising something new and wonderful but not spelling it out exactly. Of course, the client hasn't gotten to where he is by being gullible, so the deal they've struck is half payment up front and the balance on delivery, demonstration and full satisfaction. It's a gamble, but now the system's running so well Taka has to admit it's probably going to pay off — these guys will love it and tell their friends, and quickly it'll become one of those things that everyone who can afford it just has to have.
Soon the owner arrives, immediately recognisable from the vision Taka's watched over the past few days. The captain and crew are lined up to greet him in their whites, and though he's dressed casually he moves past them up the gangway like royalty. Only the flight crew are needed for the shakedown, so the rest of the staff file off and within minutes the ship's airborne.
Taka and Marchant stand nervously in the main lounge for what feels like ages, awaiting their big moment. The door slides aside and Taka cues the app, and there's Rufus trotting up to meet the owner as he comes in. The man stops briefly, brow furrowed, and then his expression changes, a smile spreading across his face as he moves towards the dog's eager image, hand outstretched. That's promising enough, but once they demonstrate the new capability, all doubts vanish — the man's clearly very impressed.
A half-hour passes and it's as if the owner's forgotten the other two are there. Scenes play, unremarkable in themselves, but Taka imagines how the fascination he's felt watching them must be magnified for someone who's lived them.
Something on screen catches Taka's attention, and he looks more closely at the images. It's the garden again, and as the dog's viewpoint gets closer to the gazebo he can see into it. Just the man and the girl are there, and something's very wrong. The girl's moving away from him, cowering into a corner. She's naked from the waist up. He's moving towards her. Taka looks at Marchant in horror and sees his mouth hanging open.
The owner's coming towards him in what feels like a terrible parody of what's happening on screen, his reddened face contorted in rage.
"Turn that off!" he growls as Taka backs away. Taka quickly switches modes and now the animated image of Rufus is back, watching them uncertainly.
Taka looks to Marchant for support, but his boss's attention is on the owner. It's like an unspoken conversation takes place between the two men and then Marchant's coming towards him too, his face set in grim determination.
The airship is at nine thousand feet somewhere over the Aegean, and Taka has nowhere to run.

About the Author
Tim Borella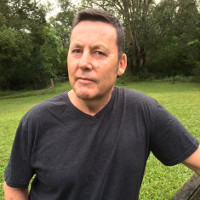 Tim Borella has never lost his childhood passion for SF and writing in general and has been lucky enough to have worked most of his life as a pilot — in other words, he's never properly grown up.
He lives in country Far North Queensland, has won awards for songwriting, and has had various other writing achievements, the most recent being an honourable mention in the 2018 international Literary Taxidermy Short Story Competition.
He also has bachelor degrees in science and teaching, and has completed a couple of as-yet unpublished SF novels. He'd dearly love to spend more time writing, but will have to continue juggling for another couple of years until the kids have fully left the nest.