By Zena Shapter

Skyscrapers collapsed into the oceans. Meteors lit the Anderson's faces. Their neighbour's escape pod exploded above them.
"We'll never make it," Tilly cried, clinging onto her robotic puppy.
"Come on!" her father yelled, repetitively pressing the remote control for launch.
"You put in fresh batteries?" Tilly's mother sounded panicked.
"Every week," her father said, "just in case."
Tilly frowned. When she'd asked Daddy to recharge her puppy, he'd said to do it herself. Maybe swapping her puppy's batteries for those in the pod's remote wasn't what he meant? Oh…
She gave her puppy a final squeeze, then handed him over.

About The Author
Zena Shapter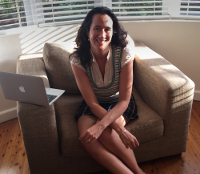 Zena Shapter writes from a castle in a flying city hidden by a thundercloud. Her short work has appeared in 'Midnight Echo', Hugo-nominated 'Sci Phi 
Journal', 'Antipodean SF' and Award-Winning Australian Writing (twice). She's won over a dozen national writing competitions. Her novels include her solo debut 'Towards White' (IFWG 2017), and the co-authored 'Into Tordon' (MidnightSun 2016). She's also a book creator, creative writing tutor, mentor, editor, short story judge, founder of the award-winning Northern Beaches Writers' Group, a movie buff, traveller, wine lover and story nerd. Find her online at <zenashapter.com>.