By Haneko Takayama - Translated by Toshiya Kamei

The master craftsman dipped his brush into the ink and let its tip touch the surface of the paper.
"Mass manufacturing can also create incredible, one-of-a-kind paint brushes," he mumbled. "No, rather, mass producing companies are the ones creating most masterpieces," he lowered his voice and added in haste.
Absorbed in his words, I failed to get a firm grip on the teacup his wife offered me. The cup fell on the floor, its contents spilling.
I scrambled to wipe the spill, profusely apologising. It was completely my fault. Yet, his wife insisted on washing my old handkerchief I used to clean the spilled tea.
As she didn't take no for an answer, I handed her the tea-stained handkerchief and accepted a replacement. Apparently designed by the master himself, the immaculate, brand-new handkerchief had an indigo-dyed, vegetable pattern on a white background.
I lingered right behind the master as he let his brush scurry across the paper as I observed his creative process.
Needless to say, artisans of yesteryear went through a highly elaborate process to create brushes. Furthermore, they used materials hard to come by these days. Stoat hair, ivory pivots, and shafts made of rare bamboo—all have become endangered or extinct. Thus, the antique brushes command exorbitant prices in the marketplace.
Still, many masterpieces came into existence in the past when the brush was the principal writing tool. In other words, as handmade brushes were available in abundance at that time, the possibility of finding ones of exceptional quality was naturally high. However, it'd take a miracle to come across a masterpiece among the leftover ones that are presently parceled out one by one. Maybe I'll have better luck with mass-produced synthetic brushes in a corner of a stationery store.
Moreover, a masterpiece is not regarded as such only because of its purpose. As for colouring brushes, ones with hard tips aren't suited well for colouring. They come handy for drawing lines such as fine hair and facial expressions. A brush is considered a masterpiece based on how it's used.
I gazed at the eggplants and tortoises the master had drawn on a scroll.
Perhaps it's not just brushes. The best of all the tools are still handcrafted, but mass producers are occasionally capable of replicating such mastery. When products are made in large quantities, more masterpieces may be found among them. However, we may not notice their existence as they serve as mere consumable goods before they come to the end of their life.
At the entrance, I exchanged a few words with the master and thanked him for his hospitality. When I stepped outside, the sound of water reached me from the direction of the kitchen door. His wife was washing my handkerchief in the basin. She looked up, noticing my presence.
"Oh, you're leaving already. Our washing machine is acting up these days. I intended to dry it and iron it before you go home. I'm really sorry." She gave a deep bow as if she had committed a terrible offense.
"No, please don't worry," I said, feeling embarrassed. "I'm the one who should be apologising."
"I'll give it back to you next time. You can keep the one I gave you. It's a gift." She bowed again.
I left the master's house and went down a hill with a white guardrail at the bottom. Beyond the waist-high rail stretching horizontally lay an empty lot overrun with bamboo, vines, and other weeds.
I groped my back pocket, took out a misshapen pack of cigarettes, and pulled out a wilted one with care. I took the cigarette between my teeth and reached in my breast pocket for my lighter.
I clicked it a few times, producing only sparks.
Still with the cigarette between my teeth, I clicked my tongue, wound up, and hurled the lighter with all my might skyward.
Even so, I heard no thud of the lighter landing on the grass.
So far humans have managed to make space rockets only in small batches, so no matter how elaborately our engineers make them, they may not make it to the end of the universe. On the other hand, a cheap lighter that cost me 100 yen is a jumble of small parts that were put together. Unbeknownst to me, it may be capable of accomplishing a tremendous feat besides lighting a cigarette. Yet, as we expect lighters to function merely as lighters, they won't be used for something else before we discard them.
I put the cigarette back into the pack and gazed upward. A glimmer of light flashed across the sky. It might have been a sparrow.
After a while, the master's wife returned my handkerchief to me. It seemed unfamiliar because it was ironed out smoothly. Her rough hands alarmed me a bit when she handed it to me. Then several days passed without incident.
A few weeks later, the media ran a transmitted satellite image showing a peculiar artifact, causing a stir among the public. Because of the lapse of time, it took me some time to recall the incident at the vacant lot.
I snatched away the tabloid—well known for sniffing out dubious stories—from my colleague as we headed toward our office. I stared at the blurred image printed in dots on recycled paper, ignoring his protest.
"See an arrow there?" he said behind my shoulder. "That cuboid must be some kind of artifact."
With excitement, my co-worker pointed to the artifact in the image. I was sure what it was.
"Look at this shape," he said. "You know what it is? Well, a twin tub washing machine, of course."

About the Author
Haneko Takayama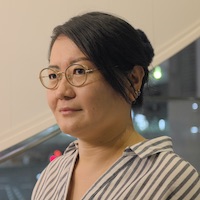 Haneko Takayama is an award-winning Japanese writer. In 2009, her short story "Udon, Kitsune tsuki no" was a runner-up for the Sogen SF Short Story Award. 
Her story collection of the same name was a finalist for the Nihon SF Taisho Award in 2014. In 2020, her novel Shuri no uma won the Akutagawa Prize.
About the Translator
Toshiya Kamei
Toshiya Kamei holds an MFA in Literary Translation from the University of Arkansas.
His translations have appeared in venues such as Clarkesworld, The Magazine of Fantasy & Science Fiction, and World Literature Today.