By Zebuline Carter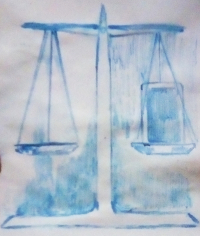 The District Court Judge sat quietly in his chambers, unnerved by the case notes on the desk before him. He took a sip from the lukewarm handi-carton of choc-cola milk he'd been nursing for the last half hour. The verdict was guilty — the jury had determined that without delay. All that remained now was the sentencing hearing. The fact that it, too, would be delivered most efficaciously did not make it any easier on the elder Judge. For forty years he had sat and watched as men and women found new and more devious, more inhumane ways to hurt their fellows. Absently, he swirled the remaining litre of flavoured milk. In two days, he was scheduled to retire...
He pursed his lips, drew his shoulders back.
'It stops here!' he cried silently. He flung the cartoon across the room, missing the waste disposal chute.
***
"...Mr Grace, on the night in question, you wantonly and randomly destroyed the defendant's cellphone, and during the ensuing trial by a jury of your peers, you showed little if any remorse for this heinous act." The judge raised his eyes from the summary, staring directly at the accused. "Even now, you show no emotion." The judge's face set to stone, the finger he pointed at Grace an outcropping of unforgiving rock. "You stole the defendant's life," he thundered, "and stripped her of her identity. And yet you sit here, unaffected, as though it were some minor infraction at hand. Well, let me tell you, Mr Grace, this is no dented automobile fender that we're discussing here — it is a life!"
The Judge paused, took a deep breath, corralled the thunder. "In view of the expert testimony tendered by the court e-counsellor and the years that it may take for the defendant to painstakingly piece together some facsimile of her previous life, and the immense emotional and fiscal burden you have placed upon her and the loved ones who depend upon her, I use my discretionary power under the ancient legal precepts to hand down the following sentence:
"Jonathan Grace, you are hereby sentenced to life incognito: forthwith, your cellphone will be taken from you for a public smashing before the media at nine thirty tomorrow morning."
The Court Sheriff took the phone, placed it within a Faraday sleeve.
"Furthermore, as soon as is practically possible, chips will be surgically implanted within your body, and in such a way that they may never be removed lest you cease breathing. Said chips will disrupt all microwave receptions within the immediate vicinity of your corpus." With malice he said, "Do you have any final words for the court?"
"It was the only way," Grace said quietly.
The Judge roared: "Sheriff, get this non-person out of my sight!"
***
Twenty-four hours later, in pain from the surgeries, Mr Grace hobbled through the outskirts of the city. Not a single infopanel or billboard recognised him. His stomach rumbled, but there was no point trying to wander into any stores, because they too would not 'see' him. Even the army of vending machines, which normally harped for attention like seagulls begging for a chip at the seashore, were mute.
At the city's extremis, Grace paused briefly. "I am free!" he declared to no one. He trudged along the edge of the superhighway, buffeted by the unblinking robo convoys. It was good to be alive.

About the Author
Zebuline Carter
Zeb writes:
Last week, on a whim I submitted some of my own musings to 'Nuke', and when I checked back today — my time in my 'verse, which is plus six years comparative to you — I saw that he had published some of them! I wasn't even sure the contrived email and attachment would get through, let alone end up published on your internet of things. (BTW — We have nothing quite like your 'net, but we've gone far further into the solar system than you have. Figure that!) Now that I know a connection is possible, I thought I'd tell you a little more about myself and where I'm from. So, from the beginning…
Hi. My name is Zebuline Carter — that's Zeb for my friends or Zeb-you-leen if you want to get formal — and I'm a forty-two year old former astronaut now working as an administrator at Farside, on Luna. Farside is a research base, where innerscopes are just starting to peel back layers of our sheath of the local multiverse. Because our work is so sensitive to em influences, Farside is situated within a one hundred klom diameter exclusion zone.
In my late teens I earned a double major in aerospace and business but passed over grad school for civilian astronaut training. As a kid I collected coupons from cereal boxes until I had enough for my first telescope, and built scale models of all the commercial shuttles and orbiters. Growing up, I'd always felt slightly out of place, like I was meant to to be somewhere else and part of me already was — until, that is, I had my first trip into low orbit aboard a high-riding intercont-cruiser, or ICC. That was a high-school graduation present from my Uncle Jim, and during the fifteen minutes of freefall I found that other part of myself, grabbed it tight, and never let go since.
Did I also mention I'm 180 cents tall with bobbed chestnut hair? Or that because of heart damage from a bad landing, I'm also marooned in low gravity? But heh, there are now six bases around Luna, supporting a permanent population of around twelve thousand Lunans, and a transient population of several thousand tourists and stopovers returning form the outer system, so it never gets boring and I don't get lonely. And living in low G means I won't age or sag as fast, either.
Until next time —