By Ovidiu Bufnilă

I don't know exactly. How did it happen? Maybe it had to happen. At first it was like that, a move. When I met several people on the subway, I found out it was the same for them. That move brought us there. Yes, the morning was a strange movement in my body. I didn't much think about what it actually was. It was a sunny morning. That's what I remember. An ordinary day. There were all kinds of events all over the world. Nothing unusual. The news flowed like waves. From everywhere. Social networks were shaking.
People expressed their fears, joys, victories, upsets. The movement occurred at 10 o'clock. I checked. It happened all over the world at the same time. That was incomprehensible.
I went to the supermarket to buy cigarettes. Everyone there was talking about the strange movement. Everyone felt it. Very strong. That's how I understood that we were all the same. I sat on the curb on the sidewalk. I smoked a cigarette. I thought. Something was happening in the world and I couldn't explain it, let alone myself. I watched a TV across the street. The TV was on the terrace of a restaurant there. People laughed, talked loudly, seemed well. I thought I'd go and ask them. I crossed the street. I'm glad I can sprint. Hello. Hello to you, too, they said. Did you feel the movement? Wow! Sure you do. It was beautiful. A beautiful move. I didn't like those people much. But they were right. It was a beautiful move.
It rained the next day. It rained lightly, without lightning and thunder. I saw many shadows on the street, and I felt other movements in my body. Very strange. I talked to my neighbors. And they found the same thing as me. I watched TV but no one was talking about that phenomenon. Maybe it wasn't time to talk about it yet. There were only two or three testimonies on social networks. I would have liked to find more testimonies. I looked for them. Nothing.
On the third day I received a strange impression. I began to have fuzzy thoughts that were not mine. I began to inventory my own thoughts. I wanted to distinguish them from the outside thoughts.
On the fourth day, there was an avalanche of new thoughts. Lots of thoughts. An impressive moment. And I started to have other sensations. I felt the temperature in my room differently. It felt like the air was two different temperatures at the same time. In reality, it was the same temperature, but I felt it in two different ways. I talked on the phone with a friend from overseas. He told me the same thing. In his city, there were more and more people who felt the same way. I laughed a lot during that conversation.
My friend knew all sorts of jokes. He tried to reassure me. He told me that it must be a planetary phenomenon and that I must not be afraid. More and more people felt the phenomenon. That was beautiful. It was as if something mysterious now united all humans. I hung up and kept laughing. My friend collected good jokes. He had been doing it since he was a student. He told us all his jokes and we all laughed.
I went out onto the street. I talked to many passers-by. Each had their own story. Each began to feel different in many ways. They had thoughts that were not their own. I asked them if they were feeling well. They said it was a new and interesting experience. They liked this new experience. Some of them had started talking about it on social networks. It was an increasingly popular topic worldwide. That's how I found out that journalists had started writing about this phenomenon.
I talked to a few women. I talked to a cop. I talked to a saleswoman.
They all said the same thing.
I thought about driving somewhere. But I had to fill the tank with gas first, so I went to the gas station. There were a lot of people there. Everyone was talking about the phenomenon. They said they were reading each other's thoughts. It was a new thing. And it was real. People read others' thoughts and laughed.
I read the thoughts of a university professor. Someone read my thoughts. Such an interesting moment.
I drove several kilometres. Out of town. From there stretched the desert. In the distance sat mountains. The mountains were snow-laden.
Something drew me to them. They were high. I drove there at speed.
And then I felt someone's thoughts nearby. A man in need of help. I got out of the car.
I found him. The man had fallen into a pit.
He couldn't get out. He had hurt his hand.
I helped him out of the pit. He told me he knew I was coming to help him.
Some of my thoughts were already on his mind. He asked me for a cigarette. He'd been walking there and slipped into the pit. He thanked me. We both smoked in silence. My thoughts were his now. His thoughts were mine now. I asked him what he thought of the phenomenon. "It's a beautiful phenomenon," he said, "It's weird and beautiful."
Will it be all over the world? I think it will be all over the world. It's a beautiful phenomenon. All people feel the same heart. That was the explanation. In a way, all of a sudden, a single heart was born all over the world. It's a beautiful truth. Regardless of each person's ideas, all people now had the same heart.
When I got home, I met a woman who worked at the town hall. She was scared. She told me she couldn't read anyone's thoughts. She was very upset. I tried to calm her down.
"Let's talk about this," I said. "How is it?"
"I do not feel anything," she said.
"Then you have to open your heart. Maybe you are too upset. Maybe you're scared."
She smiled. I did not. I was too upset. I've had some problems. But now I can look at things differently.
"Give me your hand," I told her. "Do you feel it now?"
She began to giggle. Now she felt that she was like all of us, that she was with us all in one heart.
In the following days I met other people who did not feel the heart. I talked to them and they understood. Astronomers told the public on television that these were cosmic phenomena, but I knew it was the heart that changed people's thoughts.
Doctors tried to clarify the phenomenon around the world. Many officials took security measures. But people everywhere told them it wasn't necessary. We all felt with one heart now. It was a unique phenomenon in world history. We didn't even care if it was related to cosmic phenomena. Maybe it wasn't related to that. The heart was evolving. The heart evolved in the universe independent of the movements of the sun or stellar explosions in other galaxies.
I went to the cafe to meet others. It was as if we were one human, one entity. We now knew our worries, our desires, our joys. We were all convinced that something extraordinary was about to happen. A new phenomenon was coming. We talked about it.
Meanwhile, I drank coffee. I laughed, I joked. Across the river, there were other people like us. Ships crossed the river. On their deck were people like us. And we were all one heart.
But one morning, something unusual happened. A neighbor stopped me and told me he didn't know his name anymore. He was worried. I tried to calm him down. I reminded him of his name. He thanked me for ten minutes. Then he left happily. I thought it was a singular event but it was not so. There were more and more people who had problems.
There were all kinds of problems. Doctors prepared a treatment suitable for memory loss. But that wasn't it. It couldn't be that. It was no ordinary memory loss. Events rushed onward. People began to panic. I talked to some people at the cafe and told them my opinion. I also wrote on social networks.
A few days later, the phenomenon stopped as suddenly as it had appeared. No more thoughts in my mind. All I had was my own sensations. I don't know what had happened. The phenomenon was quickly forgotten around the world. People continued to live their lives. I went to the cafe again. I tried to talk to the people there. No one would listen to me. It's sad. It's incomprehensible. It must be a mess. Maybe I don't understand what's going on. All humankind has the same heart and the same thoughts. I lived this. It's true. But no one remembers. They looked at me, amused.
I stopped talking about it.
I've been driving often since then. I travel far and wide. I know new people, now. I try to read their thoughts, but I can't. I try to feel their heart, but I can't. I think it was a strange phenomenon. Really, very strange. Maybe we humans have received a sign.
Maybe we should have learned something from that phenomenon.
Yesterday, I walked through the park not far from my house. It is a beautiful, bright park, full of vibrant, coloured flowers. It has wide alleys and comfortable benches. I sat on a bench and watched the boats floating on the lake. The park has a clear, sparkling lake. Swans often come to this lake. The birds flutter their wings elegantly, and sit on the water making waves. Swans impress me. I look at them and try to understand what's on their minds. Swans probably have elegant minds. They have supple movements. And they fly so beautiful and strong.
There are also squirrels in the park. Squirrels are cute. Hop everywhere. Jump from branch to branch. Come to you if you call them with nuts and peanuts. Squirrels are agile. So must be their minds. I think about the thoughts that squirrels have. I sometimes think that squirrels think only of nuts and peanuts.
A childhood friend of mine passed down a nearby alley. I invited him to sit with me on the bench. We remembered all kinds of beautiful childhood events. We'd played together many times. We'd seen many movies. We'd eaten cotton candy. Every child in the world wants to eat cotton candy. What could be better than cotton candy? But chocolate is also great. I always opened chocolate with emotion. We'd filled our mouths with chocolate. We were soaked in chocolate to our ears.
And ice cream. What beautiful memories. My friend is working at Central Station now. Directs the trains. Trains come and go at the station and people run either to get on or to meet them. I think it's a great job. And important.
My friend left.
After being alone for a few moments, I felt something strange. I don't know how to explain it properly. It was amazing. I didn't expect it. I never even thought it could happen to me. As a student, I'd had a few premonitions, but I never paid attention to them. But now I understand their importance. Maybe I should have taken them into account. Maybe I should have been more careful. The truth is, I'm kind of amused. Or maybe careless. Sorry about that. I hope one day I won't be like that again. I could tell jokes, too, or I could get hired at Central Station to run the trains. I could do important things. Why not? Many people have critical jobs. Many people think lofty thoughts. I should do that too. I could think seriously about these things.
So there I was on the bench thinking. People were walking by in the alleys. They laughed, held hands, told all kinds of stories. I looked at them with joy. They walked down the alleys and laughed. How pretty. Swans made waves on the lake. The squirrels hopped through the bushes. A puppy ran after them. A child rode a bicycle. Someone launched a colourful balloon that flew quickly over the park. I tracked the balloon as it flew off into the distance. As a child, I used to throw balloons on my street. The balloons rose quickly, wafted by currents of hot air. Beautifully coloured. I was glad to remember them. The truth is, there, on the bench, I felt good.
And then, as I said, something extraordinary happened. I didn't think it would happen. It was something strange in my mind. Like a song.
Yes, of course, a melodious song. I'm sure I'd never heard that song before.
Where did it come from? What was that music? I looked around. Nobody singing. Nobody there. The alley was deserted. But someone had to be singing that song that I now heard in my mind. How pretty!
I wasn't scared. I was upset. Maybe someone was making a joke. No. Could not be. Definitely no one around. The sun was preparing to set.
Maybe that had something to do with it. I have often seen songlike sunsets. I'd heard the visual song of the sun when I was in the mountains. But it wasn't like the song I was hearing now.
The swans flew away across the lake. The squirrels looked at me curiously. No, it wasn't their song. Now, I wondered, do swans sing? Now, I wondered, do squirrels sing? I cannot know. The music faded. Now — once again — I felt a thought that was not my thought at all.
It was a pure, soft thought. It was a happy thought. It was an exceedingly joyous thought — and my heart started beating strangely. I looked around me again. Where did all this sensory intrusion come from? There had to be an answer. I was ready to receive an explanation...
...And, just then, I heard the heart of a butterfly in my heart. And that butterfly sailed through the air and alighted on my hand.

About the Author
Ovidiu Bufnilă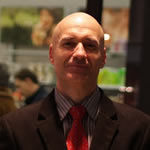 Ovidiu Bufnilă was born and lives in Romania. He has headed up Waved Philosophy since 1977.
Ovidiu Bufnilă binds everything so beautiful that the universe seems to be born of a wave that has shattered.
His novel Jazzonia was awarded as the best Romanian SF Novel.
He received the award for the best Romanian SF Story, Mandhala, 2002, and was also awarded for excellence in Romanian SF and the Sigma Award for the best Romanian SF Novel, Moreaugarin's Crusade.
He received the annual Clouds Magazine Award (USA).