By George Nikolopoulos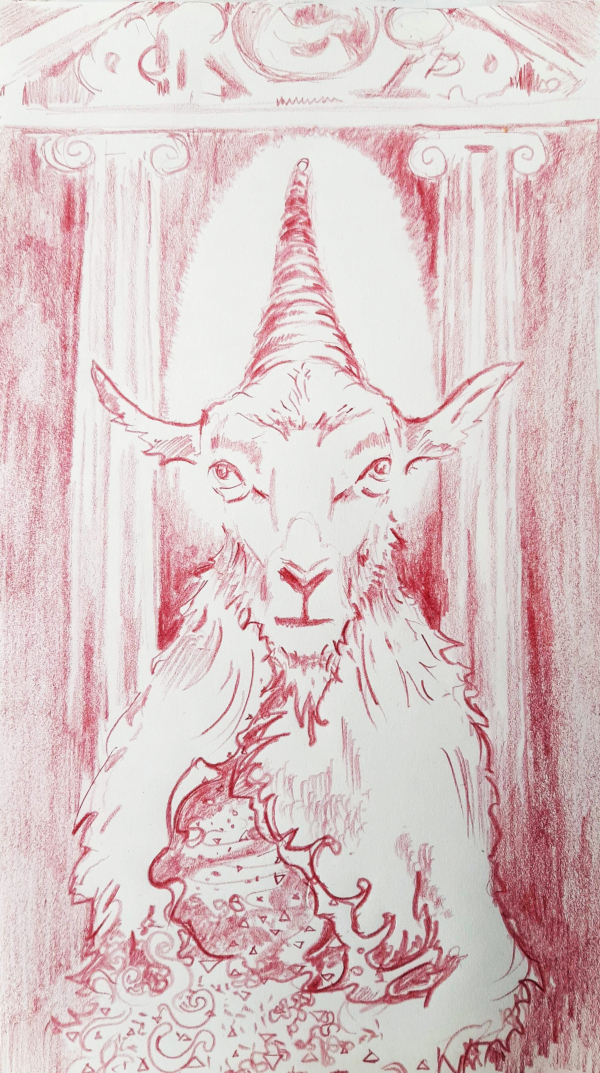 ---

As I crawled over the ridge, I saw the goat.
I knew it was The One; the blind old priest told the truth in the end. The goat was huge, closer in size to a cow, and it had but one large, curved horn. It was worth the climb halfway up Mount Olympus, just to look at it.
I approached the goat upwind, as stealthily as I could, so as not to alarm it. It stood there, indifferent, grazing forlornly on the small grassy plateau.
I finally reached it. I unsheathed my knife. Made of cold iron, it could cut through bone like it was butter.
On impulse, I stepped in front of the goat before killing it.
As soon as I looked it in the eye I knew I shouldn't have. Its eyes were its most disconcerting feature; they looked almost human and they seemed so unspeakably sad that I thought the goat would even welcome my knife. I thought of it, forever alone, on this small forsaken windswept plateau.
So this was Amalthea; the goat that had nurtured Zeus. The one-horned goat. The goat with the Horn of Plenty.
It bleated once, as if it was daring me to cut its throat. In the end, killing it was as easy as cutting the throat of the old priest; I tried not to dwell on that memory. I only did what it took to get to the Horn. The priest was ancient. He would have died soon, anyway. As for the goat... well, it was just a goat. And it didn't even seem to mind. If it wasn't a goat, I'd swear it smiled as I killed it.
I had a hard time slicing through the Horn, but I managed to cut it off cleanly. I held it in my hands, reverently. The Horn of Plenty; my ticket out of poverty. My ticket to riches unimaginable. The Horn that would provide for my every need, fulfil my every wish.
I stood holding it, and it was just a useless piece of horn. Thankfully, I knew what I had to do to make it work.
I skinned the animal with my trusty knife, then I spread the skin on the grass and knelt upon it.
Torturing a priest of Zeus was a grave sin, I knew, but how else could I have learned about the ritual? As the old man had instructed me with his last breath, I placed the Horn on my forehead and I cried "Father of Gods, grant me my heart's desire. The Horn shall be mine!"
And I heard a deep, booming voice: "It is done."
I was supposed to lift the Horn right then, but it was stuck on my head. As I tried to pull it off, I somehow became entangled in the goat skin -- or the goat skin rose up to entangle me.
Only gradually did I realise what was happening to me. But then there was plenty of time for it to sink in.
***
I've been grazing the tasteless grass of this accursed plateau for centuries. I used to wish for many things, but I only have one wish left: for someone to come and slit my throat.

About the Author
George Nikolopoulos
George Nikolopoulos is a speculative fiction writer from Athens, Greece, and a member of Codex Writers' Group. His short stories have been published in Galaxy's Edge, Daily Science Fiction, Factor Four, Grievous Angel, Helios Quarterly Magazine, Unsung Stories, Best Vegan SFF, The Year's Best Military & Adventure SF, Bards & Sages Quarterly, Havok, SF Comet, Mad Scientist Journal, Truancy, Digital Fiction QuickFic, The Centropic Oracle, StarShipSofa, 600 Second Saga, Antipodean SF, Manawaker Studio's FFP, Fifty Flashes, 9Tales from Elsewhere, Event Horizon 2017, and many other magazines and anthologies.

About the Artist
Michael Connolly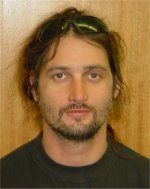 Michael Connolly lives in Bowraville NSW, Australia. He has worked as an art teacher, music teacher, printer and illustrator among other things (such as chicken de-beaker), and has a keen interest in science-fiction and the natural sciences. He has illustrated for the magazine Tabula Rasa, which specialises in the horror genre, and is a regular contributor to AntipodeanSF.