By Evan James Sheldon

The boy is in a wide field, so large he can't see beyond the yellow grass that rises to his waist and ripples like the sea. He is trying to make a bow and arrow with a stick and some twine but he's struggling because his fingers have turned into claws. They look like bear claws but he's no claw expert. He's just a boy lost in a wide field and he misses the soft padding and dexterity he used to possess.
He doesn't remember growing claws, only that he didn't have them before when he was sitting in the trees with his father, then he did after his father grew hungry and sent him into the wide field to hunt for their dinner; his fingernails now sharp and strong, digits shortened and thick. It's as if entering the field caused the claws to grow. The boy's father said he would prepare a fire and that the boy should return with fresh meat before it burnt out. Once it burnt out, his father would move on, needing to find his own food, and the boy would be alone.
But now, the boy can't get the bow and arrow to work, and he isn't even sure he could kill something if the bow was properly strung. He imagines shooting an animal and then chasing it while it bleeds, what he must do if he is to eat it. But he doesn't want to be alone in the trees so he sits down and lays the bow across his lap, the tips of the grass wavering above his head, and he takes his time. If he focuses, breathes slow and deep, he can almost do it.
Once, his mother took him to climb a tall tree. She made it to the top with ease, but the boy had struggled, slipping and beginning again over and over. She didn't laugh when he fell, only cocked her head to the side, a sad half-smile on her face; a look that suggested to the boy she knew he wouldn't be able to make it to the top but had hoped. His mother had strong wings, and sharp talons, but the boy had never noticed them until she leaped into the sky and flew away. After, the boy attempted to keep climbing—focused, breathing slow and deep—and he had made it to the top only to discover he was too afraid to leap as she had.
So now in the tall grass, he keeps on trying again and again, moving slower and slower until the sun sinks low on the horizon and he is barely moving. He hears a gentle rustling nearby, not like the wind, too localised and rhythmic, and finds another boy sitting, hidden by the tall grass, trying to sharpen a spear. The other boy has claw-hands too and can't control his knife, fumbling it and swearing, spear tip still blunt.
The boy with the almost-bow scans the wide field and what he had first taken for rustling wind, he now understands is many sitting boys, though none sit together.
Is your father hungry too? the boy with the almost-bow asks.
The boy with the almost-spear nods. I don't want to go back to the trees without something. He looks down. My father is not kind when he is hungry.
The boy with the almost-bow nearly comforts the other boy—he too knows how hunger manifests itself in an already harsh man—but his claws aren't built for consolation, only for violence. As he tries to find words to give instead, a prong-horned antelope struts by, eyes glossy and unaware. The sun sets and though light still floods the field, it is a different light; one that shows the outlines of things, highlighting where one thing ends and another begins, and the boys with claws stare at the prong-horned antelope's edges, a moving suggestion of itself, a cutout against the horizon.
The boy with the almost-bow shakes his head in dismay, wishing he had more time, more ability to craft a weapon, and then jumps as behind him something roars. It's not a proper roar, like a lion or leopard or hippo, but an imitation. One boy, claws shining in the fading light, has begun to yell and chase the prong-horned antelope. It isn't a strong yell, or regal, but it is wild—a feral sound—and something stirs in the boy with the almost-bow. The boy with the almost-spear rises.
All around them boys with claws stand, yell out their version of the roar and drop their poorly made weapons. They give chase and the boy with the almost-bow joins them, casting aside his stick and twine. He doesn't notice that his face has turned into a muzzle, that his bones are restructuring, that patches of dark hair now cover his once smooth skin. He is too invested in the chase to notice.
And he doesn't see the fires blink out among the far trees, doesn't care that come morning he will be alone again, despite what it feels like now, in the heat of the hunt. He doesn't wonder what would have happened if he had leaped from the tree with his mother, if he would have grown wings as she did, or if he had entered a stream or waterfall instead of the wide field. He doesn't wonder what his father will become once he walks away from their fire. He doesn't wonder why all he could see was the field once he entered it. He only has eyes for the prong-horned antelope, leaping ahead.
Quickly, there is no more light left in the wide field and the once-boys-now-animals chase something they will never catch, roaring into the dark.

About the Author
Even James Sheldon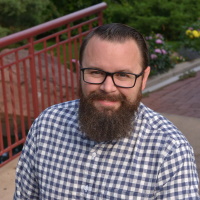 Evan James Sheldon's work has appeared recently in American Literary Review, the Cincinnati Review, and New Flash Fiction Review.
He is a senior editor for F(r)iction and the Editorial Director for Brink Literacy Project.
You can find him online at <https://evanjamessheldon.com>.