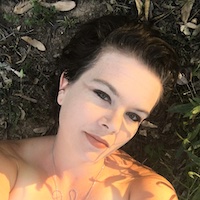 Kim Rose has been a professional ghost writer for five years, specialising in paranormal and sci fi romance. She has her own self-published romance series which is her answer to the restrictions of the current market, pushing the idea of what happily ever after really means.
Kim is also an accomplished photographer and model, creating a wide variety of digital art.
She lives in Central NSW on a large property where she runs Crescent Moon Lodge Animal Refuge, supporting the animal rescue effort.
You can follow Kimrg666 on these pages:
The New Recruit (Tales from the MadHouse Book 1) eBook: Rose, Kim: Amazon.com.au: Kindle Store
<https://www.deviantart.com/kalikapsychosis>
Kim Rose (@kimrg6_6_6) • Instagram photos and videos
Crescent Moon Lodge Animal Refuge - Home | Facebook
<https://www.facebook.com/Kimrg666-Artist-112433517156278>
<https://www.patreon.com/kimrg666>