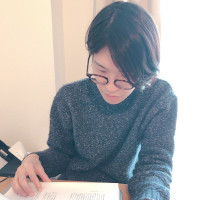 Kyosuke Higuchi writes science fiction, speculative fiction, and literary essays. His debut novel, Kōzōsōshi [Structure Elements], won the fifth Hayakawa SF Contest in 2017.
His short fiction has appeared in Syosetsu Subaru, S-F Magazine, and Bungei, among others.
His latest book is a collection of essays entitled Subete namonaki mirai (2020).
Kyosuke lives with his wife and young daughter in Nagoya, Japan. Find him on Twitter at <https://twitter.com/rrr_kgknk>.