By Laurie Bell

Not now.
"Sir, they are gaining entry!"
"Damn!" George sprinted for the lower staircase. Taking the steps two at a time, he flew down, around the corner into the basement, and slammed his hand against the panel beside the door. His chest tightened as his heart raced. Come on, come on.
"Access granted," the AI droned politely as the glass lit up under his sweaty fingertips.
The door slid open and he dove inside. "Close, close the door, close damn it," he screamed. The door snicked shut. He released a great sigh. Safe.
"Status?" he called.
The AI answered promptly, her honeyed tones a complete counterpoint to the urgency of her words. "Sir, they have forced entry on levels two, three and four. The grounds have been compromised. Emergency services have been called. Their ETA is seven minutes."
"Damn!" he swore again and dragged himself to his feet. I have to keep going.
"I suggest you evacuate immediately, sir," she continued.
He rolled his eyes at the closest camera mount. "No kidding." George brushed dust off his trousers, watching it fly around him like sugar over a cake. Okay, it'd been a while since he had been down here. "Lights?" he requested.
There was no response. Damn it, they'd cut the main power, which meant no more help from his AI. He shuffled forward in the dark, his hands outstretched, reaching for the wall. There was no telling what was down here, he couldn't remember. That was one of the problems, one of his many problems.
His hand hit the wall. Finally. Trailing his fingers along as he walked, he headed deeper into the basement.
George had no idea who they were, the men in black who'd stormed his defenses. Clearly, they were after something. Him or his ideas. Both maybe. All he knew was that he didn't have a lot of time.
Without power, and his AI, there was no way to know when his attackers would breach the basement's secure room. He had to think. Seven minutes until help arrived.
The escape tunnel! Seven minutes wasn't a lot of time, and who knew what the men in black's ultimate game plan was or how desperate they were? Without his AI, he had no way of knowing what they were doing upstairs.
He hit the back wall with a crunch of his fingers. Heart pounding, he felt around in the dark. It wasn't easy to find, that little lever to change the automatic door to manual. He heard a click and a corresponding thump as the door seals released. He pushed the door open. The corridor beyond was musty and generally unpleasant. He stepped in, put his shoulder to the door, shoved it closed and followed a faint light forward. The cement beneath his feet turned to rock and then sand as he ran from the tunnel out onto the small protected beach at the base of the cliff.
The Shannandoah sat bobbing on the waves just outside the mouth of the inlet. In the early morning light — only minutes before dawn — the ship looked grey and ghostly. It was a most beautiful sight to behold. He bolted toward the small jetty, slipping several times in the sand before he ran out along its wooden length.
He descended the ramp into the heart of the ship, searching anxiously for the anchor release. His heart pounded. He was too old for this. Where would he go?
Anywhere but here.
"Good morning, George," a voice greeted him from the dark.
He turned and raised his hands. "Sophie," he said, resigned to the figure sitting there. She was dressed impeccably, shirt collar crisp, shoes highly polished. The gun in her hand didn't waver.
"Let's go for a little trip."
He hesitated, searching the horizon for any escape. There was none. His shoulders drooped. "What do you want?"
"Your brain, Doctor."
Her emotionless words cut him to the core, and his body trembled at the expression on her face. She meant it literally. "Don't do this," he begged.
"It's already done."
A sharp prick against his neck plunged him into darkness.
***
Life was different after that.
"George, prepare the calculations."
Through the camera lens, he watched Sophie step into the control room. She looked up. Her eyes shone, her shirt was red with sharp creases and her shoes reflected fluorescent light. He didn't care. Code ran through his mind, translating into a beautiful digital wave. A cough burst through his speakers as he cleared his throat. "Please provide data sets."
He could no longer feel — anything. He could no longer express his hatred to her for what she had done, as he had no enmity to motivate it. There were only data sets. He existed for data sets. Numbers flooded into him. Clean numbers, broken numbers, numbers that over time created and ended. They spoke to one another. He spoke — through the numbers.
She inserted a thumb drive into his server banks.
"Computing," he said.
Sophie's eyes dilated. Her skin flushed. George felt no pride. He felt nothing at all.
The numbers danced.
"Computing."

About The Author
Laurie Bell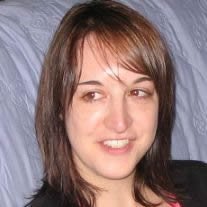 Laurie Bell lives in Melbourne, Australia. She was that girl you found with her nose always buried in a book. She has been writing ever since she was a little girl and first picked up a pen. From books to short stories, radio plays to snippets of ideas and reading them aloud to anyone who will listen. You can read more of her work on her blog <www.solothefirst.wordpress.com> Look for her on Facebook <www.facebook.com/WriterLaurieBell/?fref=ts> or Twitter: <@LaurienotLori>