By Hassac Naminov —Translated by Toshiya Kamei

In response to rescue signals from the planet Philippa, the Space Patrol dispatched an emergency shuttle as required by Article sixty-nine of the Space Emergency Law. About fifteen hours have passed since then. While I was taking a nap on a bed that doubles as an emergency shuttle, it was launched with me in it. Now I'm cramped in this small cockpit. How am I doing? What am I doing? I'm just thinking.
The cockpit also serves as a bed, so it's not so small for a single person. It's not supposed to be so cramped. Even I should fit it easily. But now it feels cramped here because I've got unexpected company — who the heck is she?
On Philippa, an infection caused by Aiya, a space creature that parasitises the brain, has put a pioneer family of five in critical condition. If a host doesn't take a fever-producing vaccine within twenty-four hours, he will die. Aiya is vulnerable to heat.
It usually takes about twenty hours from my space patrol station Alpha One to get to Philippa. Of course, for interstellar travel, we also use super drive navigation in order to leap through subspace. And right now I'm in the middle of that super drive, traveling through subspace.
Incidentally, the super drive can't perform a warp out unless the spaceship's mass is equal to the set value at the moment of warping out. It's necessary to reconcile the numbers one way or the other, which is a sacred procedure performed under the captain's absolute authority. If a warp out isn't performed correctly, the spacecraft may either crush into a star or get sucked into a black hole. So dangerous out there.
The screen on the wall shows that the current mass is in excess, and that it's only about five minutes (about 680 words) away from the warp out. Is this enough to set up the story? Do you get the picture, you readers?
In short, I now have to kick this strange girl (no matter how pretty she is) out of the spaceship.
"Hey you."
"Hmmm? I'm still sleepy."
"Wake up."
"Oh, c'mon. Just let me sleep a little longer."
"No. We've got no time."
The girl raises her upper body while mumbling. She opens her eyes and looks around.
"Hey, where am I? What are you doing here?"
"Oh, forget it. We haven't got much time, so let's cut to the chase. This is a spacecraft. It's been dispatched as a countermeasure against Aiya, and it'll be warped out in five minutes. The thing is, there's too much mass on board, so you need to get out. The airlock is behind you. So go ahead."
I point to the door behind her. If you press the red button, the inner door opens, and the airlock is ahead. The other side of the outer door is subspace. Humans can't survive there. You'll be flattened instantly by the molecular flow.
"Terrible."
"No, it's not. If you don't get out, I won't be able to get to Philippa, and five people in need of help will die. Your sacrifice will save their lives. Hurry up. We haven't got much time left."
"Did you say it was Aiya?"
"Yup. Aiya has been reported on Philippa. I have to try to see if the vaccine works, but if I don't do anything, the five people will surely die."
"If you don't administer the vaccine correctly, it'll only be effective sixty percent of the time."
"Yeah, I've heard that. Even so, three of them will be saved. Your sacrifice won't be in vain."
"Do you know it works 100% if you administer it correctly?"
"Oh really?"
"That's right."
"How do you know?"
"Because I'm a doctor."
"Excuse me?"
I take a close look at her face. I didn't notice it before because I don't have my glasses on, but she's Dr. Judy Trolley from the medical office.
"Judy..."
"Hi, Jarvis."
Oh, darn it. Last night, with a little help from alcohol, I finally mustered enough courage to invite her to bed and fulfilled my long-standing desire. But it's all a blur now. How is it possible that I have no recollection of such an important detail? I blew it big time! It's better to die now. Darn it.
"Well, Captain, what's it gonna be?"
"Oh, well. We're running out of time."
"That's right. You've only got about 250 words to wrap up this story."
"Judy."
"What's the matter, Jarvis?"
"I'm terrible at math. I'm not really good at equations and all that."
"How did you get into the Space Patrol?''
"I'm a space law specialist. I joined for that capacity."
"Oh, I see."
"I'm not good at math, but I can do arithmetic."
Oh yeah, it's just that simple. If I throw her out into space, I can save three lives at the expense of one. But if she goes to Philippa, five people will be saved. Five minus three equals two.
"But as far as space law is concerned, this can't be done without the captain's authority. Oh, I can't do it. I know how, but I'd hate it. How horrible! But only I can do it.''
"It's all up to you, Jarvis. I'm ready."
"Yes, let's make a decision. We don't have time."
"Yeah. Jarvis, listen, about last night," she begins. "You may be worried about getting me knocked up, so let me put your mind entirely at rest. Because you had an orgasm before you were able to penetrate into me, there's a zero chance of that happening."
"Wow, ah, ah, ah, ah, ah, ah, ah!"
I can't stand to be on this spaceship for another second. I transfer the captain's authority to her right there and then. The airlock lever feels much lighter than I imagined.
"Goodbye, Jarvis." The door shuts behind me.
Goodbye, my Judy.
The chilly-looking external hatch opens coolly.

About the Author
Hassac Naminov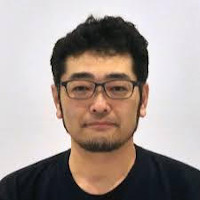 Hassac Naminov is a freelance writer and editor.
He was born in Tokyo and grew up in Shinshu.
Later, he moved back to Tokyo to pursue his literary career.
In 2016, he founded the Sci-Fi magazine Alternia.
A regular contributor to the literary journal Hametuha, he is the author of the science fiction comedy Organization series (2015-2016).
About the Translator
Toshiya Kamei
Toshiya Kamei holds an MFA in Literary Translation from the University of Arkansas.
His translations have appeared in venues such as Abyss & Apex, Cosmic Roots & Eldritch Shores, The Magazine of Fantasy & Science Fiction, Samovar, and Star*Line.