By Kevin J. Phyland

It started as a random question between two editors at a science fiction convention at the club bar of the hotel after the forums had finished for the day.
"Who is your most perceptive writer?" asked Deelie Sampson the editor of Future Perfect, a semi prozine specialising in science fiction, horror and general flotsam that the better paying markets passed on.
Across from him sat Kieran Asgard, the gaunt and slightly soused editor of Stupendous Tales, an even less regarded market for what most aficionados kindly called conspiracy fiction. Its pages were generally filled with UFO tales and government and/or alien plots to mindrape and enslave humanity through various nefarious means.
"Depends on what you mean by perceptive," said Asgard, taking another sip of his rum and coke. "My writers tend to perceive things that nobody else can, but mostly because they aren't there."
Sampson tipped his pot of beer back and slurped noisily before placing it back on the table. "I'm talking about, well, more like predictive success, in their stories."
Asgard mused on this for a while. "'The business of science fiction is not to predict the future but to throw a light on the possibilities.' I'm quoting or misquoting somebody there but you get the idea. Has somebody got a crystal ball at FP?"
"Not so much now, but in the past a writer in my stable seems to have an almost perfect record of predicting stuff like technological breakthroughs, political events and even the odd celebrity death." Sampson had the good grace to look slightly embarrassed.
"Who is this wunderkind?" asked Asgard.
"Brett Strachan," replied Sampson. "He wrote for me back in the early 80s for about a decade but then stopped submitting. I thought he'd died or something..." He trailed off.
"But?" prompted Asgard.
"Got a new tale from him the other day. All sorts of bizarre predictions. The prose is not first-rate, never was as I recall, but the intricacies of his invention constantly astound me."
Asgard finished his drink and signalled for a refill. "I vaguely recall that guy," he said. "Did something on driverless cars as I recall."
"Yeah, "said Sampson, "and even named a company that makes them now." He looked into Asgard's eyes to gauge his credibility.
"Even a blind squirrel finds a nut now and then," he said. "Remember when The Simpsons predicted Donald Trump for President? Throw enough darts at the board, even blindfolded, and you'll hit a bullseye eventually."
Sampson nodded but it wasn't so much acknowledging the point as expecting it. "But what are the odds that throwing nineteen darts at that board you hit nineteen bulls?"
Asgard put his freshened glass down and squinted at Sampson. "That many? How many misses then?"
Sampson paused. "None."
"Have you contacted this Strachan fellow and congratulated him on his asperity?"
"In fact I have," replied Sampson. "I only have his email address – gmail – and no physical address. His payments just went into a bank account he supplied. Never laid eyes on the bloke actually."
"What was his reply?"
"Didn't get one. Not directly. He just sent back a new bank account number to update his info." Sampson paused again. "I get the distinct impression he doesn't want to be found."
"Nothing mysterious there. Might be a pseudonym or a friend's name or anything. Writers can be contrary beasts. Are you thinking of tracking him down?"
Sampson surveyed the room. Perhaps a dozen people of various ages and sexes producing a creditable hubbub of conversational noise. He leaned forward in his chair slightly. "I'm going to try to do exactly that. He sold a few stories to you as well if I recall, about 1990?"
Asgard scratched at the thinning hair on his encroaching forehead. "Hmnn, I think you're right. But how can I help you? I probably have the same details as you?"
Sampson finally looked a bit smug. "Ahhh, but ST still sends out contributor copies doesn't it?"
Asgard looked more interested. "Why yes, Deelie, I believe they do."
Both the offices of Future Perfect and Stupendous Tales were located in Melbourne, albeit about an hour's drive apart, so Sampson and Asgard agreed to meet at ST's place of business the next day, a Monday.
***
The weather had turned unseasonably cold for November, with gusty winds and intermittent showers, but Sampson consoled himself with the knowledge that at some stage the remaining three seasons would manifest themselves in line with Melbourne's reputation for having four seasons in a day.
The office, which description was being rather kind, was on the second floor, and by the time he had wheezed his way up the stairs Sampson was regretting the whole snipe hunt. The look on Asgard's face did not bode well.
"No address?" he asked.
"Yes and no," said Asgard. "Just a post office box, from twenty-five years ago. Probably won't even be there now. He's probably moved or got a letter box or something."
Sampson looked at his watch. The morning was blown and by the time he got back to his own office the afternoon would be pretty much wasted too. He made a snap decision.
"In for a penny," he said. "Grab a coat, we're going to at least have a look. Bring a copy of ST with you. I have an idea."
The trip north into the middle-class ghettoes took about an hour but the weather had given way to broken cloud and occasional bright sunshine. The two men went into the post office, which looked more like a one-stop shop for everything but postal items, and waited to be served.
"Follow my lead," hissed Sampson from the side of his mouth as they were beckoned forward.
"Can I help you?" asked the smiling attendant wearing a tag that read "Call Me Zoe". She was probably the owner, as franchising had found its way even into formerly government departments decades ago.
"Yes," said Sampson. "I have a package for Brett Strachan, box 377, and since I was in the neighbourhood I thought I'd drop it off. He's got a terrible memory, and he left it behind at my office. He's a writer you know?"
"Really?" replied Zoe absently. Let me look for you. Hmnn. Nobody of that name for box 377."
Sampson looked crestfallen. "Okay, sorry to bother you. It's been twenty years since I've had to look it up."
He turned to go but was called back. "That's odd," said Zoe. "That's one of our long-term boxes, the woman who rents it has had it for thirty years. Barbara Seekamp. She checks for deliveries on the first of each month."
"Ahh," said Asgard in delight. "Our writer must use a pseudonym! You wouldn't happen to have an address for her would you?"
Zoe's eyes narrowed suspiciously. "I'm sure I wouldn't be able to reveal that information." Her gaze dismissed them as decidedly suspicious characters and she looked quickly to the closed circuit TV camera and back to the two men with a very clear communication.
"Thanks anyway," said Sampson as they hurriedly left.
A quick internet search found nothing, it seemed likely that the new name was also a pseudonym, but now they knew they were looking for a woman and what box she used at the post office, and through sheer luck Friday was the first of the month.
"Come back Friday?" asked Sampson. Asgard looked like the joke was wearing a bit thin but assented. "Okay."
***
Friday morning was one of those days that should be bottled and kept on the shelf for periodic reminiscing. Warm breezes heralded summer and a deep blue sky brought feelings of wellbeing to all who had the good fortune to not be inside.
"This stakeout could take all day," said Asgard gloomily. He'd rethought the whole event and was completely bewildered by what they would do if they eventually did identify her.
"Follow her home and have a chat," had been Sampson's irrational reply to Asgard's query.
"Great," muttered Asgard, "stalking her now."
At about noon a blue station wagon, about ten years old, parked nearby. A woman in her mid-twenties entered the post office area and opened box 377.
"It's her!" squeaked Sampson.
"Don't be ridiculous," replied Asgard, "She's too young. But she might be her daughter or something."
"Agreed," said Sampson. "Let's follow her anyway."
The trip to Seekamp's house was hardly surreptitious, with Sampson tailgating and almost running into her rear bumper at a set of lights, but finally she pulled up at a nondescript single storey building with a wrought-iron fence and barred window. Asgard made a note of the address.
The young woman went inside after a brief look both ways down the footpath.
"Now what?" asked Asgard, listening to the ticking of the car motor as it cooled.
Without answering Sampson threw the car door open and walked briskly to the front door and rapped three times.
The young woman opened the door and conversed briefly with Sampson, who appeared momentarily flustered, before turning to Asgard and beckoning him to come in too. Locking the car door he followed them into the dim interior.
"Sit," said the woman, indicating two lounge chairs facing a dining room table, where she seated herself with a glass of water.
"I'm sure you have loads of questions for me, Kieren," she said, watching Sampson's eyebrows rise into his receding hairline.
"How do you know..." he started but was waved to silence by the woman.
"Never mind explaining. I'm sure by now you've figured out that I am Brett Strachan, and that I have quite a remarkable track record with foreseeing the future." For some reason this amused her and she barked a short laugh. "Or it would be remarkable if that's what I'd been doing. But it's far less remarkable if I was merely relating a bit of history."
Asgard twigged first. "You're from the future?" Sampson goggled at him but then peered back at the girl, who he persisted in thinking of as Seekamp. "That would fit. You wouldn't have to be old. You know what's going to happen, and you knew we were coming."
Seekamp sighed. "Yes, but all good things come to an end. I'll be off somewhere else down a timeline somewhere, probably in an alternate timeline. I was getting a bit bored with the whole hermit thing so I won't miss it much."
Sampson was still spinning his mental wheels trying to get traction on his thoughts. "But...why?" was the best he could come out with.
"I'd always wanted to be a published author and you know what they say — write about what you know. Well, here, what I know is the future." She grinned then paused. "When you write about this you could also mention that sometimes fiction contains hints about future events that are wilfully ignored. How much buzz did my climate change stories of the 80s get?" It was a rhetorical question.
"Well, I'm heading off. I've left you a last story in the envelope on the mantelpiece," she nodded at the fireplace. Might be unhealthy to ignore the predictions." She winked and walked into the kitchen out of view. There came the sound of rummaging and a few odd beeping sounds.
"But what if we reveal the actual truth?" Sampson asked toward the kitchen door.
A muffled laugh came from the kitchen. "Nobody believes the stuff you two print." There was no hint of irony in her voice. "And this won't be any different. Console yourself with the idea that you'll be getting a good story out of it when it gets published."
There was a buzz and a faint ozone smell and Asgard looked around the door jamb into the kitchen.
"She's gone," he said.
"Did you notice she said 'when it gets published', not 'if'?" asked Sampson.
"Yeah," said Asgard, "like she knew something we didn't know."
He smiled. "Now, which of our two magazines gets the last Brett Strachan tale?"

About the Author
Kevin J. Phyland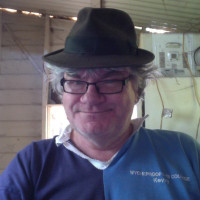 Old enough to just remember the first manned Moon landing, Kevin was so impressed he made science his life.
Retired now from teaching he amuses himself by reading, writing, following his love of weather and correcting people on the internet.
He's been writing since his teens and hopes he will one day get it right.
He can be found on twitter @KevinPhyland where he goes by the handle of CaptainZero and his work is around the place if you search using google or use the antisf.com.au archive.