By William Kerr

I remember snippets of my trial. Dealing with hundreds of cases during a single sitting, the courts churned through their daily list at a frightening pace. I recall being whisked to the bar at the front of an intimidating room by two black-clad guards. I nodded meekly when my name and serial number were read out, and scarcely heard the charges laid against me — something to do with questionable allegiance to the State.
I remember an advocate, one of the new synthetics programmed to be a public defender, gesturing routinely towards me as it implored mindlessly with the human magistrate that I was indeed a loyal citizen faithful to the Establishment.
Each accused was granted 160 seconds in which to state the merits of their case; my advocate used only 72.
The magistrate frowned, shook his head. My innocence was not proven.
A gavel struck the bench, and the magistrate waved me away. The two guards were back at my side in an instant.
I heard someone cry out my name from the back of the room. Maybe my parents had realised where I was and had come?
I hoped that was the case. Ordinarily, family members only found out about the incarceration of loved ones via an official judicial notice published daily on Cy-net. The notice listed citizens found deficient during the previous day's proceedings.
My next memory is of being herded along a blindingly-bright, downward-spiralling tunnel until we emerged into a darker space with row upon row of pods.
I glimpsed the occupants — reclined, tubes protruding, wiring embedded. For the first time I felt nervous, sick to my core.
I remember being in the world as the pod closed, the real world with all its imperfections, and then I simply wasn't there. Nothing. Utter nothingness.
I knew I was me, but there was nothing else.
This lasted until I lost all concept of time. This phase supposedly broke most people. Their bodies simply turned off. With nothing to observe, feel, touch, smell, and hear why go on?
Eventually, I simply woke in a rendered forest. I had never been in a forest before — I had seen images, but urban sprawl had long ago overwhelmed the trees.
Wandering the forest became my new routine. Each day was different; I never slept in the same place. I roamed landscapes alone. I never grew hungry or thirsty, but was constantly cold, vulnerable, and tired. I became adept at being a wanderer, and although there was often lush vegetation and foliage there were never any visible animals. Occasionally I'd hear them at dusk and dawn. Too far away for companionship. Years passed.
One morning I awoke to a hissing. I came fully awake immediately. This could only mean danger. I opened my eyes. Everything was blurry, yet I saw shapes moving and heard muffled talking.
Talking! People! This was new. I heard my name. My name! Someone repeated my name. What was this? I felt myself slide to the floor. I could not support my own weight. Hands grabbed me and pulled me up.
Soon, I lay on a wheeled bed moving through that bright, blinding tunnel. Spiralling upwards.
My vision cleared. My parents stood to either side of me, both smiling. They spoke to me, but I couldn't hear them.
Years incarcerated had resulted in catastrophic muscle atrophy. I couldn't even lift a hand to touch them. Mother gently lay her hand on mine. Her smile said it all. I was safe. I was going home.
The rest of the day was a blur. I vaguely remember arriving home. My vision and hearing were still somewhat blurry and muffled. But the smell — it smelt like home.
I was so tired. I could barely make a noise. My throat rasped in pain when I attempted to talk. I desperately wanted to apologise to my parents for putting them through this torment. But their gentle touches told me I was still loved. For the first time in a long time I felt safe and warm.
Father carried me through their cramped apartment to the bed Mother had prepared. It was so soft. I had made it. I had my second chance. The sheets were so clean and fresh. I drifted off to sleep with a smile on my face.
I stirred from my sleep and rolled over. The gurgling of a nearby stream knifed through my slumber. I wasn't in my bed. I sat up.
Trees, shrubs, and mud.
I was in a small, damp, mossy hollow. This made no sense. I had been released. I had gone to sleep in my room. I had seen my parents…
Abruptly, awful reality hit me. Hit me so hard it physically hurt. The System broke me at last. The previous day had been another rendered living condition. What had I done to deserve this torment? Why were they so cruel? What had humanity become?
***
The overseer moved quietly between the pods. It was the beginning of the shift, and it was doing its first round of checks.
It stopped. It saw something it hadn't observed before. One of the residents was crying. The human was still plugged in, yet under a tangle of wires and tubes tears streamed down its face, its body gently rocking as it sobbed.
The overseer checked the resident's vitals and brain function on the side console. All normal. It continued on its rounds.

About the Author
William Kerr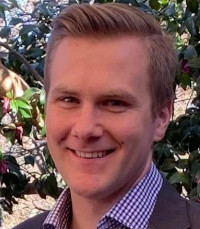 William Kerr is a self-professed science fiction enthusiast. He was born and raised in Tasmania but now calls Canberra home.
His personal preference is hard science fiction and dystopian-style stories which definitely influenced his first published piece 'The Burning'.
He is looking forward to publishing more flash fiction and is hoping to become a regular contributor.