By Len Baglow
The Prime Minister looked in the mirror. He had grown horns: two little bone horns with sharp ends sprouted from either side of his broad temple. He leaned into the mirror to take a closer look and gingerly touched their hard exterior.
"Henrietta!" he called. "I've grown horns."
Henrietta entered the dressing room.
"They're quite becoming dear. And so prophetic."
"Prophetic?"
"You know Matthew 10:16. Cunning as a serpent."
"But serpents don't have horns."
"But they should have, dear."
"Yes. I see what you mean. I had better let the deputy PM know."
***
"About time you grew some horns. They're a bit small, though. Real men have buffalo horns, or ram's horns. They're real horny — Ha Ha Ha."
The PM looked at his deputy in silence. He wondered, not for the first time, how the flock of goats had produced this goose.
"Well. Just letting you know before I talk to marketing."
***
"Well, Prime Minister, the horns present us with a few problems but there are far more opportunities."
"Okay. Let's start with the problems."
"Firstly, a minor one. The Greens apparently have been able to see your horns for some time. However, as the major media don't report them, they can be discounted.
"More importantly, Labor has been saying quietly that you have horns, but till now haven't been able to see them. However, Alvin is conflicted. He suspects half his own party has horns, so he won't be able to get political mileage without exposing himself in the future.
"On the positive side, internationally, all recent strong leaders have had horns: Rump, Mutin and Norris. So you are in good company. The horns will add to your gravitas.
"Also, as the horns are growing sideways out of your head, instead of forward; they appear less aggressive. This keeps your face open, and we can continue with the daggy-dad look whenever it's required. And it makes it easier to customise the hats.
"There are some new possibilities. At Christmas we can hang Christmas decorations from them. What is more wholesome than a Christmas tree?"
The Prime Minister felt pleased. This was an auspicious day.
He looked into the corner and noticed his red pitchfork. Better not to mention it to marketing.

About the Author
Len Baglow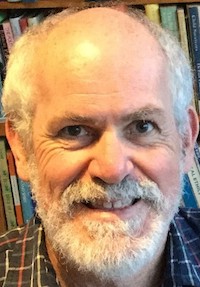 Dreams of worlds that might be, and the clash that brings them into existence.
In past lives he was a policy advocate in Canberra and an environmental activist in Queensland.
In awe of such great Australian SF authors as Glenda Larke, Garth Nix, Trudi Canarvan and Kate Forsythe, he dares to dabble in the arcane art.