By Kerrie Noor
"A knob by any other name still requires a hand to work it."

"February is a month never spoken about on Planet Hy Man," I said to Bunnie.
Bunnie, a master of multitasking, was spring cleaning and listening, while Mex was sitting on the couch, feet up, trying to get to grips with the Radio Times.
Bunnie muttered a "hmmm."
"We used to celebrate it when men were more than footmen and enjoyed festivals, dressing up, and coming home to a woman pleased to see them," I said. "Back in the days when automation was on the cusp of existence."
"March, on the other hand, is a month of cleaning," muttered Mex.
"And what the hell is a footman?" said Bunnie, working up a shine on the TV screen.
"March," I continued, "is a month of celebration for us on Planet Hy Man. It is the anniversary of the first egg fertilisation and the beginning of the end for men and their stupid festivals."
"It's celebrated by wearing giant Petri dishes on one's head," muttered Mex, turning the magazine upside down. The TV Guide really threw her.
Bunnie stopped. "What?"
"And for those who can't afford a Petri dish, anything that looks like a large Petri dish," I said.
"Aye right," muttered Bunnie, returning to her polishing.
"A month where women are 'tickled pink' and spring into action at the drop of a hat," I said.
"Or pertinent dish, if you want to get technical," said Mex with a flick of a page.
"You're taking the piss," said Bunnie.
"The first day of March is spent filling one's Petri dish with freebies. The markets are free, and the lower-level Building of Opulence is open to all."
"Women go crazy," muttered Mex.
"I find that hard to believe," said Bunnie.
"And create such a mess that it takes the rest of the month to clean up," I said.
"March is a month hated by the cleaning team," muttered Mex, rotating the magazine with a confused look.
Bunnie stopped in her tracks. "Wait a minute—you have a building called Opulence?"
"Well, yes," I said.
"Why would you call a building Opulence?" said Bunnie.
"Figure of speech, ma'am."
"It's more a statement," said Mex, tossing the magazine aside with disinterest.
"Of what?"
"Well, opulence—it's not available for everyone, I guess," said Mex.
Bunnie admired her polished TV. "Yes, we all know that," she said, flicking imaginary dust from the top. "But what is opulence in your world?"
"How would I know?" muttered Mex.
Bunnie looked at her.
"Anything that is in the building of opulence, ma'am," I said.
"And what is that?" said Bunnie.
"I don't know," sighed Mex. "I have only been to the room with a view for orders. I am not a Voted In. I am only allowed up the back entrance."
Bunnie moved on to polishing the door. Surveying the finger marks, she let Izzie in.
"I have spent the last month trying to understand a world where men are footmen, whatever that is."
"Men who stand to attention, ma'am, and retrieve things, sort of like a . . . retriever," I muttered.
Bunnie eyed me with the sort of look she called cryptic. "Really?"
Izzie barked and jumped up on Mex's lap, his favourite place.
Mex cooed. "We don't have dogs on Planet Hy Man, ma'am," she said.
"That explains a lot, except . . ." Bunnie eyed Mex, who was talking gibberish to Izzie.
"You're the great man spy who rid Planet Hy Man of all men," said Bunnie, "kicked them out."
"More kicked to the gym, ma'am," I said.
"You made it all possible though," Bunnie said to Mex.
"Well, yes," said Mex.
"Why the back entrance then?" said Bunnie.
"The Voted In are easily impressed," I said to Bunnie. "Their idea of opulence is anything others can't afford."
"And?" said Bunnie.
"And Mex and the like choose what to make unaffordable," I said. "It keeps them happy, malleable."
"Who's a cute boy?" Mex cooed at Izzie.
"Insightful," muttered Bunnie.
"Turns out it doesn't matter if it's males or females who rule. They are all the same in the end," I said.
"I see," tutted Bunnie.
"Manipulatable," muttered Mex.
"What some would call a knob," said Bunnie, now polishing one.
Mex and I, confused, looked at each other until Bunnie gave a way-too-in-depth description of the true meaning of a knob, where, as she put it, polishing was negotiable.
"So, the polishing of a knob," I said, "is a term best kept in the same sentence as a duster."
"Or Mr. Clean." She chuckled.
"On our planet," muttered Mex, "polishing is strictly for the robots."

About the Author
Kerrie Noor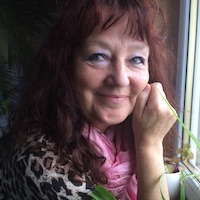 Kerrie Noor was born in Melbourne Australia in 1960 but has spent most of her adult life in Scotland.
She has, in the past been a regular on Dunoon Community Radio, taught and performed Belly dancing, 'done' a little stand up, performed as a story teller and appeared at the Edinburgh Festival.
She has had one radio script performed on BBC Scotland and has been short listed for the Ashram short story award.
She writes both Sci fi comedy and romantic comedy and is about to publish her fourth book in her Planet Hy Man series The Rise Of Manifesto a Sci Fi comedy with a twist.