By Ovidiu Bufnilă

"Play for us!" the revolutionist from Cape Horn shouted, inviting the red orchestra to get out of their rocket.
The coy players prepared their instruments. They took out their scores. They forced smiles onto their faces. They started playing.
While doing so, they took on a shade of disturbing red.
"What's wrong with these guys?" one of the revolutionists asked, wiping his nose on the royal flag.
"They're from March, Boss," an operetta revolutionist shouted, sticking out his chest and turning up his small eyes.
"Martians!" the former revolutionist laughed. "Too bad. If they were Stalinists, it would mean something." Saying these words, he played ducks and drakes with the red orchestra players, sweeping them with a single laser beam.

About the Author
Ovidiu Bufnilă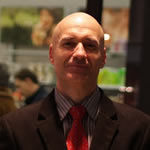 Ovidiu Bufnilă was born and lives in Romania. He has headed up Waved Philosophy since 1977. Ovidiu Bufnilă binds everything so beautiful that the universe seems to be born of a wave that has shattered. His novel Jazzonia was awarded as the best Romanian SF Novel. He received the award for the best Romanian SF Story, Mandhala, 2002, and was also awarded for excellence in Romanian SF and the Sigma Award for the best Romanian SF Novel, Moreaugarin's Crusade. He received the annual Clouds Magazine Award (USA).