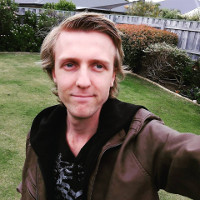 I am a Western Australian writer who recently completed my Creative Writing degree at Curtin University, which is a wonderful place to spend time and study.
I'm a passionate novelist and short story writer. My appetite for genre fiction spans all forms of media from novels to video games and branches beyond creative works and into research, reviews and theory.
I've been surrounded by fascinating stories my entire life, and as I've grown older my passion and curiosity has only gotten stronger. I grew up watching Star Wars, reading The Hobbit and The Lord of the Rings and playing video games like Ratchet & Clank.
In high school I was intrigued by science and mathematics, even though I wasn't very good at either, but I knew by that stage that I was a writer!
I started off small, working on cheesy fan-fictions for Star Wars and Assassin's Creed. Then I started writing novels and inventing my own stories, and I've been doing that ever since.