By Thomas Tilton

Rod was eating in his favorite recliner which was also his toilet. With his fingers he controlled the different apparatuses around him: digital library, hi-def screens, lotion dispenser. The wires and cables made him look like an absurd life-size marionette.
Life was good, except for Tuesdays. That's when the agency tested him. Every Tuesday, Rod received a visitor. "Field exercises," they called it.
Today was Tuesday.
Rod heard the buzzer. He fingered the wires to draw the shutters and dim the lights. The room grew dark.
From the rearview mirror attached to the arm of his recliner, Rod saw the front door open, admitting a brief pyramid of light. Then the door quietly shut, casting the room in darkness and dim shadows once more.
Who should he expect this time? A Uranian contortionist? Another Europan three-fingered pygmy?
He listened.
On the carpet behind him, he heard fast steps like light footfalls on hard-packed snow.
Rod held his breath.
His fingers danced silently on the arms of his recliner, which was now his battle station. The wires his fingers were attached to swayed noiselessly in the still air.
But there were no more footsteps, no more detectable movement of any kind.
All was quiet.
Still holding his breath, Rod chanced a slight turn of the head to check his blind spot. When he turned back, a pair of large bug eyes were staring inches from his own.
Rod gasped, wheezed, began choking on his own spit. Soon he was hemorrhaging coughs. And all the while the bug-eyed creature facing him remained fixed where it was.
Once Rod finally regained his composure, he said to the thing facing him, "What are you?"
It blinked. This was almost as startling as when Rod first laid eyes on the thing, for its eyelids were vertical and each time it blinked, its eyes shot through with bright light. Its eyelids were like translucent shields on a pair of flashlights.
"Are you an assassin?" Rod asked.
A tongue emerged. A silky wet strand wrapped itself gingerly around Rod's head, covering his eyes.
He fell into a state of total peace and serenity. Nothing mattered now. Not the agency, not his future career in telepathic espionage.
Thanks to this heavenly creature, he knew now that none of it mattered.
This was no assassin. This was an angel.
In such a euphoric state, Rod didn't even notice that his feeding tube had stopped working.
But when he began to think there might be more to life than a purely sedentary existence, he felt a seed of suspicion flower in his belly.
This was an enemy, alright. And it meant him harm.
He flexed his thumbs and the ax fell, burrowing its blade into the bug-thing's head, killing it instantly. He felt the creature's silky wet tongue slowly loosen its grip on his head.
Rod's face was awash now in sticky green bug blood and hearty entrails.
He smiled. The agency would be pleased. And so was Rod.
The remains were delicious.
Perhaps he would grow to like Tuesdays after all.

About the Author
Thomas Tilton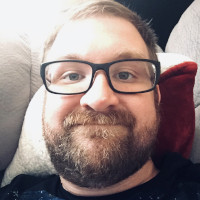 A lifelong science fiction fan, Thomas Tilton attributes this condition to his father, who introduced him to 1950s creature features at a young age.
Born and raised in southeast Texas, he now lives in Michigan with his wife, son, and two dogs.