By A. Katherine Black

John rested his elbow on the peeling picket fence separating his property from Doug's. Doug leaned against the other side. Streaks of reddish-gold painted the night sky beyond the mountains.
"Just like the fireworks they used to set off at the end of the county fair." John sipped coffee from a chipped mug decorated with the words 'I love kittens.'
"Exactly like that." Doug said. "Except in reverse."
Meteors fell in such numbers that it was as if a grand curtain hung from the heavens waiting to rise for the next act.
A bright light burst from behind one of the mountain peaks, followed by a rumble under their feet.
"That's gonna rustle up some angry critters," John said.
"Could be worse," Doug said, sipping tea from a chipped jelly jar.
"Much worse." John nodded his graying head.
"Take the islanders." Doug spoke with the same casual tone they always used.
"Uh-huh," John said. "Lost a whole generation before we sent those invading bastards back to the star they came from."
Doug raised his chin. "Bastards," he said.
Birdsong rose from the bushes beyond the fence. John leaned forward and squinted against the darkness. He spoke quietly. "Any news on the radio?"
"Sure," said Doug, his eyes also fixed in the direction of the bird. "Seems another rift opened in South America. Near Bogotá."
The birdsong stopped. John whispered, "Must be over twenty rifts by now," he said. "Same kinda crawlers come outa this one?"
Doug nodded. "Seems so. The city's wall held, for now."
John tilted his head from side to side in unsurprise, aware of the way things usually went. "Can't say I'd care if there were twenty legs or fifty," he said. "It's those pincers I'd steer clear of."
The neighbours worked on their drinks, letting the silence stretch. They gave up whispering, assuming the singing creature had moved on.
"Wonder if the new crawlers'll cross the Panama Canal," John said.
Doug raised an eyebrow. "Bridged the Bucharest Canal in '75, didn't they?"
John raised his mug to the streaks of light in the sky. "Better here than there."
Doug held up his jar in agreement.
The bird emerged from the bushes. It flew toward them, following the fenceline. The men stilled, waiting to see which side of the fence the bird would choose. Just as it reached arm's length, it veered toward Doug. He didn't flinch.
In a single clean movement, John slid a knife from his side and brought it toward the belly of the bird, sharp side up, cleanly slicing the creature in two. Its scream turned to a roar, its body growing quickly as it fell, until its two halves hit the ground. It was the size of a dog, one half all teeth and claws, the other a scorpion tail. The neighbours watched the carcass jitter in its final moments of death.
John breathed deeply. "Breakfast time."
Doug nodded. "You know it." He drained the last of his tea. "Dried rabbit with canned artichoke, only a few years expired." He patted his belly.
"Well, now," John said, "that sounds lovely." He raised his arms in a stretch. "Bartered myself some ketchup chips from the last merch that passed through. Smuggled outa Eastern Canada before the plague doors closed. Thinkin' they'll go well with pickles and a nice rye whisky."
Doug chuckled. "Look who's cultured now," he said. "I'd check the seal twice on that chip bag, if I were you, John."
A pre-dawn breeze swept across their yards, carrying the scent of freshly charred flesh. A faint vibration pattered softly in John's chest. He licked a finger and held it to the breeze.
"Seems that meteor did indeed disturb something."
Doug squinted toward the glow in the horizon. "Four wings or eight legs," he said. "What's your bet?"
John shrugged. "Don' matter," he said. "Sun's comin' up hot today, and dragon wing bakes just as well as spider leg." He raised his mug. Doug met it with his jar in a clink.
"Gather remains tomorrow night?" Doug smacked his lips. "I can sauté a mean dragon heart, with a little olive oil and mustard seed."
John raised two fingers in salute. "Til tomorrow, Doug."
The two left the fence and walked in opposite directions, toward their respective bunkers. Doug turned the crank to open his thick metal door, calling out a final good-day before sealing himself in.
***
Kraakshlip turned off the monitor and covered its eyes with four tentacles, wishing to block out the mess above ground. Thanks to infernal peace laws forbidding them from destroying unwanted creatures through direct warfare, their operation was forced to find indirect means. It had been Kraak's idea to create in reality every devastation from human legend. And look how well it was working out.
Yaardblart approached team-leader cautiously, aware that Kraakshlip's frustration could mean the death of any of them. With a shaking tentacle, Yaard reached for Kraak and queried via chem exchange for the next order.

Kraak curled a tentacle onto Yaard's, responding with a query regarding how many plagues were left in the human archives. Yaard brushed the controls with another tentacle until a holo image appeared. Yaard queried for approval, signalling that genetics lab would need several cycles to create this legendary specimen.
Kraak expanded, soaking in nutrients from the mist around them while contemplating the suggestion by this subordinate. The holo showed a smallish multi-legged creature wrapped around a human head, sticking a tentacle down the human's digestive tract, and planting a seed that would then hatch, tear open the insides of the human, and grow quickly into a wingless dragon with acidic blood.
Kraakshlip signaled the go-ahead, knowing mission failure was inevitable. The realisation had come too late. How could humans be destroyed by events they imagined for the sole purpose of entertainment? Kraak's central body deflated as it turned the monitor back on and waited to watch its two favourite humans meet again across the picket fence.

About The Author
A. Katherine Black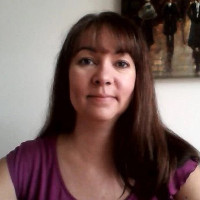 A. Katherine Black is a writer on some days and an audiologist on others. She firmly believes the world needs more stories with friendly spiders, and she loves all-nighters and multi-colored pens. Her fiction will appear this summer in 600 Second Saga and has appeared in Flash Fiction Magazine, Theaker's Quarterly Fiction, Farther Stars Than These, and others. She lives in Maryland with her family, their cats, and her coffee machines. Her thoughts occasionally land at <flywithpigs.com>. @akatherineblack