By Simon Petrie

Once, the geologists told us, the planet had likely been temperate enough to have polar ice-caps, but these had long since dissipated. Now its slow-dwindling seas simmered, driving huge quantities of water vapour into a thick atmosphere dominated by carbon dioxide and nitrogen and blanketed by permanent cloud.
Once, the palaeontologists surmised, life may have been abundant here: varied, complex, ubiquitous. Life still endured in a unicellular form, the simple metabolic processes of which were perfectly adapted to a steam-hot aqueous environment; but if there had at one point been indications of the diversity of former life on this world, those traces had not endured.
Some among our mission argued regarding the presence of many localised concentrations of exotic or unusual mineral deposits. Some held that these were remnants of long-eroded impact events, others that they had arisen in some unspecified seismic process; the world evidently remained tectonically active. One mission specialist argued unconvincingly that the deposits might signify undefined biological transformations which may have occurred within the world's distant past. It was noted in this context that though these unorthodox outcrops were at altitudes uniformly well above the current sea level, there was geological evidence at several of the lowest such features of prolonged and substantial marine inundation.
We did not tarry long upon the wind-scoured terrain of this uninviting planet. Indeed, we spent rather longer exploring its sole large natural satellite, a body of rock orbiting at a distance approximately thirty times its primary's diameter. Tantalisingly, we found a small number of objects of clearly artificial origin on its airless surface, suggesting we were not the first to have visited.
The origin of these constructs remains conjectural.

About the Author
Simon Petrie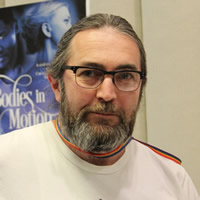 Simon Petrie, born and educated in New Zealand, now lives in the Australian Capital Territory, where he is paid to be careful with words.
He's had a few stories published before, both in AntipodeanSF and elsewhere. He has been shortlisted several times for the Aurealis and Ditmar Awards, and is a three-time Sir Julius Vogel Award winner, most recently in 2018 for his SF/crime novella Matters Arising from the Identification of the Body.