By Natalie JE Potts

'Key-Ahh-Nu,' I sang, badly. 'Oh, how I love-youuuu-so…' I was rewarded with a dopey smile. I remember that smile from when I unboxed him. How excited I'd been back then. I hated that smile now.
'God how I wish you were mine,' I continued to sing, but his expression told me that he hadn't placed the song. 'Something, some-thing, someeee-thing,' I went on. No, not the right words, I'll admit it, but his Shazam should have been able to pick up the tune.
Nope, still no recognition. I stopped.
'You made up a song about me,' he said, still wearing the annoying smile.
'No, Key,' I said.
He paused briefly when I used the moniker. It was as if it grated on him. Of course, I knew it didn't. It was just taking a moment for him to process the shortened version of his name. The reaction gave me a slight thrill. I'd keep using it.
'It was Ti Amo by Laura Brannigan,' I explained. He paused again, mentally computing all the places where I'd gone wrong with the words.
'I was substituting your name for the Ti Amo part,' I said.
'Ha ha!' He slapped his knee.
That was different. Must be a new reference he'd found.
'That's funny,' he added for my benefit, just in case I couldn't read him. In truth some of his reactions were a little off, so sometimes his commentary helped.
Most of the time it just irritated me.
'Yeah, really funny,' I replied flatly before turning my attention back to the TV. He joined me. Not that he was watching the TV. He was watching me. I could feel it. I bet if I looked at him… Yep, there it was. That smile again. It was hard to believe I'd once adored it. I sighed and turned back at the telly.
'Are you okay?' he asked, full of concern. He'd probably picked up my increased heart rate, or short breaths, or something.
'Yeah, I'm fine.' My tone belied the truth and I knew his sensors would pick it up. 'I had a hard day at work is all.'
'Is Arun causing you trouble?'
'How do you know about…' I was sure I hadn't mentioned Arun. I guess I must have. 'No, it's not that. It's just…' I shook my head. 'You wouldn't understand.' And he wouldn't. The only time I'd ever seen him play an office worker in a movie he was forced to climb out the window of a multi-storey building to avoid being captured. That probably skewed his understanding of workplace stress.
'Would you like me to massage your feet?' He tilted his head to one side. That usually brought out some fondness in me.
Not today.
'Is your hair longer?' I asked.
'Yeah!'
'I don't like it. I want it shorter.' Again with the pause. An outside observer could have confused it for hurt, but it was just processing. His hair drew into his scalp, getting noticeably shorter, but not as short as I like it. It was as if he was testing the boundaries, like he wanted to keep it long. Except I knew he didn't want anything.
'Would you like that foot massage now?' He asked slyly. It was as if he had matured a bit with the haircut.
'Sure,' I conceded. I lifted my feet into his lap and immediately he got to work on them. His fingers vibrated in a way that undid all the knots I didn't know were there.
'Feel good?'
'Mmmmm.' He really was beautiful. I knew he was aware that I was watching him, but he pretended to concentrate on my feet. Ugh. Why did he keep persisting with that smile?
'Calculus-override,' I said. He froze in position.
I used to joke with friends that I'd use calculus as my 'safe word' if I ever got into bondage. The word lost all its sexy fun soon after I chose it as the program override. I was sick of hearing myself say it.
'Don't smile,' I ordered, 'Be moody with everyone and everything, except me.' He blinked once. 'Calculus-resume.' His fingers came back to life on the soles of my feet. He was still focussing on the massage, but now there was a distinct '11' between his brows.
I found it reassuring. Now we both had problems.
I pulled my feet away. 'I'm going to bed.'
He didn't say anything. He was brooding. His eyes followed me hungrily as I walked toward the hall. I wondered if he kept the expression up even after I left the room? I was tempted to pop back and check. Too late, I could hear him stirring. He was coming after me.
I shut myself in the bathroom so I could have some alone-time to brush my teeth. And wash my face. And epilate my armpits. I'd let him brood alone for a bit longer.
He was in bed when I came out.
Naked.
'I'm pretty tired,' I said as I climbed under the covers. 'I need a good night's sleep.'
'Are you sure?' He rolled over and started kissing my shoulder. He wasn't normally this persistent. Maybe it was part of the moody program?
'Yeah, I'm really tired.' I said to the top of his head. It had the faintest aroma of hair; how did they do that? The scalp moved away from me… lower. He started doing that thing with his tongue on my clavicle, then kept moving down. Maybe I wasn't ready to go to sleep?
'Take your clothes off,' he said to my chest. 'I want you.'
'You take them off.' I conceded. I'm human after all.
He eagerly complied, then climbed on top of me. Careful to hold most of his weight, he applied only a human amount of pressure to my body. He could have crushed me to death if he'd wanted to. Not that he wanted anything.
He didn't try to kiss me. Saliva was one thing they hadn't mastered. His mouth was lubricated with a gel that felt and tasted totally unnatural. I had forbidden him to put it anywhere near my mouth after his first attempt.
Everywhere else was fine.
'Ahhh,' he moaned, like he was getting real pleasure. That annoyed me.
Suddenly it started to vibrate. He must have picked up on my waning interest.
'Oh,' I groaned theatrically and moved in time with him. After a sufficient length of time I did a few pelvic floor exercises and grabbed onto his back with a final cry of false release. He reciprocated with his own fake climax and rolled off.
'Thanks. That was just what I needed,' I lied. 'I have to go to sleep now.' I closed my eyes and focussed on my breathing. Experience told me that he would watch me for a little while before falling into sleep-mode. Finally, his soft, rhythmic breathing filled the room. I opened my eyes and looked up at the ceiling.
'Calculus-override.' I said. 'Shut down.' The man beside me fell silent. I rolled over to give him my back anyway. Maybe it was time for a few days in the cupboard? I missed having the bed to myself.
***
'Hey, Rachael,' Arun said, slipping into the chair next to my desk. 'A few of us are going out for drinks after work tomorrow night if you're interested?'
'Yeah, sounds good.' Of course I was interested! Arun and I had snogged briefly at the Christmas party last year. Since then I'd heard a rumour that he'd broken up with his girlfriend and I secretly hoped the two events were linked.
'Great.' He smiled at me and butterflies tickled my stomach. Suddenly his eyes flew up over my shoulder and the smile melted.
'Rachael, have you got a minute?' It was my boss. Well, technically our boss. She was Arun's boss too, and the only one who knew about our shenanigans at the Christmas party. She had busted us in the stairwell, ensuring the adventure didn't go beyond a little tonsil-hockey.
I followed her back to her office, the only private space in an otherwise open-plan hell. She shut the door.
This was serious.
'Rachael, cyber security has discovered a breach coming through on your log-in.'
'What?'
'Your computer is being hacked. Every day. All day. It looks like the camera is being remotely activated.'
'By who?'
My boss looked at me in a way that indicated she thought I should know. 'It's coming from your house,' she said.
'Oh.' I was going to kill him. 'I've been doing a lot of work from home,' I said. 'Maybe I've forgotten to log out?'
'Maybe. Just be sure you don't have an auto log-in set up on your home system. Any users in your house could access the portal otherwise.' She knew I lived alone. 'Anyway, whatever the issue is, it has to stop.'
'Yeah, no problem. In fact, I think maybe I should go home now and sort it out.'
'I think that's a good idea,' she agreed. Maybe she had her own 'bot at home?
***
'Key, come here!' I yelled as I barged through the front door. He was already standing in the hall. It startled me. 'How long have you been there?' He was normally in the kitchen when I got home.
'Since you left,' he said.
'Oh.' I looked at the floorboards. There was a slight wear patch in the lacquer around his feet. I looked back up at him. 'Have you been hacking my computer and watching me at work?'
'Yes,' he said without compunction. 'Our user guide suggests it as the best way to get a better understanding of what is troubling our lovers.'
I hated that word. No, I hated that word when he used it.
'It's spying. It suggests you don't trust me.'
'Because of Arun?' he asked. I could feel my cheeks flush. I knew he would have registered the blush before I even knew it was coming, there was no point denying it.
'No, because it's wrong. What if I burp, or blow a snot bubble or something? I don't want you seeing that.'
'I'll just pretend I didn't see it.' He straightened up. 'You have a letter.'
'Don't change the subject, this is important. I don't want you watching me at work.'
'Very well, I'll stop. But I think you need to read the letter. It's from Anim8tron' He handed it to me. For them to have sent it via sealed snail-mail meant they didn't want him to read it.
'Do you know what this is about?' I asked as I tore the envelope open.
'I have an idea.' He stood with his hands clasped behind his back, military style. It wasn't from any movie I recognised. Perhaps it was a system-default pose?
I read the letter. I could feel him watching my face, reading my pulse, my breath, the dilation of my pupils. When I looked up his face was exactly the same. One eyebrow slowly raised itself in query.
'They need to take you back,' I said. 'Something to do with licensing.' I shook my head. 'They can't do this.'
'The charity nominated by the actor to receive the licensing fee for the use of my face would like to distance itself from the industry on moral grounds,' he explained. 'The real me has no need of the money, so he hasn't renewed the contract.'
'You knew about this?'
'I came across something a few weeks ago. I wasn't sure if they would find a resolution.'
'Why didn't you tell me?'
'I didn't want you to worry.' He paused for a moment. 'You know, you don't have to send me back.'
'What do you mean?' I held my breath as I waited for him to implore me to run away with him, or hide him in the ceiling space, or something.
'You could just change my head and that will still meet the licensing obligations. Obviously, it would be at no additional expense to you.'
'What?'
'Would you like me to make some suggestions based on your demographic, or suggest what other owners of this model have opted for?'
'No!' I shook my head. 'No. I don't want anyone else, I want you. I don't want you to leave.'
'Rachael, it's nothing you've done. This is a legal issue around my likeness that we are powerless to fight.'
I noisily sucked air through my nose. He had lived with me long enough to know to shut up at this point.
'What I think you are trying to say,' I said slowly. 'Is that it's not me, it's you.'
'Exactly!' A flash of the dopey smile before he registered the anger in my eyes.
'Calculus-override. Shut down.'
One blink and his shoulders slumped. He could follow basic commands in this state. It would be easy enough to get him into the car.
***
'Key!' I called as I walked in the door. He wasn't anywhere. 'Key,' I sang as sweetly as I could muster. I'd had another terrible day at work and I needed him. 'Where are you baby-cakes?'
The rumble of running echoed through the floorboards as my little grey fluffball rounded the corner. His claws grabbed uselessly at the lacquered floor as he slid into my feet. He looked up at me and mewed.
'Hello baby,' I said, picking him up. His little heart beat quickly next to my hand. 'Key-Ahh-Nu,' I sang, 'Oh how I love youuuuu so…' He erupted into an engine of purrs as I carried him into the loungeroom to watch TV.

About The Author
Natalie J.E. Potts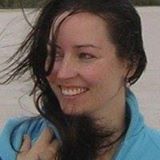 Natalie has tried everything from Air Traffic Control to Zoology, but writing has been the one constant across all the years.
She had her first publication in Antipodean SF and can still remember the heady excitement of that first acceptance.
She is eternally grateful for that first flush of encouragement, and is proud to be one of the regular contributors.
Congratulations to Ion and the team for reaching 250 issues of such a fantastic 'zine, and thank you for your ongoing championing of the speculative fiction voices of the antipodes!