By Joanna Barrett

Yesterday I zoomed back to ancient Egypt at the time of the Pharaoh Ramon Topek the Fifth. Hang on, first I need to tell you about my time machine, don't I? Time machines are as common these days as mobile phones were back in the twenty-first century, and mine is a state-of-the-art model. It's no bigger than a fingernail and it's made of black onyx with a rim of gold that moves and shivers whenever I look at it. Yes, creepy. But it works a treat.
I knew from my previous visit that Topek was having trouble building his pyramid. Sure enough, when I arrived he was running his hands through his hair in agitation. His slaves had been at the job for two years but the thing was still a pile of large stones. 'What am I to do?' he cried, the emeralds and rubies on his gold armband sparkling in the fierce Egyptian sun. 'My slaves work but achieve nothing. Nothing!' He clapped his hands for his servant. 'Khafra, bring wine.'
'I've come at the right time,' I said, laughing, as I pointed to the goodies Khafra placed on an outdoor table. Wine in silver goblets, cheese, dates and olives on platters. The Pharaoh looked at me blankly. No sense of humour, these ancients. Too obsessed with death.
'Yes, yes. You have come at the right time.' He studied me with new eyes. 'You're from the future, aren't you?'
I nodded.
'You have knowledge of future inventions?'
I nodded again. He wasn't slow, this Topek.
'Come with me.' I looked with longing at the food and wine. 'Now.'
I shrugged. 'Okay.'
He hurried me out onto the plain. Slaves were hauling huge blocks of stone up the side ramps of his embryo pyramid. As soon as I saw how scrawny the men were, I said, 'Topek, if you give your slaves better food, you'll get more work out of them.'
The Pharaoh glared at me, eyes blazing. 'How dare you criticise me.'
He swept out his hand and, before I could think of ducking, slapped my cheek. The blow knocked me backwards and I fell onto the hot desert sand. Time to scarper, I decided. This mad Egyptian could solve his own problems. I slipped my hand into the pocket of my shorts and felt for my time machine. I gasped. It wasn't there. My fingers found a hole in the seam of the pocket. I groaned. Frantic now, I dropped to the ground and ran my hands over the sand.
'So you cannot leave, eh? That is good,' Topek said with a glint in his eye.
'Where's my time machine?' Fury exploded in my head as I realised he had snatched it up from the sand.
He ignored my question. 'Tell me some future inventions so I can build my pyramid faster.'
We eyed each other for a long moment. I reckoned that, if I appeared to give in, I'd be able to search for my precious gadget. 'Okay.'
I threw myself into pyramid building with the obsession only a condemned man would understand, all the time keeping an eye out for my time machine. I designed and built an engine to haul the blocks up the ramps. I constructed cranes and pulleys and hoists. I even persuaded Topek to improve the diet of his ten thousand slaves.
At the end of three years my time machine was still missing but his pyramid was finished. He gazed at it with pleasure and god-like awe. So did I. The rays of the setting sun lit up one face of the pyramid just as three camels strolled along in front of the structure.
The pharaoh began to wail, the solid gold necklace lying on his chest vibrating with his sobs. 'My tomb is a thing of great beauty, but I cannot use it until I die.'
'Your problem, mate,' I said, rolling my eyes. I lifted my chin. 'Now give back my time machine.'
'No,' he stated with that same glint in his eye. 'Never.'
Rage gripped me, but what could I do?
Knowledge of my ability sped throughout the kingdom. I became a pyramid consultant for members of the ruling class. I supervised the building of those great edifices, designed more machinery and ensured the slaves' well-being. Executive, engineer and union boss rolled into one.
Then Topek died. Before his mummy was sealed inside his burial chamber, I persuaded the priests to let me in for a look. I stood stock still. My breath stuck in my throat. There it was. My black and gold time machine, embedded in the forehead of Topek's death mask.
I pressed the button and held it down for five seconds. After finishing the sequence, I closed my eyes.
Woosh!
Elated by the familiar sensation of time travel, I punched the air. I was returning home, something I'd never expected to do in all my years in ancient Egypt.
I opened my eyes. I was lying on a low chair beside my swimming pool in the back garden of my house in Sydney. My eyes were drawn to a prone figure nearby. I gasped. Topek's mummy. I ran to the mummy and stared down at my old sparring partner. His death mask glared back up at me. Glared. I could guess why. I'd taken him from the pyramid in which he'd wanted to lie forever.
Too bad. I grinned. No way was I going back to ancient Egypt. I wanted to visit other times and places. And on all my trips Topek would be my travelling companion.
Guess he never expected that when he took a fancy to my time machine.

About the Author
Joanna Barrett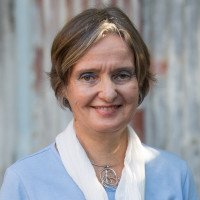 Joanna is a writer who lives in the bush near the Glasshouse Mountains in Queensland.
She writes both fiction and non-fiction.
Her work has appeared in a wide variety of publications including Griffith Review, That's Life magazine and The School Magazine.
She used to be a journalist but much prefers making stuff up.
At the moment she's having fun working on a historical novel called What Eddy does for Louis.