By Robert David

Down at the foot of the hill below Sven, scattered workers return from their shifts. It has been a long day. Now, neither light nor dark claims to master the oil wells on the nearby fields, and a fine yet distant music arises from the folds of the surrounding hills.
It seems to Sven that has seen this twilight amethyst shine before — or perhaps it is only an illusion, a sensation, a reflection of moon — the air thin, silence echoing in a stream of notes like the fall of low tonalities escaping from the vocal cords of a selfish master.
This is an oil-well town; a few houses spread over a grass blanket and thick strips of asphalt branching from one door to another.
Sven sits on the balcony on a chaise-lounge and lights his cigarette, masking the not-so-fresh air. A crane lifts indifferently in a gravel pit. A car slips into the nearby railway station.
He'd arrived this morning on the train. Sven wasn't on holiday, not really. Sanda had given him that odd look of hers and told him they needed to spend some time apart. "A couple of days," she'd smiled, a crease forming at the corner of her mouth, hiding for a second the brownish dot that nestled there like a thick freckle. It was something ordinary for them, this agreement; they had never had a fight.
A few stars appear on the darkling sky like diamonds lost in dark lochs. The lochs…Sven inhales deeply. Smoke fills his lungs.
The telephone rings like a cricket scared by the boots of a passerby. The curtain opens and unfolds like a bride's gown as he enters the house and picks up the receiver.
"Hello? Good evening!" whispers a female voice on the line.
A cold shiver circles the shrunken skin of Sven's head.
"How are you?" asks the voice.
Sven does not recognise this woman's voice. He sits in an armchair near a small table, the telephone cradled against his ear. He's happy to talk.
"Who are you looking for?" he answers politely. He can't help himself.
The answer comes as a warm wind caressing his ear. "You."
Sven's shiver strengthens.
"I'm glad I found you," she whispers, her voice sneaking in, reaching cold rocks at the edge of his conscious. He grips the telephone receiver and a frozen stone fills his stomach.

"Who are you?" Sven croaks.
A rustle and a simultaneous saxophone beat echo from each corner of the room — deep echoes, marred by sighs and the traces of an eerie whistle. "You know very well who I am. Relax," she whispers again.
The music becomes louder and louder. Sven closes his eyes and settles into his soft, silky armchair.
"So…you understood…I knew it," says the voice.
The sound of the concert whirls into reality. Sven sees each bow coming down on strings, each finger filling holes on the flute, swift hands running across the piano keyboard. Above the orchestra in their sheltered pit dances the soloist, atop a sea wall close to the wild edge — embracing the blowing wind, a hoopskirt close to her young body, hair floating under the large brim of her hat, her eyes half-closed and lips moving slowly, leaning against an umbrella. But she isn't singing. She gazes out to sea, looking at ship masts meeting the sky, there where the water becomes blue. "I'm waiting for you…" she says. "Come back," she whispers. "Don't leave me," she weeps.
The spell is broken. He feels again the cold plastic of the receiver against his sweating palm, and silence on the line.

An ordinary voice, louder than usual, makes him put the receiver back. He draws in a deep breath, inhaling the strong smell of fir tree on the falling-night air, his heart beating against his ribs. He picks up the receiver and dials a well-known phone number. His fingers shake with anticipation. Sometimes it seems things really do come in order, bearing a hidden meaning one is happy to touch when it's most needed.

About The Author
Robert David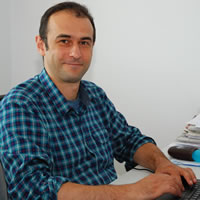 "Touch" is Robert David's fourth short story published in AntipodeanSF. Robert has graduated the Computer Science department from the Politehnica University of Bucharest in 1996. Since then, he has been working in IT, for various multinational companies, in software development related activities. Robert is based in Bucharest, Romania."
Robert David is happy to be a contributor for AntipodeanSF. He is looking forward to continue publishing short stories for Australian sci-fi readers. He would be even happier to get feedback about his short stories from the AntipodeanSF readers through his website:
<http://robertdavidstories.weebly.com/>