By Edwina Harvey

"Luddite. Why don't you just invest in a smartphone?"
"Because I'm a Luddite. Go on, show me the app that shows the constellations."
I switched to the app and Harley was happy to study the stars shining above the cloud-filled sky.
"You've upgraded this?"
"No, it's the same as the last time you wanted to look at it."
"But it's different."
"Well, the stars are in a different part of the sky now. That's normal. You know that."
"No. It's DIFFERENT! It never showed spaceships before."
"What? It doesn't show spaceships, it just shows stars. Give me that!"

I swiped my phone back and looked at the screen. In the top right-hand corner of the screen there were little triangles in a chevron formation.
No, surely not? It was an optical illusion or a reflection of something around us. I put the phone down, studied the surrounding buildings. Nothing resembled the formation of triangles on the screen. I checked the phone again. The first array had moved closer to the centre of the screen (or us, in other words). A second formation of triangles in chevron formation was just appearing from the top right-hand corner of the screen. The app wasn't supposed to do that.
"Let me see!" Harley pulled the phone out of my hand. "There's more of them and they're getting closer."
"They can't be. That's not what this app is designed to do."
An accusing finger punched the screen. "They must be moving really fast."
"It must be an error in the app, or a reflection…or a meteor shower!" Inspiration had struck.
"Since when do meteor showers keep equidistant formation?"
I glowered at Harley. I hated him sometimes.
"That's not what this app's designed to do!" I repeated, more loudly than I intended, as if that would make everything better.
Then something caught Harley's attention and he looked up at the sky, so I reflexively looked up as well.
"Told you they were fast."

At first I thought it was the moon behind the clouds illuminating them, but we've only got the one moon, right? And there were many more lights, bright circles shining through the cloud layers — rotating, pulsing, changing colour; trying to communicate maybe?
Then the clouds dissipated and we got a view of them. Massive ships. MASSIVE! And so many now that they could likely be seen from most places on the planet. I glanced at my app, wondered what star system they'd come from. Not that it mattered. They were here now, knocking on our door.
"Oh shit," I muttered.

About The Author
Edwina Harvey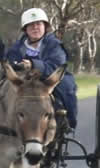 Edwina Harvey is a freelance writer and editor, silk and ceramic artist and sporadic library worker.
She's written two SF books — The Whale's Tale and The Back of the Back of Beyond, edited a growing number of fiction books for Dragonwell Publishing and Peggy Bright Books, including co-editing two anthologies — Light Touch Paper, Stand Clear and Use Only As Directed with Simon Petrie. She has mentored emerging authors and nurtured their manuscripts.
Edwina is a dolphin and whale geek, horse and donkey geek, but has absolutely no aptitude whatsoever for housework.