By Mark Webb

The bartender for the next shift was running late, and Bernard was finding it hard to keep charitable thoughts in his head. In a vain effort to bring his blood pressure down to medically acceptable levels, he tried to imagine a sympathetic excuse. Perhaps Louise had received an emergency call to immediately rush to the bedside of her dying grandmother, and the tsunami of grief that was overwhelming her had driven the very thought of attending her shift at The Rocket Fuel (or even of calling to tell Bernard that she was running late) completely out of her mind. What kind of arsehole would he have to be to begrudge Louise her last few moments with her beloved grandma?
Of course, this exercise in mindfulness was somewhat undercut by the fact that he knew for certain that Louise had been scamming her grandmother out of her welfare credits for as long as he had known her, and would sell her to Absidian rare-earth miners if she thought she could profit from the deal.
He tried to summon another, more plausible reason, but his imagination failed him. It was time to face the stress-inducing facts. Louise was late because Louise was, in defiance of her deity-given genitalia, an enormous dick.
At least the bar was quiet. The station hadn't seen a huge amount of traffic since the troubles had started in the Jovian Empire. Trade was slow because surviving once you passed the border was a dicey proposition. Bernard didn't mind. Things would settle down soon enough, and whether it was a new post-revolution interim government or a resurgent revolution-busting old government didn't really matter. Either would need to trade, and the starships would once more fly. The Last Post was the closest refuelling station to the border and everyone knew that when laying over on The Last Post, the Rocket Fuel was the place to make sure your hard earned credits stretched the furthest.
Things would heat up soon. May as well enjoy the quiet while it lasted.
As if to mock this desire, faint sirens started up in the distance. The few bar residents, dedicated drinkers to a person, stirred slightly on their barstools, demonstrating the vague survival instinct that came automatically to anyone who lived with the reality of cold vacuum close by.
Bernard cleared his throat. 'Some poor freighter captain's having a worse day than even you sorry sods.'
The drunks settled. One even used their momentary alertness to order another drink. Someone else's pain they could live with. It could be worse. It could be them. That particular strobing sound meant a ship was coming in hot, and if they couldn't bring themselves under control the station's shields would remain up.
Bernard shivered with a sliver of sympathetic fear. Best case, the ship glanced off the shields and angled out into deep space. A head on collision didn't bear thinking about.
For the ship. A head on collision didn't bear thinking about for the ship. The station would be just fine.
The sirens stopped as abruptly as they'd began. Bernard cocked his head. No explosion. Maybe they made it. Good for them.
Maybe he should do some cleaning up while he waited. The bar — an eclectic assortment of steel framed station furniture scavenged over the years strewn around its dusty corners — had seen better days. Deliberately dim lighting meant it was always nighttime here at the Fuel, except, of course, along the bar counter itself: a strip of light in an otherwise darkened world. If he was going to spend any time cleaning, he may as well focus on the only thing people really wanted to see when they came here. Made from real, honest-to-deity wood, the countertop was a rich, golden colour that provided an organic edge to what was one of the most inorganic spots in the universe.
Who would spend the money to bring that much wood into space? Deity knows where Su Lin had got it from, although it was fun to trade rumours with the regulars. Some said it was an old heirloom, inherited by Su Lin when the rest of her relatives died in a freak accident at a family reunion. Others said she won it in the highly illegal, but also highly lucrative, Androsian street races. Others said that is was booty left over from her pirating days, where she reportedly ripped it from the yacht of a trust fund brat with more money than sense (or ship-to-ship defences). Whatever its providence, it was magnificent, and its presence did more to keep the Fuel away from bankruptcy than any ten other people or things attached to the establishment.
A new whooping sound echoed through the station, this one denoting a medical emergency. The ship had landed, but whoever was on that ship hadn't made it through unscathed. Space really did come up with some amazingly inventive ways of hurting the humble traveller.
Bernard shook his head sadly in honour of all the poor bastards that had succumbed to the allure of galaxy-exploring and paid the price. Thank deity that was all behind him. Being exiled from Jovian space was the best thing to ever happen to him. Join the Marines, they'd said. Travel the Empire they'd said. For the glory of Jovia they'd said. Protect the Emperor they'd said. A lot of short sharp stabs of fear enveloped in an oozing treacle of boredom, with the certainty of ending up like these new arrivals — if not very nearly dead, then very actually dead. Bernard spat at a stubborn beer stain on the bar and rubbed at it vigorously with his sleeve. No, bartending was the life for him.
Now a security alarm joined the cacophony, and the patrons did begin to shift. The prospect of a collision with a ship was of little concern, but if station security was on the move, then most of the Fuel's clientele migrated instinctively to safer ground. One or two slipped out the back entrance, leaving their beverages where they sat. Wasted alcohol. At space station prices, that was almost a crime in itself.
Bernard cleared his throat. 'Take your time and finish your drinks, ladies and gentlemen. I think security have their hands full somewhere else.'
One of the crusted-on barflies, Old Supta, nodded sagely. If the Fuel gave out frequent drinker points, Supta would be an ultra-platinum member.
'I'll bet ya that ship was carrying plundered goods,' he said. 'Poor old Devy down at custom control may have to get off his backside and actually do some work. Not even he could ignore a crashed ship. Ha!'
That seemed to stem the tide. Supta looked at Bernard hopefully. Bernard sighed, and poured him a beer.
'On the house,' he said. 'Just for making sure you sorry lot keep me company.'
Supta nodded back. 'Fair pay for good work,' he replied.
Bernard poured a couple of drinks over the next few minutes, the normal rate of pouring you'd expect for people drinking to forget on a limited budget. Things seemed to be settling down when Supta cocked his head — then stood up so quickly that his chair tipped. Without even an alcohol-infused witty remark, he made a beeline for the exit.
'What?…' said Bernard. Supta turned back just before the door.
'Fight,' he said. 'Bad one.'
Bernard strained, madly trying to filter out the normal background sounds. There was something, something in the background. Wait, was that gunfire?
Bernard looked around and realised the bar was empty.
'Well, shit.'
He turned to the nearest screen and typed in the lockdown code. As the doors closed and locked, he moved down to where the dubiously-legal, station-rated shotgun sat under the bar, then settled in to wait. It would pass; security situations were always over quickly.
Those noises were getting louder though.
The entry door shuddered, as if something had slammed against it with considerable force. Bernard brought up the camera feed from right outside the bar. A figure in a black, unadorned flight suit complete with helmet, was holding off half a dozen security guards. Personal shielding reflected phaser fire, high capacity shockgloves dealt out significant damage, and if Bernard wasn't mistaken, that flight suit was absorbing blows like it was made from military grade high impact material. Whoever it was, money clearly wasn't an object.
In a brief lull, the attacker turned to the bar door and attached a small device to the lock. Bernard looked down at a nearby screen to see that the lockdown was being overrun. It should be fine, Su Lin was a little paranoid and the bar security was the best a civilian could buy.
Oh crap. The door was about to open.
Bernard raised the shotgun just as the door slid open. The figure in black jumped through and pressed a few buttons on their sleeve. The door slid closed, and the lockdown recommenced.
'Okay, friend,' said Bernard, 'why don't you move on through. I suspect you can open the back door as quickly as you did the front. I'm no particular fan of the law, so I've got no issues with you using us as a getaway path. As long as you don't mess up the bar, you'll have no trouble with me.'
The intruder pressed another button, causing the flight helmet to retract back into the suit. Bernard placed the shotgun on the bar, and pinched the bridge of his nose.
'What the fuck are you doing here?'
'Bernard, you bastard. Didn't I exile you?' said recently ex-Emperor Josephine Alexis Garcia the First, clutching her side and slumping into a chair.
***
Twenty minutes and the application of two emergency-medic packs later, Bernard sat across from the Emperor, a bottle of scotch with two glasses separating them. Bernard tried to ignore the banging on the door from security. Apparently, Su Lin's security was good enough to hold out station security but not someone with the resources of an empire behind her.
'Technically, this isn't Jovian space,' opened Bernard. 'I was exiled, and I remain in exile. Although I was kind of hoping that recent changes might mean an upcoming homecoming.'
'You are living on a station that is one ion storm away from drifting back into the Empire. You've not exactly banished yourself to the end of the known universe.'
'Jo.. Can I call you Jo? Actually, I don't care. Jo, am I in Jovian space?'
Jo waggled her hand in the air. 'No.' Bernard could see that she hadn't lost her ability to infuse even a single word with a profound sense of boredom.
'And what were the terms of my exile?'
'I don't know, I'm a big picture punisher. I left those details to the magistrates.'
'Well, I paid attention. 'The accused will remove themselves from the planets, stations and all territories of the Empire, not to return on pain of death'. I'm not likely to forget it. Trust me, I've complied. Your secret police are famously efficient, and I have no desire to test the limits of that efficiency.'
'I guess, technically…'
Bernard cut in. 'But then, I think you knew that. You showing up here is not a coincidence. Why don't we cut all the 'meeting by chance' bullshit and get down to it. What. Do. You. Want?'
Emperor Jo shifted slightly in her seat, having the grace to look ever so slightly embarrassed. 'You've heard about my recent… troubles?'
'You mean your complete rejection by the entire populous of your Empire? The uprising of the military, the judiciary and the general citizenry, all with the express purpose of ending your decadent reign? An overthrow complete with the tearing down of statues, the burning of your official-but-widely-considered-somewhat-biased history books, the gaoling of all your toadies and the seizing of all your assets?'
Emperor Jo smiled slightly. 'Yes, yes. I see you're familiar with my predicament. An ungrateful population, filled with small minded people with small minded concerns. But still my people, deserving of my protection.'
'I'm pretty sure that the whole point of a revolution is that they have decided that they don't 'deserve' your protection any more.'
'They don't know what they want. They need me to tell them.'
'Perhaps they got sick of the double standards.'
'What do you mean, double standards? I apply all my rules with scrupulous fairness and equality.'
'I'm not sure everyone sees it that way.'
'Give me a single example of where I've been inconsistent.'
'You required everyone who wanted to get married to apply for a license, and you determined who was worthy and pure of spirit enough to actually get married.'
'Yes?'
'Yet you yourself had 15 husbands and 12 wives.'
'I am the Emperor. I'm self-evidently worthy, and my spirit is, by divine right, pure.'
Bernard took a breath. This clearly wasn't an argument he was going to win.
'Okay, you want to take back your Empire. Is my imaginary role in this epic comeback going to sail into view any time soon? There must be a role; you'd have killed me by now if there wasn't.'
'I don't think you're going to want to help me.'
'I don't know why you'd think that. I was the head of your personal bodyguard, after all. Why wouldn't I be a loyal servant? What could have possibly happened that would change my outlook on life so profoundly?'
'Oh, can't we skip all the tedious outrage? Yes, okay. I did exile you after you technically saved my life. But no one had ever come that close to assassinating me — breached our countermeasures so thoroughly. I had to make an example of someone to discourage future attempts, to show they only almost succeeded due to human error. Your error.'
'And Chancellor Yamamoto, who almost certainly arranged the whole thing. He wouldn't have been a suitably high profile sacrifice?'
'The loss of the Chancellor would have caused untold chaos. I needed time to take care of him more subtly. Anyway, I don't know why you're complaining. I only exiled you. I could have had you killed. It was practically a pardon.'
'Oh well, when you put it like that, I clearly owe you. What can I do for you, my Emperor?'
Emperor Jo paused for a moment.
'I know you're being sarcastic, but you do owe me. And fortunately for you, I've got the perfect way you can repay me. The Empire is, currently, lost. For all that they need me, the rebels have convinced the people to side with them; my military has betrayed me. But you know me, I always have a backup plan. On the dark side of an obscure moon circling Jovia-9, there is a secret military base filled with fully automated starships, atmo-fighters, drones and ground vehicles. All keyed to obey me. With them I could take back the whole empire.'
'Well what are you doing here? Sounds like you should be at Jovia-9, not an obscure space station at the far end of your empire.'
'Unfortunately, my access chips have all been wiped, my loyal lieutenants all killed.'
'Still not seeing my contribution.'
'I may have embedded copies of my access codes in a chip in the implants of several of my most trusted bodyguards. Yours was left in you, undetectable, in case of a rainy day. And, my friend, today it is pouring.'
Bernard lived on a space-station, so the rain metaphor was a little wasted but he understood the general point.
'And why aren't I dead with my arm cut open and you half way back to your ship with the codes already?'
'The removal process is… delicate. If you die, the chip destroys itself to prevent it falling into the wrong hands. I need your cooperation.'
Bernard didn't have to mull his options for long.
'I'm going to say no. I'm pretty sure the empire would be much better off without you. And I will certainly feel a lot better if you didn't have access to a cache of weapons with such a high destructive capacity.'
Emperor Jo looked sad, and then resigned. Not surprised at all, but still.
'I thought you might say something along those lines. And that is why I set my ship to overload its engines if I don't get back soon. I'm nothing without my Empire. If you won't help me take it back, then I'm going to blow this crappy station into billions of tiny pieces.'
Bernard felt a chill that had nothing to do with environmental control. He'd seen that set to her eyes before, hundreds of times, as she ordered heinous act after heinous act. Hell, he'd helped in his fair share of those acts. If it was just him, he probably deserved death. But he had no doubt she'd be willing to kill every last man, woman and child on the station. And the abstract threat to millions of theoretical people across the empire was hard to keep in mind when the immediate threat to the people he knew and cared for here loomed large.
And he knew she knew it.
'Why don't you just give up?' he tried. 'You must have access to billions of credits. You could leave, never look back. Live out your life in luxury somewhere in the galaxy where no one cares about your past as long as you have enough money to soothe their consciences. The people of the empire are brave to have stood up to you. They don't need you. Why not let them live their lives without you?'
It wasn't going to work. She needed to be Emperor. Craved it. But he had to try.
Emperor Jo held up her arm so he could see the display built into her suit. A countdown ticked along, implacably slicing the time to oblivion for his station.
'Fuck you,' said Bernard.
Emperor Jo just tapped the display pointedly.
'Fine, fine. Just stop the damn countdown.'
Emperor Jo smiled, and entered in a code. The countdown froze.
'Consider it paused as a sign of good faith,' she said. 'Of course there is a dead man's switch built in, but you probably already guessed that.'
Yes, he had. But there was no point responding. He just held out his own arm.
'They will always hate you.'
Emperor Jo shrugged. 'As long as they obey me, I can live with that.'
She reached into a pocket and withdrew an extraction device. As she leaned down she paused, and looked him straight in the eyes.
'I'm going to crush my enemies,' she said.
Bernard suppressed a sigh. 'I know.'
'But maybe I'll build some kind of monument in their honour afterwards.'
And with that she went to work. Bernard let the sigh out. He must have got to her. That was more than she'd ever offered before.
***
Bernard sipped a glass of the best scotch in the house, favouring his dominant arm as the medi-gel went to work on the hole the Emperor had left. The sound of her fighting her way back to her ship had long since faded, and Bernard was expecting station security to arrive any moment with quite a few questions. He took another gulp, then brought up the communications system and placed the call.
The connection was audio only, which suited Bernard fine. He could keep drinking.
'Well?' said his contact.
'You were right, she does have a fallback option. The chip was a set of access codes. You should be able to follow the tracking signal right to the weapons depot.'
'Excellent. You've done Jovia a great service.'
Sure he had. Because the leaders of a rebellion against an oppressive overlord always turned out to be so benevolent. Bernard terminated the call without responding.

About The Author
Mark Webb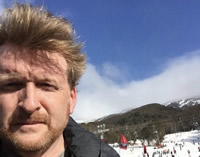 Mark Webb's midlife crisis came in the form of attempting to write speculative fiction at a very slow pace. His wife maintains this is a good outcome considering the more expensive and cliched alternatives. Evidence of Mark's attempts to procrastinate in his writing, including general musings and reviews of books he has been reading, can be found at www.markwebb.name.
One of Mark's very best forms of writing procrastination is to produce the eBook series for AntipodeanSF, which he has been doing since issue 175.