By Matthew Harrison

Would you believe it, we've had a murder! A lightyear out, fourth roster, yours truly Steve Mack as captain, no help or advice from anywhere, and we've got ourselves a corpse.
Actually, the corpse is the least of the problems. Bill was a nasty piece of work — chief engineer but always scheming, and not much need for him anyway now that we're just cruising through the old interstellar.
First Mate Jansen froze his body in the carousel along with the other colonists, the difference being that they're going to wake up when it's their roster, ha ha! No, it's what to do with the suspects that bothers me.

"Almost wish they'd shot themselves too," I say out loud to Jansen. Frankness, that's my motto!
Jansen turns her creepy cropped blonde head my way. "That is not something good, Steve," she says with that irritating Scandinavian cool.
"And why not?" I ask, swatting a fly. "The suspects are filling up the brig — not that we even have a proper brig — and we have to look after them, and investigate them, and try them, and —"

"Sir!"
Jansen's not looking cool now, that's something! I tell her to close the windows to keep the flies out, and then I let her get back to first-mating. But there is a real issue.

Think about it. According to protocol, we need a judge (I've appointed Jansen), investigator and prosecutor (Jansen again), and if we find someone guilty a gaoler (has to be Jansen). We're supposed to divide up the roles and throw in a jury, but we just don't have enough people, and if they keep knocking one another off we'll have even fewer. Fleet Command should have thought of that!
Jansen says it was a crime of passion. Bill was canoodling with Meg, which I can understand in a way, although I'm not a woman sort of guy myself, but her husband Deputy Engineer Andy didn't like it, which I can understand too, no one likes two-timing. Andy is suspect number one.
(Just swatted another fly!) Passions build up pretty quickly on-ship — no chance of meeting anyone new, and outside just darkness and unchanging stars. People fixate. And Fleet should have planned the rosters better. Forty people on each, looking after the ship for a three-year stint until they put you back to sleep again, but our roster isn't balanced. Too many single men — yours truly again! — and too few single women. Bill even had a gay lover on the side (maybe that was Fleet's solution!), and Frederick is suspect number two. Although wouldn't Fred sooner have bumped off his rival Meg? But Jansen's pretty sure Fred did it.

"I'm worried about the carousel bearings, sir." It's Jansen again, blonder and paler than ever. She says something about engineering maintenance.
I'm more concerned about the flies, but I follow her. And sure enough, there is a bit of grinding when we pass through the sleeve to the carousel and into the blessed gravity again. "What do you expect," I say to her, "if you've locked up our one remaining engineer?"

Jansen just puts on her cool look. But as I follow her down to the carousel, becoming progressively heavier, I think of something. Why isn't Meg a suspect too? She could have felt threatened, scared — and hit out. Or angry, if she found out Bill was cheating on her in turn. I'd feel like shooting someone. Is Jansen protecting her? Girls looking after girls?
Now we've reached the carousel and Jansen leads me round to inspect the pods where the other rosters' colonists are sleeping. I check Bill's pod, and yes, he's certainly dead. Good riddance, the old bugger! But the other colonists look dead too. Who knows if any of us are going to reach our destination?

"Hey Jansen," I say as we start back, "Why do you think Fred did it? And close the carousel doors, we don't want the flies getting out."
Jansen looks at me strangely, and she's silent until we reach the bridge. Then she says, "He had the murder weapon in his room."
"It was just a stun gun," I say. "I've got one too." I get my gun out to show her. Of course this makes her nervous, so I put it away. "You have one yourself."
Jansen nods, looking rather grim. "Fred's had been discharged."

"He could have been swatting flies, aliens, anything," I say. But it's no use, Jansen doesn't have a sense of humour. Sometimes I think I'm the only person on the ship who has. Which is important — tone at the top, you know!

And just to show her, I get out my gun again, dial it down, and zap a fly on the console. I told her to close the windows, but did she listen? The flies are everywhere now.
Jansen turns even paler — I'm getting through to her! — and she disappears from the bridge.
You want to know my theory? I think the flies did it. Either them or their alien friends. We should have zapped them all when we had the chance, and when we didn't, they hit us. It could have been me. Or Jansen — now that would have been a loss! Or anyone. Bill was just unfortunate — I'm getting sentimental now! Actually, I liked him once, but I'm not the sort to share.

The power in my gun's running low. I'd better recharge. What's this? The bridge door's opening, it's Jansen back again — with a security detail. My security!
"Steve, we need to talk," she says. "You're not yourself."
Blow that! I reach for my gun, I'm turning to face them…
Zap!

About The Author
Matthew Harrison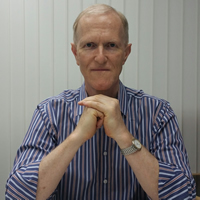 Matthew Harrison lives in Hong Kong, and whether because of that or some other reason entirely his writing has veered from non-fiction to literary and he is currently reliving a boyhood passion for science fiction.  He has published more than eighty short stories and is building up to longer pieces as he learns more about the universe.  Matthew is married with two children but no pets as there is no space for these in Hong Kong.